SiteScope Unified Console – Multi View: Part 2
My previous blog Have you tried the Unified Console of SiteScope yet? explored the various features of the Unified Console and also its benefits. Moving on, in this blog we will explore the features of Multi-View and how its various features can be leveraged for effective monitor management.
Multi-View displays data in its hierarchical order and is ideal when you want to view monitoring status of a large environment. The beauty of this view is that you can customize the views to meet your different needs.
SiteScope Multi-View - How best can I use Multi-View?
Let us look at various ways in which you can use the dashboard customized to your needs.
View objects grouped under various categories
You can switch between different views to see data under various categories for better problem analysis. Use the Monitors view, Servers view, Tags view and Hierarchy Monitors view to group objects based on your customized needs. For example, you can group objects in various ways such as view all monitors on a particular target server, group monitors based on its tags, or view the SiteScope health group monitors.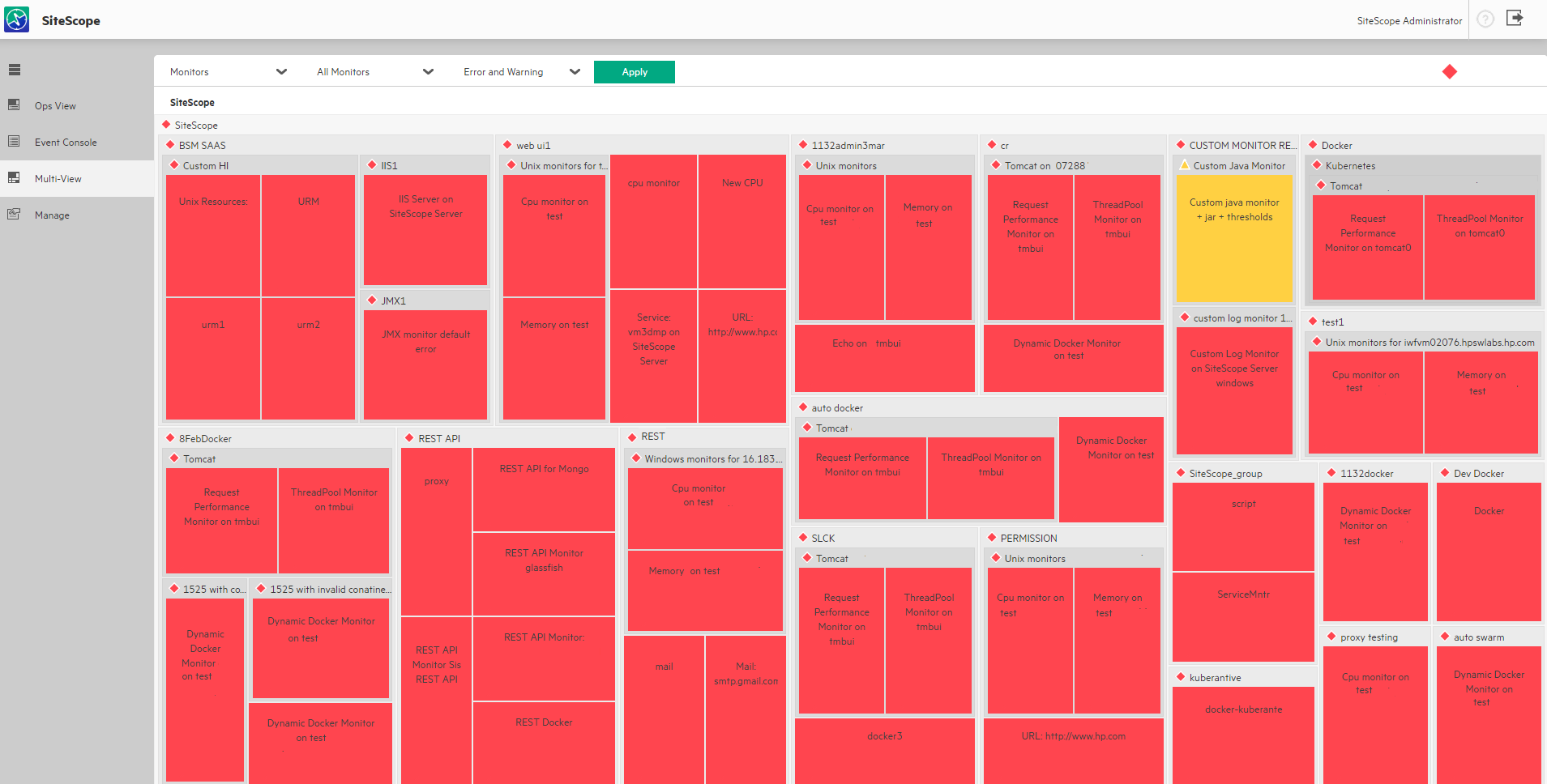 Multi View depicting all monitors grouped by Error and Warning state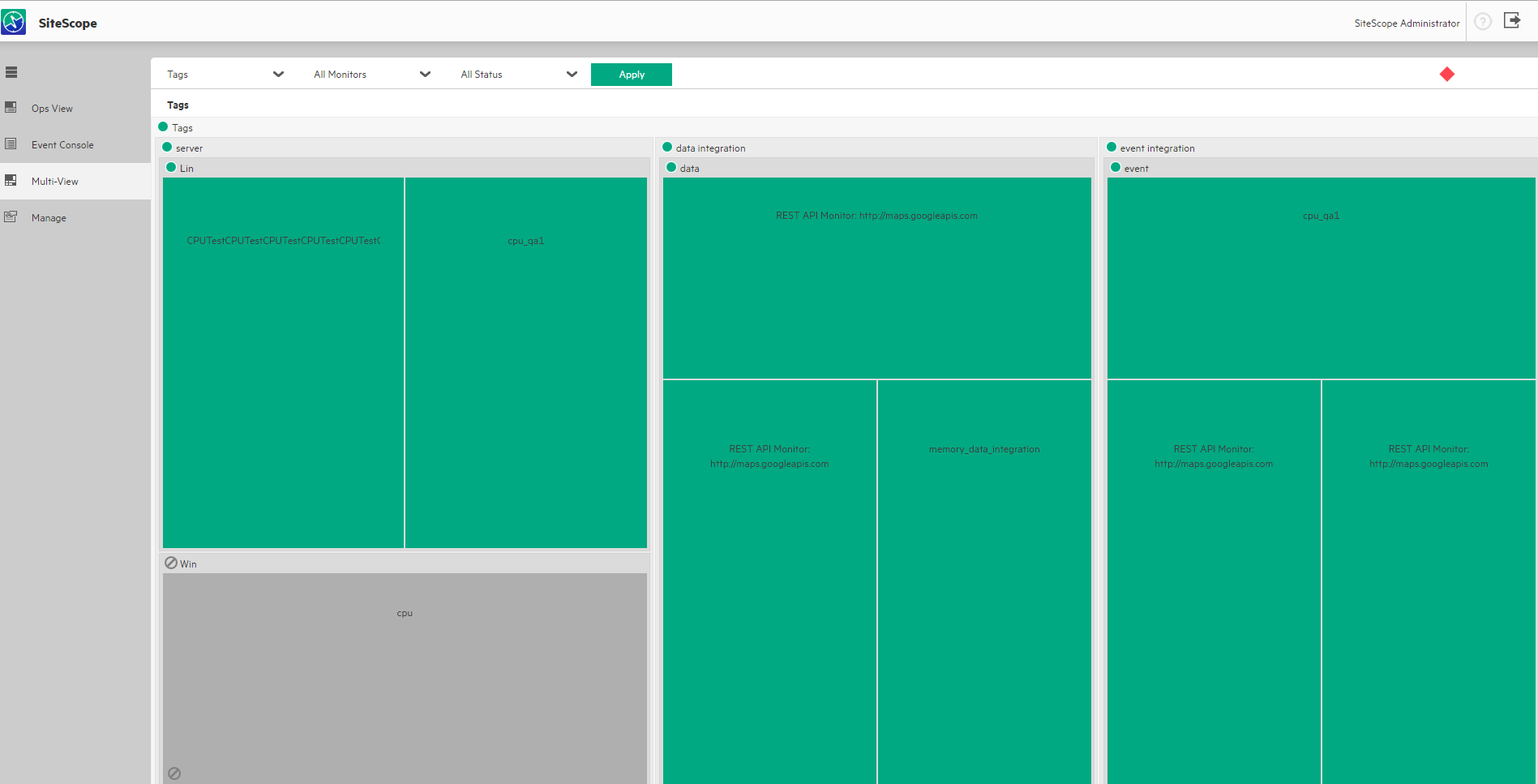 Multi View displaying all monitors that have tags associated
View properties of groups or monitors
You can drill down to see detailed information on groups and monitors to facilitate problem diagnosis and troubleshoot server-related issues.
Double-click or click + to expand a specific monitor/group to see the details about the monitor or group.
Mouse over a monitor or group to get the info icon on left lower corner of the monitor or group rectangle. Click the icon to view the monitor or group properties.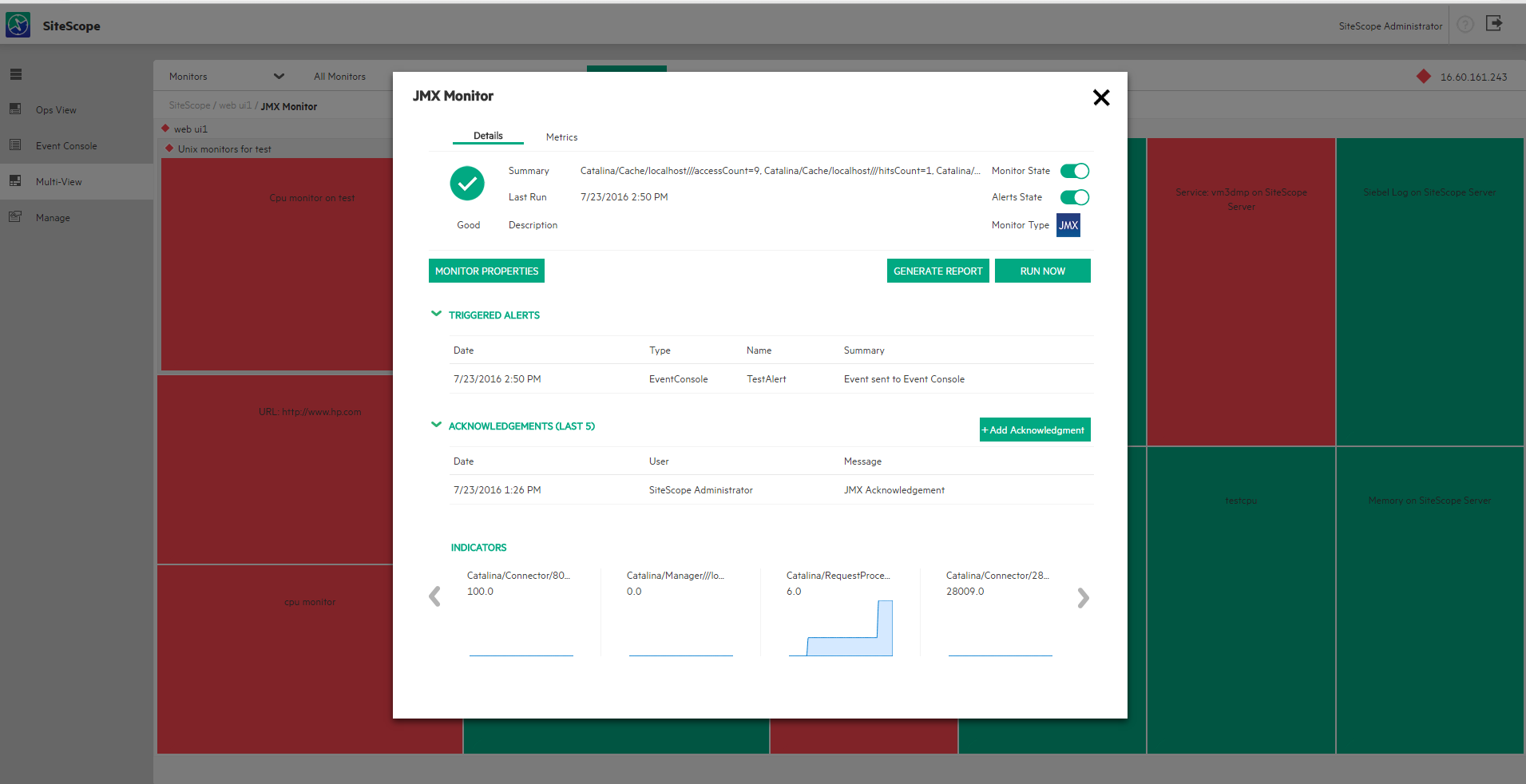 Multi View displaying properties of a selected monitor
The properties window also provides an option to re-run a monitor from this window .
To view more details of monitor properties, click the monitor properties button to view the monitor details in the Manage tab.


View alerts for a monitor
If you have the required permissions to view the alerts, you can view all the alerts that are created for a monitor.


View acknowledgements for a monitor
Monitor details screen displays the last 5 acknowledgment with details and comments for a monitor. Acknowledgements are used to track resolution of problems that SiteScope detects in your system and network infrastructure. With this function, SiteScope keeps a record of when the problem was acknowledged, what actions have been taken, and by which user. Click the Add Acknowledgment button to add a comment acknowledging the monitor status.
Note: Acknowledgments can only be deleted from the Acknowledge Log (available from the Acknowledge Monitors In Group dialog box in the SiteScope Dashboard). Deleted acknowledgments are not displayed in the Acknowledgments list in Multi-View.

View metric trends
If you have monitor history enabled, a graph for each metric is displayed under "details" tab on the info dialog. The graph displays the metric trend for the last 10 hours.


Configure Multi-View Settings
You can customize properties of Multi View based on your requirements. Go to Infrastructure Preferences > Multi-View Settings to configure the values for properties.
You can set the following properties:
Configuration change refresh frequency (seconds): Wait time for refreshing configuration changes such as adding, deleting, moving group/monitor, and renaming group/monitor name.
Runtime data refresh frequency (seconds): Wait time for refreshing run time data such as monitor/group status changes and enable/disable information.
Maximum number of multi views. Number of views that can be open. After the maximum is reached, you get an information message. The value can be between 1 and 20.
Interval before clearing view cache since last used (seconds). Wait time before the cache can be cleared since a view was last used. This value impacts the maximum number of views that can be opened.
Get the maximum out of Multi-View!
Now that we discussed on different uses of Multi-View depending on your needs and the properties that you can configure for the Multi-View, go on and use the feature and see how easy monitor management can be!
Stay tuned for further articles on the Unified Console!
Explore
If you would like to learn more about HPE SiteScope, start a free trial, or see a live demo please visit our online page at: https://saas.hpe.com/en-us/software/sitescope.
To read more about some cool features of SiteScope, visit our SiteScope Blogs and Videos Archive.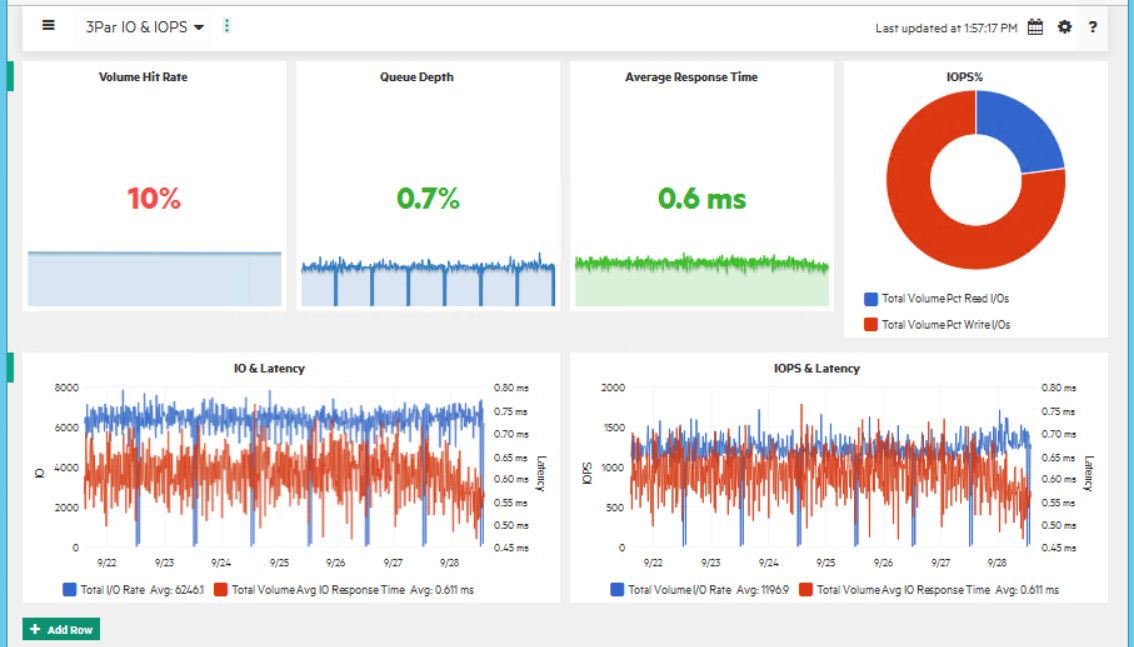 HPE Storage Operations Manager v10.20 comes with much-awaited Performance Workbench. Performance Workbench enables user to analyze performance metrics in customizable dashboards.

Want to receive the status of your business applications wherever you are, whenever you want?
If you are already reaping the benefits of HPE Application Performance Management, the HPE App Health mobile application is the next logical step for you!
Learn how SiteScope's Dynamic Docker monitors your complete Docker environment.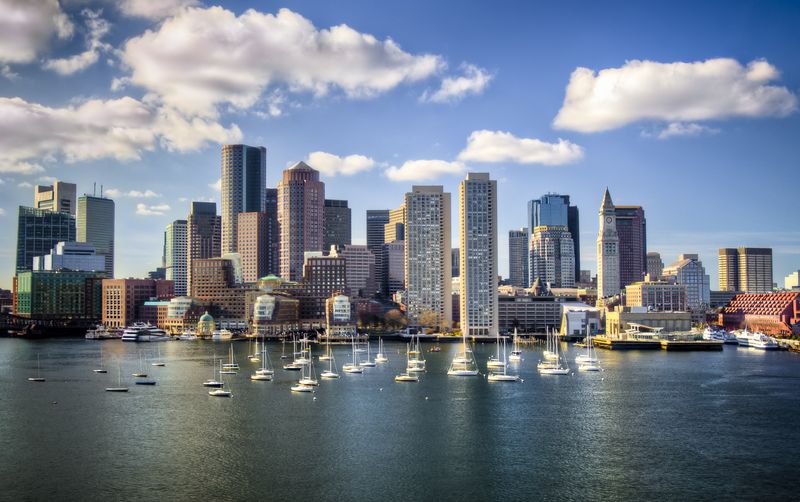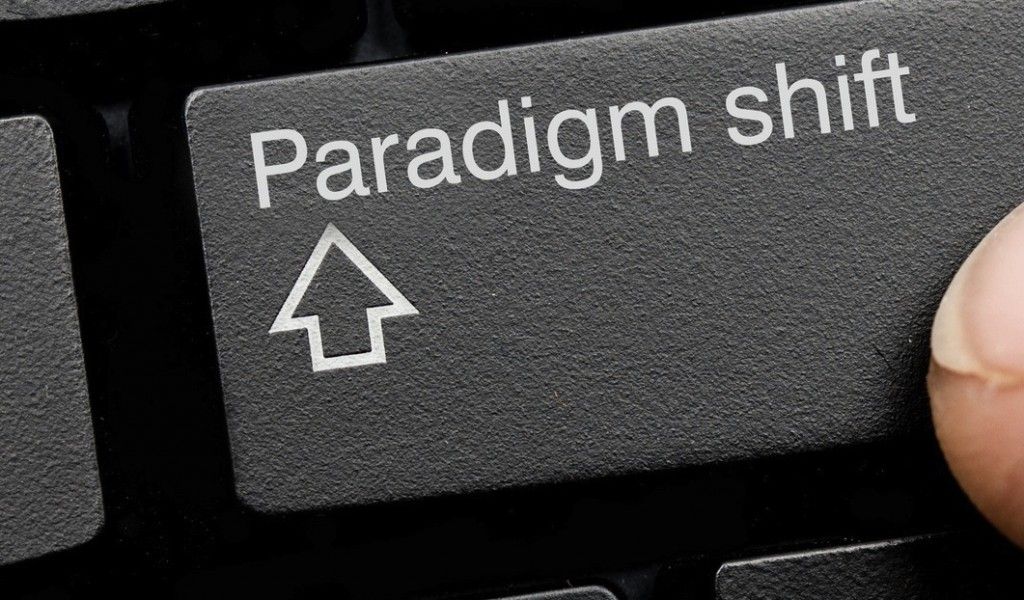 Because these manual processes no longer work, businesses must change their approach to IT operations management by shifting from a statistics to an IT operations analytics (ITOA) driven approach powered by machine data.
HPE to attend ZendCon on October 19th-21st and will showcase a new PHP Application Monitoring Solution.
RUM for Docker series: 7 compelling reasons why HPE RUM 9.30 is the right companion for your application as it makes its journey into a Dockerized world
HPE wins an award for our contribution to the new IT4IT standard.
As technology managers, we're generally comfortable with a linear evolution of our network services to support the business. Taking small steps and rolling out new technology after industry acceptance, intensive testing, and cautious roll-outs. However, based on our eye-opening new research, those days are coming to an end.
Join the upcoming webinar to learn how Garanti Bank uses HPE BPM & HPE Mobile Center for optimizing their end-customer mobile applications to secure a better experience for their customers.
Announcing the Operations Bridge community workshop around content development for HPE Operations Bridge Reporter! Learn new skills, develop and submit your content to the community, and earn points on "ITOM Insiders" along the way. Find out more and register for the workshop!
Watch this video that shows end-to-end how to create a dashboard in Microsoft Visio and how to use it in OMi Business Value Dashboard (BVD), This includes sending data via HTTP-Post to BVD and connecting the data to BVD widgets.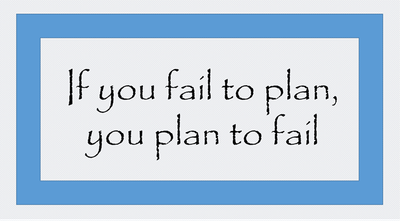 The age-old adage about planning to fail, if you fail to plan holds good in IT infrastructure capacity optimization world. Long gone are the days and times, when all a capacity planner needed to think of is when to purchase a new server. The mantras now are "Optimize IT", "do more with less" and "budget cuts".
Read on to learn how this is connected with operations monitoring and business continuity.
Did you know that you can check your application health Synthetic (BPM) and Real User Monitoring using one report? Try out our new Application Health Overview report which use the same metrics to show RUM and BPM data in a single click view.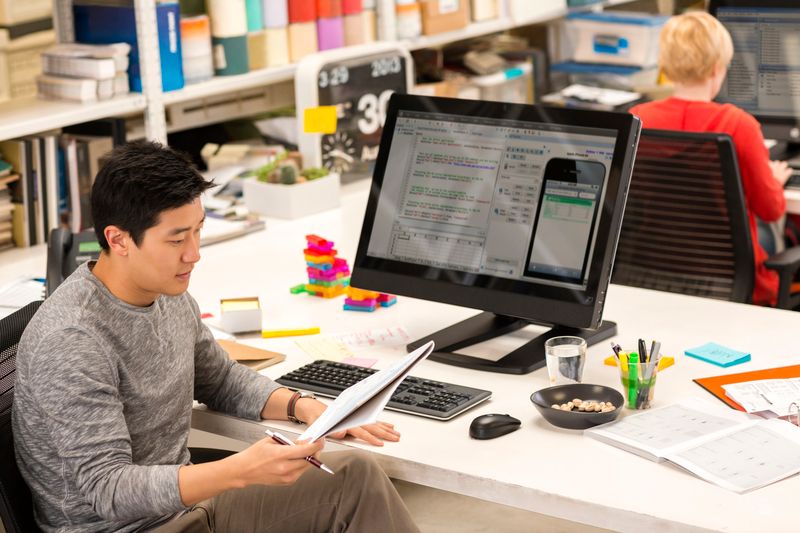 Is your TIBCO implementation mission critical? What business is impacted when issues occur? You can use automated discovery and monitoring to determine impact and keep them healthy. Read on.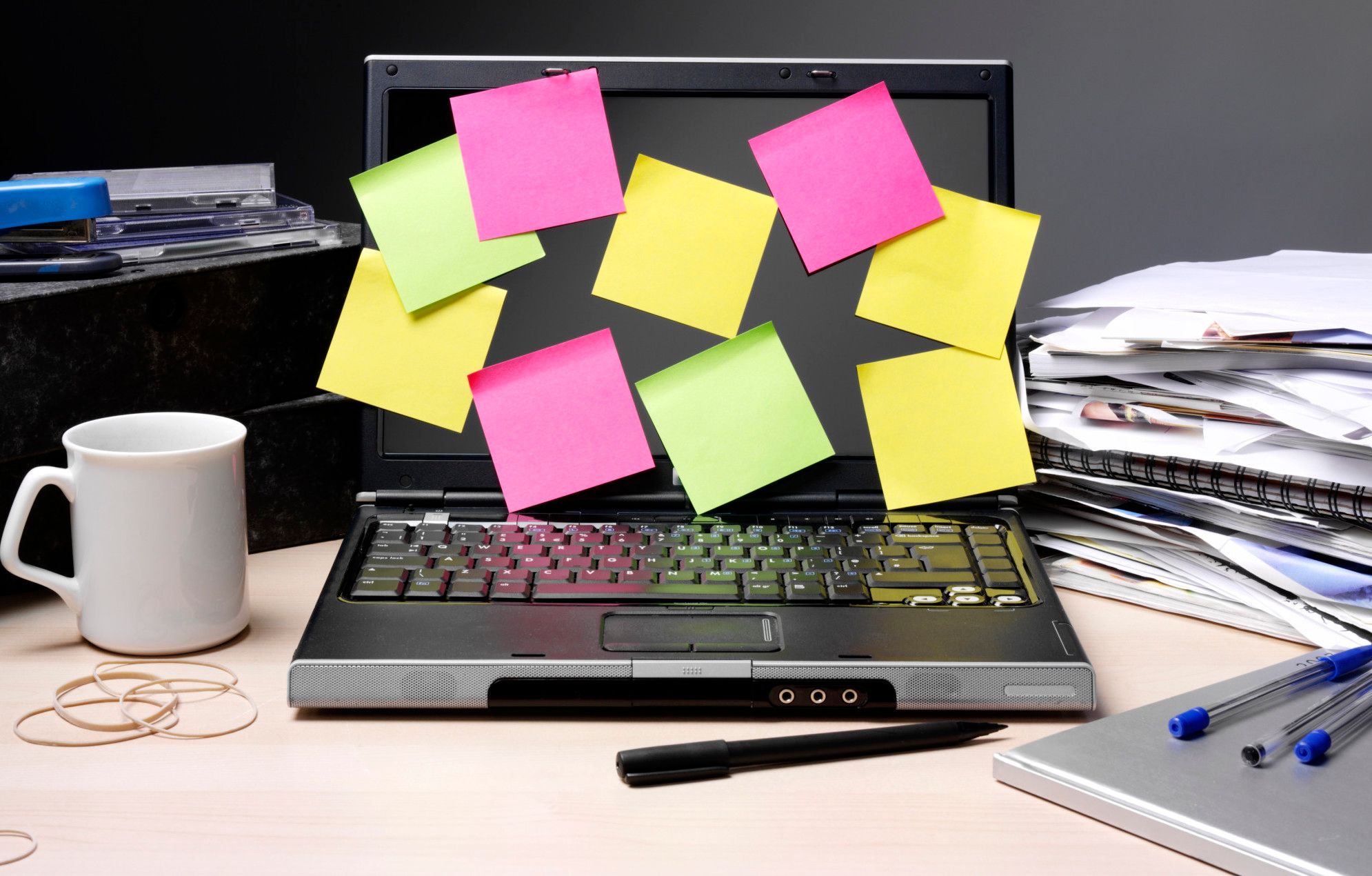 We all know Jenkins is a popular cross-platform, continuous integration and continuous delivery application that builds and tests software projects continuously. And that it enables continuous delivery of software with its powerful ways to define build pipelines and integrate with a large number of testing and deployment technologies. But did you know that SiteScope can monitor Jenkins too?
SiteScope monitors Jenkins too!


If you have used Performance Dashboard (PD) aka Performance Perspective in OMi 10.x, you most likely know how to set it up in order to graph the data that is stored in data sources such as Operations Agent, Operations Connector (or BSMC), Sitescope etc. that are directly integrated with OMi. However, you might wonder what if OMi is used as manager-of-manager and is not directly integrated with each of the data sources – how to graph data in MoM OMi in such deployments? Let's look at how it can be achieved!
Do you wonder what your IT Infrastructure is doing when you're not paying attention? Want to have performance metrics available which are stored in high frequency intervals? Wouldn't it be nice to investigate system metrics using cool graphs? If so, we have good news: Performance Engine!
Here is the good news: Performance Engine has the solution. Read on and learn about this cool new add-on component for Operations Manager i.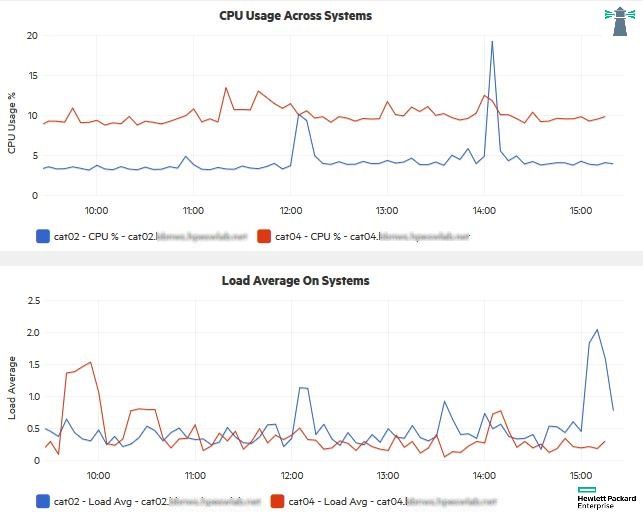 HPE AppPulse is part of the new Mobile category and is now available in the AWS Marketplace. The AppPulse Suite helps you optimize your mobile app user experience by providing visibility and insights into problems which real users are experiencing.
(Part 2 of 2) App teams want visibility into UX and the ability to fix production problems quickly. IT Ops want to delegate some work to the app teams, while being involved. Click to learn how to successfully do both.