Now that two of our Software Forums are over, let's just take a minute to reflect and thank those individuals who have been so crucial to the success of these events.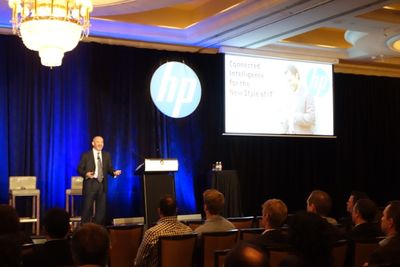 Lewis Carr delivered an outstanding plenary on Connected Intelligence for the New Style of IT in which he discussed the current horizon of software and the associated complexity, costs and risks. In this presentation Lewis talks about how HP is enabling a platform for connected intelligence that enables our clients to capture the opportunities of Big Data, cloud and mobility at the same time while ensuring that governance and compliance requirements are delivered. A big thank you to Lewis for making time for us in his ever-busy schedule to share some of these key insights. They are invaluable.
And of course we could not forget about our customer presenters who came along to share both their HP experience and unique insights with us all;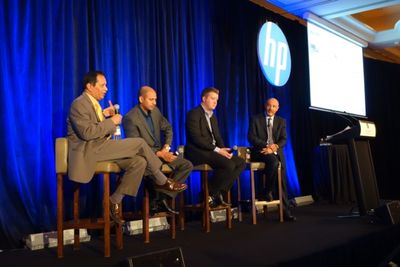 Pat Connolly from the Department of Education presented on Test Automation – It's easier and cheaper than you think! We learnt how to harness the power of HP's flagship Test suite (Quality Center, UFT and LoadRunner) in a custom built mobile platform that supports full management and operational reporting and is governed by well documented policies and processes.
Dr. Suresh Hungenahally from the Department of State Development, Business and Innovation presented on the key objectives of the department - implementation of a search capability integrated into the Department's applications and sites - and how HP helped them to accomplish their goals. You can read more about his presentation: Search and Find Project – A Meaning Based Computing Solution – Rapid Response to Ministerial Requests.
Paul Griffiths from Hostworks discussed how Hostworks employs the HP Automation toolset to deliver critical application management services to our customers. With over 15 years experience in the IT industry, Paul is a great asset to this years forums and it was great to harness is expertise with our HP customers and employees.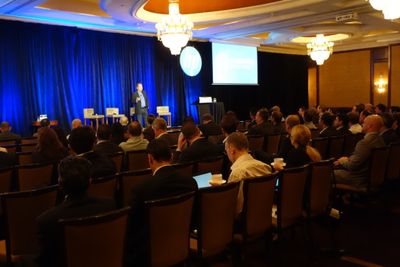 Feel free to share with us some of your experiences and key take-sways from the Software Forum - Insight 2014.
Yesterday we hosted the first of three Software Forums - Insight 2014 in Melbourne. It was a great success, with a substantial amount of information for you to take away.
Whilst simply attending may be enough for some, for the others who are more visually and creatively stimulated, I implore you to check out what Guy Downes has drawn up. It's a pretty picture with even more value.
If you have any questions, feel free to ask. Or you can take a look at some of the other resources we've made available - much like this one - right here on the forum.
We are two forums down and one to go. So if you have registered to attend our Sydney event - don't forget and we will see you there.
A select few presentations are available for you to access right here. If you miss out, fear not. And if you think a refresher will be much needed, you're in the right place.
Check our attachments below to view some presentations for our Applications track for:
Connected Intelligence for the New Style of IT. By Lewis Carr, Senior Director, HP Software Marketing.
Mobile application testing for a five-star experience. By Antoine Aymer, HP Worldwide Mobility Solutions Manager
Test Automation – It's easier and cheaper than you think. A customer testimonial by Pat Connolly, Manager Quality Assurance and Testing Services. Department of Education NSW
Mobile applications software and solutions from HP help you mobilize your enterprise by speeding up app delivery while keeping the user experience secure. You may have identified areas for improvement after having attended our HP Software Forums – Insight 2014. But now you seek more of a solution.
Or perhaps you missed the event? Don't stress, because this business whitepaper will give you the insight you are looking for.
"The era of mobility has arrived. Consumers and corporate IT users are abandoning PCs and laptops in favour of smartphones and tablets, delivering a clear message to enterprise IT: create the new mobile apps needed—now. This leaves software quality teams scrambling to acquire new tools, new skills, and new processes. But in the face of some unique challenges and in the absence of a clear mobile software quality strategy and roadmap, these efforts can leave the business standing at a precipice looking down. Businesses that successfully traverse the precipice will climb to new heights, so this paper shows how to bridge the chasm to compelling, quality mobile apps."
Read more. Download the whitepaper here.
Have you ever wondered how your QA and Testing team compares against the other companies around the world? We now have an opportunity for you to easily benchmark yourself against others.
Our Applications track at the HP Software Forums – Insight 2014 was a great success and a lot of valuable information can be taken away. So if you missed out, or simply wish to get more out of it, have a look at the World Quality Report 2013-2014. Mobile Testing: A shift from tools to methods.
It is right here, free for you to download!
Announcing HP Software Forum's theme: Insight 2014 - insights in to the latest innovations. Insight from leading organisations.
Engage with other HP customers about solutions they found to their IT challenges, hear from our global and local experts on latest innovations and create amazing connections with other HP Software customers, partners and experts. There will be feature sessions specific to your area of interest.
Happening in Melbourne 25/03/2014, Canberra 27/03/2014, and Sydney 1/04/2014.
You will have the option to join the following tracks:
- Applications
- Big Data and Information Management
- IT Operations Management
For more information and to register, visit www.hp.com/au/forum
Here is a good read by Michael Deady from HP Professional Services about mobile technology and how did we get there:
http://h30499.www3.hp.com/t5/Apps-for-Mobile/Mobile-technology-how-did-we-get-here-again/ba-p/6203585#!
Did you know that Iqnite 2013 is focused on mobility? This year, Iqnite Australia is asking what works, what doesn't, and what's next? The conference theme this year is Mobilising Testing with the 2 day Programme packed with topics such as Mobile Application Testing, Test Management, Test Automation, Test Efficiency & Evolution plus many more and there are also workshops available to attend for a more interactive hands-on session with leading software testing professionals.
HP is excited to be a premium sponsor of iqnite 2013 Australia being held on the 14th & 15th October. Come by the HP stand in the exhibition to hear HP take on mobility http://iqnite2013au.eventbrite.com.au/#!
In our Applications Track we introduced you to the concept of "Mobile First". This is the concept (first coined by Google) where an organization creates initial version of the application for the smartphone, rather than for the desktop PC.
At HP we are now looking at ways to bring our software to the mobile platforms, the outcome of which is HP Anywhere.
HP Anywhere is a mobile app platform designed to mobilize the enterprise, connecting users with corporate systems and with each other on their device of choice. It combines the open standards of HTML5 and JavaScript with unique capabilities for predictive collaboration, system integration and enterprise security to deliver a powerful mobile application development experience.
Listen to our experts share their experience in developing for Mobile:
How does business Design for Mobile?
What is the business perspective of Mobile First? Should we be designing for mobile first? Hear the business point of view in this debate.

The Mobile User Experience - what users expect

Users expect a lot form their mobile devices and their mobile apps. The IT team at HP expect mobile apps to change the way users work and is preparing a platform and apps to drive the change.
How do you architect for Mobile First?
Many people are talking about Mobile First --- listen to what the IT team at HP thinks about this trend.
HP Vision for Mobility and HP Anywhere
The vision for HP Anywhere as an internal tool to enable HP Employees to be more productive, wherever and whenever.
Learn about HP Anywhere at: http://www.hp.com/go/hpanywhere
You told us you found the presentation on overcoming Mobile testing challenges very valuable. If you wish to review the topic, HP created a series of videos covering mobile technology challenges, UFT Mobile, and Shunra Network Virtualization. We invite you to watch and comment on these:
Moving to any new platform, often incurs some challenges. Learn about how HP IT views the potential challenges that they will face as they migrate to a new mobile platform.
Mobile Testing - A Quick Overview
Listen, as Gal Tunik, HP Mobile testing product manager briefly discusses mobile testing challenges.
Selecting a Mobile Testing Solution
Thinking about a mobile testing solution? In this short video, Gal Tunik describes the characteristics that enterprises should consider when evaluating solutions
UFT Mobile is a powerful, flexible and capable mobile testing solution, in this short webinar, explore the capabilities of UFT Mobile that will help to increase speed of application delivery and quality of your final product.
Mobile Performance Testing - a quick overview
Learn from Todd DeCapua about how performance testing is impacted by mobile devices, apps and the mobile network.

How to "listen" to the Mobile Network
In this short video, learn how to measure the network impact on mobile application performance.
How does Shunra Network Virtualization Work
Network virtualization isn't magic. In this short video, Todd DeCapua explains how it works. No magic, just good technology and a focus on a solution that works.
What is the Value of Network Virtualization
Can you measure the actual business value of reliable performance testing? Yes you can. In this short video, we explore real value of including network virtualization in your performance tests.
What can go wrong with Mobile Performance Testing
What can go wrong when you don't account for network conditions in your testing? A lot. In this short video, hear from an expert about their experience with what can go wrong
Visit www.hp.com/go/mobiletesting for further details.
We spoke extensively during our Application Track on mobility and the forecast growth of the mobile market.
Bellow is a great article that appeared on cio.com.au on March 25th discussing key issues around mobility and balancing the desire for BYOD with organisational policies:
Deploying mobility a worthwhile challenge
You have seen Agile Manager in action during Raziel's presentation. Now you have the opportunity to sign up for a 30-day trial yourself.
Navigate to www.hp.com/go/agilemanager and click on "Sign up for a free trial".
Don't worry about not knowing where to start - for first time users Agile Manager pops up handy tips to take you through the application. The welcome page presents you with video tutorials to get you upto speed quickly.
In addition, make sure to visit our Agile Manager community board:
Agile Manager HP Community Board: http://h30499.www3.hp.com/t5/HP-Agile-Manager/ct-p/hp-agile-manager
Product Q&A: http://h30499.www3.hp.com/t5/HP-Agile-Manager-Product-Q-A/bd-p/hp-agile-manager-product-q-and-a
Enhancement Requests: http://h30499.www3.hp.com/t5/HP-Agile-Manager-Enhancement/bd-p/hp-agile-manager-enhancement-requests
Release Notes: http://h30499.www3.hp.com/t5/HP-Agile-Manager-Release-Notes/bd-p/hp-agile-manager-release-notes
Thank you to all who attended the Application Track at our User Forum - Australia.
As promised, please find the presenations used in the forum attached bellow.
- Application Lifecycle Management in the Age of Agile
- Overcoming the Challenges of Mobile Testing
~Kate
Hi there, I attended the user story delivered by Craig Howie from Toyota (at the Melbourne User Forum yesterday) and found it to be a great story; having to juggle a Quality Center upgrade around the test deadlines of a major SAP upgrade sounds like a recipe for high blood pressure :)
Craig is also on the schedule for tomorrow's session in Sydney so those going should be sure to check it out if you work with Quality Center. Thanks Craig ~peter
Speed up functional testing and increase ROI with pre-build, pre-automated test cases and end-to-end integration tests
Worth seeing the White paper.
(March 14, 10:30am PDT / 1:30pm EDT / 5:30pm GMT)
Join HP product executives Ajei Gopal, Sr VP & General Manager and Matthew Morgan, VP Product Marketing, as they provide an overview of HP's new solutions for mobility, agile management, and next-generation testing.
Plus you'll hear how HP's newest Applications solutions address the challenges created by the new reality of modern application projects.
http://hpbroadband.com/program.aspx?key=AgileDevelopement14Mar13
This question was posed my Mary and Tom Poppendieck in their book "Lean Software Development: An Agile Toolkit" ISBN 0-321-15078-3
Imagine you have to make a change to one line of code within your application. Now think about how long would it take you to deliver this change to production:
How much testing will you be required to perform?
How much supporting documentation will you be required to produce?
How long will you have to wait for a test environment?
How many dependent systems will you need to test?
How long will it take to approve the change?
And, last but not least, how many of those activities add value, and how many waste time?
Many organizations are looking to eliminate waste from their processes in one form or another and create a more "Lean" production pipeline. Based on the concepts pioneered by Toyota Production System and Lean thinking - whether it's Kanban, Agile, Six Sigma... the aim is to remove those activities that are culprits of defects, or reduce value.
Relating this back to the world of Applications, we have concepts of Continuous Delivery and DevOps . These concepts tie customer requirements, development, QA, and operations teams together to:
- ensure a seamless pipeline of production
- reduce bottlenecks in the flow of information, and
- ensure a smooth (and Automated) transition of the applicaton from one stage to the next
So, how long does it take you to deploy one line of code? And if you had the magic wand to change things, what would be the first area you'd tackle?
The views expressed in my contributions are my own and do not necessarily reflect the views and strategy of HP.
Customers attending our "Applications" track (users of Application Lifecycle Management, Performance Center, Quality Center and Functional Testing software) will learn about exciting developments in the areas of mobile applications testing, and new solutions to aid application lifecycle management and quality assurance in agile environments.
2.30pm
Welcome
Presenter: Kate Droukman, Technical Consultant, HP Software
2.40pm - 3.20pm
Customer Presentation
Our customer will describe how they utilise HP application portfolio within their organisation to achieve quality and return on investment.
3.20pm - 3.35pm
Coffee break
3.35pm - 4.25pm
Application Lifecycle Management in the age of Agile
Presenter: Raziel Tabib, Application Lifecycle Management Development Product Manager, HP Software
Many IT organisations are looking to Agile to achieve faster and more frequent application releases. Your developers may have enthusiastically embraced sprint like iterations, but completing code faster does not eliminate defects if the business and Quality Analysts are not keeping up with the pace. In this session you will learn how your team members can work in concert to overcome the challenges of modern delivery to achieve faster, higher-quality outcomes.
4.30pm - 5.20pm
Overcoming the challenges of mobile application testing
Presenter: Gal Tunik, Unified Functional Testing Mobile Product Manager, HP Software
It goes without saying that the growth of the mobile market is huge and it is reshaping the way customers and employees interact with your business. Yet the rise of mobile applications present new challenges to the Quality Analyst community. In this session learn how HP's end-to-end solution for automated mobile applications testing allows teams to release quickly and deliver great customer experience.
5.20pm - 5.30pm
Track summary
Presenter: Kate Droukman, Technical Consultant, HP Software
5.30pm
Track concludes
[Edit: Format Correction]
Dear Customers,
Welcome to HP's Software Forum Application Track and this discussion board.
When deciding on the content of the forum, we aimed to address some of the top of the mind trends and challenges facing the Applications community today.
With Agile adoption present and growing in many organisations, both large and small, we seek to demonstrate how you can connect with development teams in a collaborative fashion.
Smartphone and tablet applications offer an amazing platform for your online services, but with many answers there are just as many questions. What should you take into consideration when defining mobile requirements? How do you account for fluctuating network performance? How do you build a mobile test lab?
We invite you to contribute your thoughts on the content and share your experience on either of the topics.
Not long after Apple launched iPhone in 2007 everyone had to have their smartphone app. At the time my colleagues and I were reminded of 1990s and the rise of the World Wide Web, when every business had to have a website, even if it was just a one page brochure.
In the beginning maturity of Apps was limited to games and business brochures, and only Apple devotees were buying into the marketing hype. But unlike WWW that has taken years to take off from the bare HTML pages to providing us with interactive web applications, within a matter of 2-3 years mobile Apps have matured into useful everyday applications that integrate seamlessly into our lives.
When I got a smartphone in 2010, I had access to the browser, email, maps, calendar, banking applications, Facebook, Skype. I could shop on eBay, buy movie tickets, read and review work documents, find a nearest automatic teller machine, and play Sudoku. I no longer need my GPS Navigator, or my iPod.
When the concept was taken to the larger screen tablets, there was little need left for the traditional household PCs predominantly used to browse the web. Now tablets are taken into meetings, students squiggle notes on them in lectures, and two year old kids play games on them.
Can you imagine that only 6 years ago, there was a world without smartphones or mobile apps?
Have the smartphones reached their peak? Or is there more to come?
The views expressed in my contributions are my own and do not necessarily reflect the views and strategy of HP.
How is the approach to quality assurance different on Agile projects, compared with Waterfall projects?
There are some of the opinion that a nominated quality assurance function is not required on Agile projects because quality is inherently built in to the product using methods such as test driven development, continuous integration, and refactoring.
Others argue that such activities validate only the technology requirements, but do not focus enough on validating the features and scenarios desired by the business or customer.
While these debates are taking place in theoretical circles, organizations sometimes take creative approaches to integrating QA into their Agile projects. A methodology dubbed 'Scummerfall' has emerged from project teams performing technology level testing in an Agile manner, while QA activities such as functional validation, system integration testing, security and performance testing are delegated towards the end of the release.
How does your organization approach QA on Agile projects?
How do you believe it should be approached?
The views expressed in my contributions are my own and do not necessarily reflect the views and strategy of HP.