We are not getting complete details when we tried Service Modeling for Applications from UCMDB browser.
Ex: when we tried modeling for HPSM Application only web layer/server getting discovered and tagged for this application and no dependent application & DB is tagged. please suggest on this.
BR.
Hello Team,
We have identified the serial number for CIsco devices, but not able to do the same for aruba, juniper, bluecoat....
When we riasie support case, we get to know it is not supported and HPE files a ER requrest for the same.
I wanted to check here, do any other team has same issue. If yes, How do they resolve.
Thanks
Chandan
We are trying to integrate UCMDB 10.21 with Asset Manager 9.5. using the AMGenericAdapter from CP17. We have deployed the files from the AM server onto the probe as stated in the manual. The AM database is running in Oracle and we have installed the Oracle instant client 11.2 on the probe. We have also followed the manual When we configure the integration point the test connection fails with error 12,001 stating the connection to the database has failed.
We can connect to the database using sqlplus and the same connection string that UCMDB is trying to use.
Do we need to set up any environment variables such as TNS_ADMIN on the probe in order for the connection to succeed? Will it work with the instant client or do we need the full client?
Hi everyone,
CP20 Help Center is uploaded and now accessible from the CMS Knowledge Portal home.
To access CP20 Help Center, click the link below:
Tip: If you see CP19 Help Center instead, please clear your browser cache and refresh the page.
The CMS IE team will be maintaining and updating the help center in a timely manner, in response to any feedback from you.
All the best,
CMS IE team
Hi everyone,
UCMDB Browser 4.05 Help is uploaded and now accessible from the CMS Knowledge Portal home. Click the link below to experience the new TopNav style help:
All the best,
CMS IE team
I have downloaded the license key for hp ud 10.20. Its for 569 OS instances Perpetual. I invoked the license using .dat file through the JMX console and i received the confirmation that license has been successfully added and it shows todays start date. I was not sure of customer ID, so I just put 1 as the value.
Now I log into the UCMDB console, it still shows that its runing on the temp license and will expire in 18 days. I logged out and logged in , restarted the uCMDB service, that dint help.
What could be the issue and how do I resolved it. Any help will be great. Thanks!
Santosh
Dear all,
I'm honored to announce that the CMS Knowledge Portal is ready and available online for you. Please click the link below to check it out for yourself and experiment it: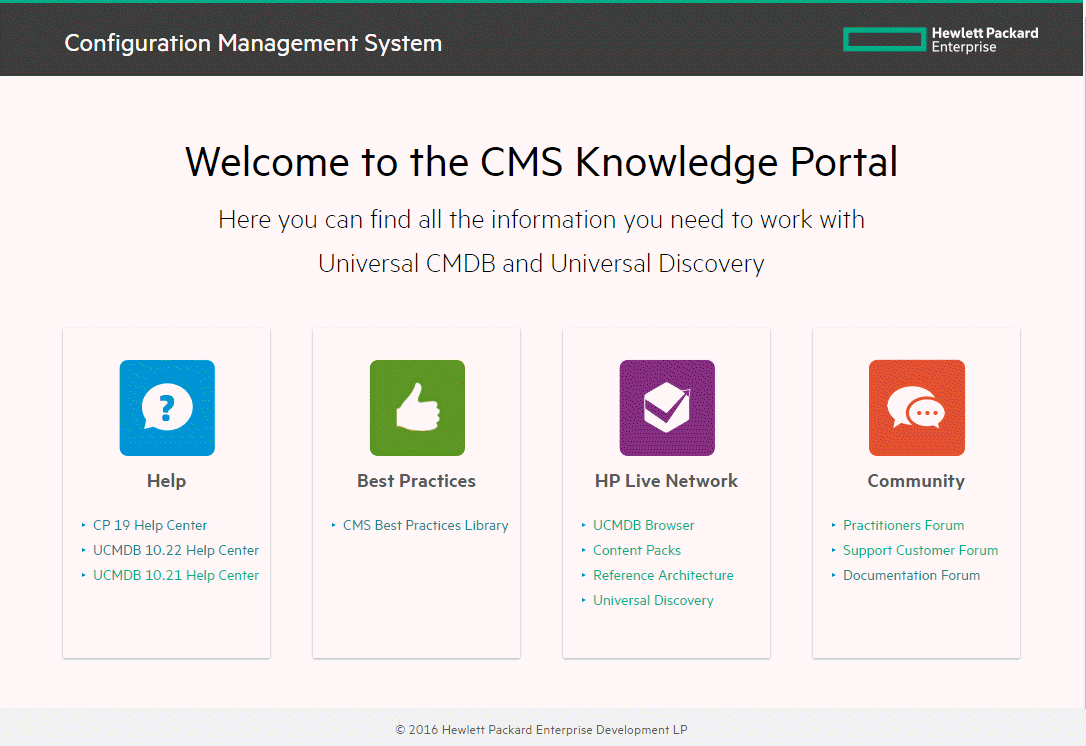 The CMS Knowledge Portal is positioned as the central online location for you to easily access and share the CMS Best Practices Library and the Google searchable UCMDB Help Center for the most recent releases (including the latest UD Content Pack Help Center available for the supported UCMDB versions).
For example, you can now easily share with others a piece of documentation information by simply sharing the link for that topic!
As you can see from the screenshot above, you can also access other CMS knowledge resources from the CMS Knowledge Portal, including different CMS communities on HPE Live Network and CMS forums.
Last but not least, please always feel free to share with us your input, comments, and suggestions to help us improve the CMS documentation quality and user experience.
All the best,
CMS IE team
Hello Everyone,
In a continued effort to improve the UCMDB documentation and customize it to suit the customer and support needs, the UCMDB Product team issued a survey for collecting feedback about the End-to-End Workflow Walkthrough Guide.
We would like to hear about your experience with this guide and get your suggestions for future improvements.
Take the survey – should not be more than 2-3 min of you time.
Your help would be appreciated!
As an effort to improve the accessibility of the CMS product documentation, we are happy to announce that the latest CMS 10.21 Help Center is publicly accessible now.
To access it, click UCMDB Help Center.
In addition, the HTML5 format makes the Help Center more user-friendly. It should offer you better search experience. Now you can easily share a Help topic with people by simply copying and pasting the URL for a specific page.
We'd appreciate it if you could share with us your comments and suggestions.
CMS IE team
The HPE Configuration Management System (CMS) 10 Documentation Library provides download links for all Universal CMDB documents, for all 10.xx releases, and all UD Content Pack documents for CP11 and later versions, available on the HP Software Support portal, including all CMS documents for the most recent releases.
You can use this library to access any of the guides and release notes relevant to UCMDB versions 10.xx and UD Content Pack 11 or later, or to download the full documentation set as a bundle.
To access this documentation library, click here.
The following UCMDB Master Release Notes contain direct download links to the release notes and the installation bundles for all patches that were released on top of UCMDB versions 10.00, 10.1x, and 10.20 respectively.
You can click the release version number (in the Release column) for release notes, and click the patch bundle name (in the Patches column) for the patch details and download link.
Overview of CMS 10.0x Patches (UCMDB 10.0x Master Release Notes): https://softwaresupport.hp.com/km/KM00913236
Overview of CMS 10.1x Patches (UCMDB 10.1x Master Release Notes): https://softwaresupport.hp.com/km/KM00913387
Overview of CMS 10.2x Patches (UCMDB 10.2x Master Release Notes): https://softwaresupport.hp.com/km/KM01484180
Dear Customers,
We are happy to announce our NEW UCMDB and UD Documentation Forum. Welcome!
The purpose of this forum is to answer questions regarding UCMDB and UD product documentation. If you cannot find what you are looking for, need documentation on a specific topic or simply reference to available sources of information, the CMS Documentation Team is here to help. For any challenges you face with our documentation, area of it you find unclear, please reach out to us and we can offer an explanation. And if you discover a gap in our information, we are happy to address the need. We will be also feeding the Forum with updates on new documentation, enhancements and any information you need to get the most out of our product.
It is worth visiting us! Your feedback makes us better!
Yours Sincerely,
CMS Documentation Team