Hello!
We're trying to install the version 1.9.1.29107 of McAfee Antivirus For Linux, but when we make the installation, the system starts to use 100% of the CPU and then the whole system is unavailable.
In the General Notes, I read that "Antivirus software is not supported on SA cores", but I don't know if that is the cause of the problem.
We are using the Express Version.
Do you have any idea why is this happening?
Thanks!
We're excited to share a product demo webinar for HPE Data Center Automation (DCA). Learn how an Infrastructure Administrator, a Database Administrator and an IT Compliance Manager use the HPE Data Center Automation solution as part of their everyday jobs.
In this webinar, we will demo the solution for the following use cases:
Provision a server, in a matter of minutes
Patch a database, in a few simple steps with OOTB, repeatable workflows
Automate compliance, the smart way with OOTB content and automated scan & remediation
Click here to watch now!
The webinar is presented by Sibel Satiroglu, Senior Product Marketing Manager and Jason Odorizzi, Senior Technical Product Manager for Data Center Automation at Hewlett Packard Enterprise.
Hi All,
While scanning for unmanaged devices it throws below error message.. I have disabled the windows firewall from server manager and as well as I have disabled the firewall service but still no luck.... Manual install went ok without any issues..
Error message string:
Exception: com.opsware.ngui.adt.model.DeploymentHelperInitializationException
An error occurred while initializing Agent Deployment Helper in PRIMARYCORE-agents:
RemoteException occurred in server thread; nested exception is:
java.rmi.RemoteException: EJB Exception: ; nested exception is:
java.lang.RuntimeException: java.io.IOException:
Any Ideas....? Kindly help me on this issue
BR,
Raja
It's been a while since I've touched HPSA in general but really haven't dealt with DCAA yet.
I know that re-ip'ing a typical HPSA core is thin ice terriority and HPE PS and all that comes into play. HOWEVER,:
1) Does using DCAA change this in any way ?
2) Is re-ip'ing a DCAA VM doable or do the same issue/restrictions still apply ?
Thanks any for information/direction on this question.
We're excited to share a new on-demand webinar introducing HPE's Data Center Automation solution, and we think there's something in it for everyone.
Are you "everyone"?
Well, if you're in a bit of frenzy about your data center, and you wish your IT operation costs were lower (or simply not spiraling out of control) or think it would be amazing if service requests didn't take ages to fulfill, this webinar is for you. If you wish staying compliant didn't have to be so difficult or you'd love if shadow IT could become a nonentity, this webinar is for you. And if you dream of the clouds, but have to deal with humdrum tasks instead, this webinar is for you!
In this webinar, you'll hear about:
An overview of the Data Center Automation solution
What makes the solution unique
The business benefits (with real life examples)
How you can use the solution to scale (with flexibility and choice)
Click here to access the on-demand webinar.
From the webinar page, a pdf copy of the slides are also available to download.
After playing around with dcaa 2016.1 and browsing the forums, I got the impression that nobody is using DCAA 2016 in mission critical environments.
The OVA as downloaded from hp does not install correctly, some strange iptable rules from hp are left on the device that prevent it from starting SA properly. This leaves the impression that nobody ever tested the release.
In our testenvironment the DCAA does strange DNS lookups to nonexisting domains that probably stem from the development environment.
6 months after release of 2016.1 I still cannot select the version when opening an SR.
DCAA 2016.1 is on SA 10.20 while the standalone product is on 10.23 with many rollup hotfixes. No hotfixes are available for DCAA(?). There is still no documented upgrade procedure from DCAA 1.0 to 2016.1 available.
Is anybody using DCAA in a missioncritical environment and if yes, what experience did you make?
Kind Regards
Erwin
When installing DCAA that a trial version. When I preform the command that "/etc/init.d/opsware-sas status ",I meet a problem that " failed to peroform "startsync " operation on Opsware SAS components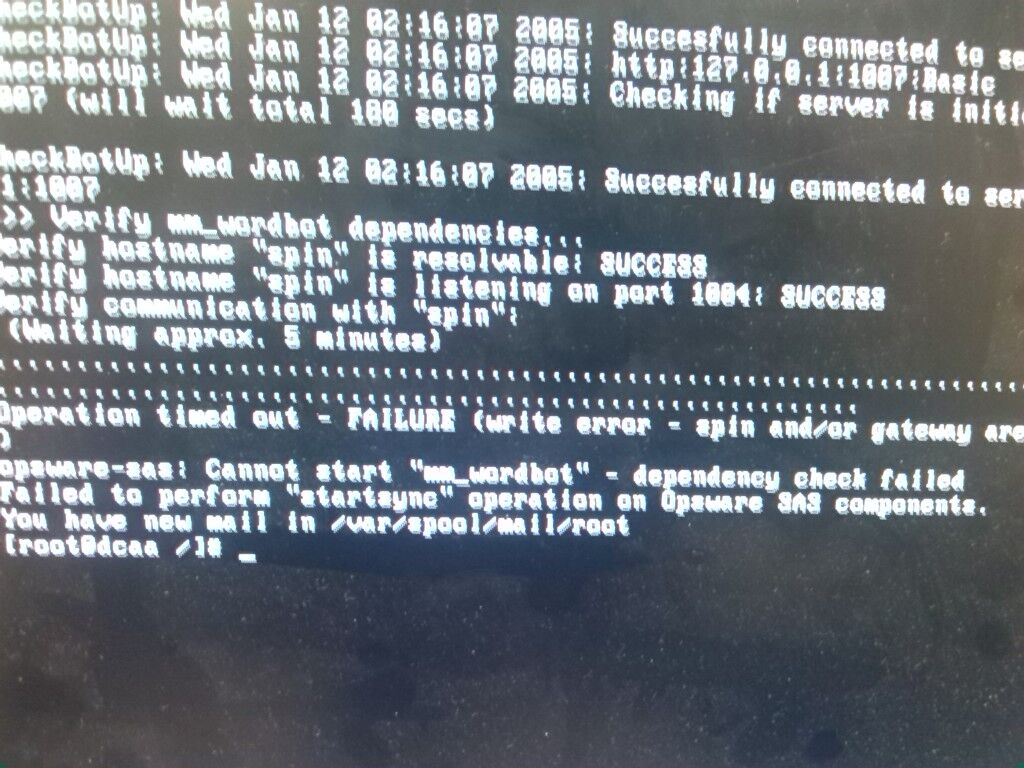 Hi,
I have downloaded the ova file and reassembled it as DCAA-1-0.OVA file.
When importing the OVA file in the VCenter client, it is not prompting for hostname, ipaddress, gateway, subnet-mask, etc.
I continue with this but after powering on it says hostname set as localhost.localdomain.
Am I doing anything wrong.
Breaking my head over this.
Appreciate your help.
Best Regards,
Sultan
Enhance your #HPDiscover experience by joining #Vivit one day before #HPDiscover begins for the highly ranked #Vivit Deep Dive program – choose from one of the 10 sessions Register for these sessions through your new or existing #HPDiscover conference registration. http://bit.ly/I7Fbyo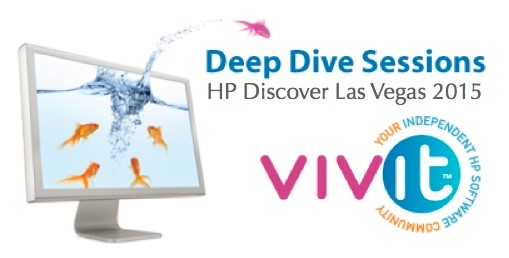 Don't miss out on #Vivit's Deep Dive Sessions at #HPDiscover on Monday, June 1, from 1- 5pm.These sessions allow you to hear real-world implementation experiences and examples from practitioners who are in the field solving business problems with HP Software tools every day. Cost per session is only $99 thanks to our sponsors--this is an incredible value which normally costs $495. Register for these sessions through your new or existing #HPDiscover conference registration.
Learn more. http://bit.ly/I7Fbyo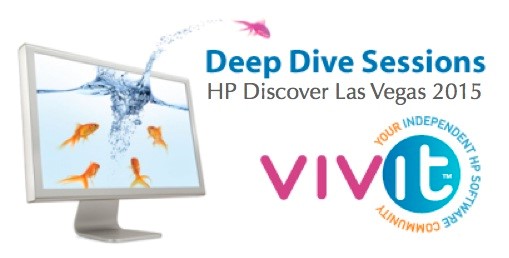 Enhance your #HPDiscover experience by joining #Vivit one day before #HPDiscover begins for the highly ranked #Vivit Deep Dive program – choose from one of the 10 sessions Register for these sessions through your new or existing #HPDiscover conference registration. http://bit.ly/I7Fbyo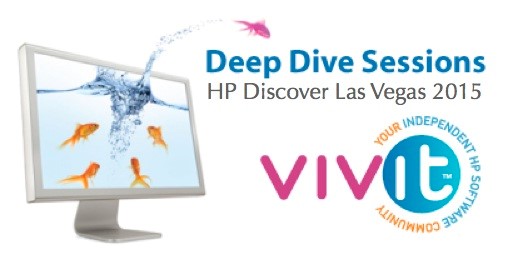 Join us on May 27 for "Turning the Dream of Rapid, Error-free Service Delivery into Reality" Vivit Webinar.
Register at: https://www3.gotomeeting.com/island/webinar/registration.tmpl?id=249056162
Feeling the pressures for agility and speed and the demands of BYOD, Cloud, Big Data and Security? On March 13, HP Software will be hosting the 2nd HP Software Customer Forum in Atlanta at the Fernbank Museum.
Take the afternoon to get inspired by practical approaches and innovative solutions that help you better leverage what you have and justify what you need to optimize IT for the new style of business.
Meet our special guest, distinguished Gartner Research analyst Neil MacDonald. He will share insights into the most relevant industry trends and the changing roles across the hybrid IT and security. He'll discuss the top of mind pressures around agility and speed along with new interests around Cloud, Big Data and Analytics, and the role of connected intelligence in the overall strategy.
This is a great opportunity to hear use cases and engage in peer-to-peer discussion around how to optimize IT in the new style of business.
Hear use cases from customers, including Southern Company, Fiserv, HP IT and AutoTrader, on their journey to transform and enhance their businesses, efficiently and securely.
Learn about new innovations from HP Software that can help you deliver applications with quality and velocity, transform service delivery, and secure your modern enterprise.
Network with your local peers under the breathtaking glass ceiling that soars 86 feet above the world's largest and most historic dinosaurs.
View the agenda and our speakers.
Join in the discussions - Register now
Be sure to register for "SAVA – New paradigm in Server Life Cycle Management" Vivit Webinar on February 18 at: http://www.vivit-worldwide.org/events/event_details.asp?id=393907&group=
HP Server Automation Standard aka SAVA is a simplified and lighter version of the HP Server Automation (HP SA) product for server life cycle management. An important system management and IT automation tool for reducing the time needed to manage the physical and virtual servers in a data center throughout their lifecycle.
The speaker will share the best practices from an Indian organization and there will be a short demo of the software.
Learn how SAVA will help you provision and manage servers through their entire lifecycle. With SAVA, compliance managers can have visibility across the managed servers to see which servers are out of compliance and can then remediate non-compliant servers to bring them back into compliance, based on policies created within SA.

Who should attend this session:
Director or VP of Ops

Systems Manager

Server Management teams

IT compliance Managers
Speaker:


Manish Balooja
Director Cloud & Automation
HP Software
Director HP Software - Cloud & Automation and is responsible for the development of the portfolio across Asia Pacific and Japan

Joined HP in early 2008 to drive Automation business in India and brings over 20 years of sales experience to the company

Has been with HP Software for more than five years. Manish holds a Bachelor of Engineering (Electronics and Telecom) and is based in Delhi, India
Greetings All,
I would like to know the possible incidents/outages with high impact classified as emergencies/disasters and the response/recovery plan for each incidents/outages in the Data Center Operations.
P.S. This thread has been moved from Security > HP Networking to Data Center Automation Support and News. - HP Forum Moderator
Find out more at:
http://h30499.www3.hp.com/t5/Vivit-Events/August-22-Webinar-Actionable-Insight-for-your-IT-Big-Data-HP/td-p/6156923#.Uf07L213dAo
How are you optimizing your IT for the new style of business? Get inspired by proactive approaches and innovative solutions for cloud, mobility, security and big data along with a behind-the-scenes football experience at the HP Software Customer Forum on Tuesday, August 6 at FedExField.
We have a few of our top customers ready to share how they are empowering IT to deliver the new style of business. This is a great environment to share use cases, network with your peers and meet our special guest Gary Clark, legendary Redskins wide receiver and two time super bowl champion.
Check out the agenda and register now
HP and Vivit are presenting a webinar on May 22. If interested, full detail are at http://h30499.www3.hp.com/t5/Vivit-Events/May-22-Web-Event-Control-Your-IT-Costs-with-Asset-Management/td-p/6051215
Top five best strategies for building your private cloud.
Thursday, April 25th, 2013
Event Date: Thursday, April 25th, 6am PT / 9am ET / 2pm GMT / 3pm CET
Event Date: Thursday, April 25th, 10am PT / 1pm ET / 6pm GMT / 7pm CET
The scope, scale and complexity of enterprise data centers is rapidly rising due to increased use of virtualization, cloud, big data and mobility. Applications and workloads are becoming more dynamic and volatile and IT staff is being asked to become more efficient and responsive. Automation across physical, virtual and cloud data centers is vital for effective operations and consistent service levels.
Register for this webinar and learn five of the most important automation strategies to use today in your data center.
The impact of virtualization, cloud, big data and mobility on the operational priorities for today's enterprise data centers
How leading IT decision makers expect to use a range of automation and orchestration technologies to streamline operations and improve service levels
The most important evaluation criteria to consider when investing in data center automation and orchestration solutions
Five key steps to ensure your organization successfully implements and utilizes data center automation and orchestration technologies across the enterprise
Speakers:
Mary Johnston Turner
IDC Research VP
Enterprise Systems Management Software

Ken Won
Director of Product Marketing, Cloud/Automation Solutions
HP Software
Thursday, March 21, 10am PT / 1pm ET
This webinar will discuss how some of today's "best in class" IT organizations are moving their Data Center automation capabilities beyond network and server infrastructure technology. Expanding automation capabilities up into the software stack (database, middleware and applications) has paid big benefits for these world class organizations. HP will review the key business objectives of these projects, the solution that HP Software provided and the business benefits that have resulted for these customers.