Hi All,
I'm probably posting in the wrong area, we currently trying a 60 day licence of Storage Optimizer 5.0 (Cut Down Version Of Control Point), one of the problems is that we are unable to get support (even basic documentation) as we dont have a SAID.
We have managed to get a copy of the install guide and have the product installed
However, we are having trouble using the RAA, we are unable to import as a new repository, it just sits on "Saving". then eventualy going back to the repository screen.
Any assistance would be apreciated
Guy Downes has created two spectacular mind maps for us summarising the Software Forums in Melbourne and Canberra.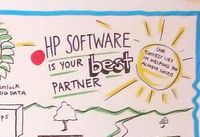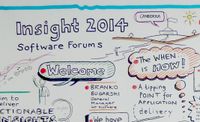 Tomorrow we will be hosting our third and final forum for Insight 2014, here in Sydney at the lovely Four Seasons. So if you've registered to attend - we can't wait to see you there. Be sure to check in here after for a graphical summary of everything you will see and hear throughout the day.
We are two forums down and one to go. So if you have registered to attend our Sydney event - don't forget and we will see you there.
A select few presentations are available for you to access right here. If you miss out, fear not. And if you think a refresher will be much needed, you're in the right place.
Check our attachments below to view some presentations for our Big Data and Information Management track for:
Connected Intelligence for the New Style of IT. By Lewis Carr, Senior Director, HP Software Marketing.

Search and Find Project – A Meaning Based Computing Solution – Rapid Response to Ministerial Requests. By Dr. Suresh Hungenahally, Chief Information Security Officer, Manager IT Strategy and Architecture. Department of State Development, Business and Innovation, Victorian Government
Turning Data into answers with HP Vertica. Sekher Seshadri, Senior Solutions Consultant, HP
Take control of sprawling data to reduce cost and mitigation. By Lewis Carr, Senior Director, World-wide Software Marketing and Big Data strategy, HP
Big Data is a hot topic in IT today but is predominantly focusses on how to successfully manage the challenge of growth. However, as discussed at the HP Software Forums – Insight 2014, a new style of IT is emerging. We need to pay attention to the detailed challenges and exactly how organisations can profit from this latest IT wave.
If you need a refresher session, indulge in this whitepaper; Profit from Big Data.
"This whitepaper presents specific use cases that enable enterprises like yours to profit from Big
Data. It also describes how HP HAVEn, the industry's leading Big Data platform, can help you securely capture, analyse, and act upon 100 percent of the data available to you."
Read more. Download the whitepaper here.
A few folk have asked about the videos from the Information Management track. YouTube links below:
http://www.youtube.com/watch?v=zzJ1qSema2Y&feature=youtu.be
http://www.youtube.com/watch?v=kCd4vWzjZ5w
Now you can really get that tune embedded in your brain :+)
Also, the presentations have been posted to this forum in PDF format in separate posts.
Folks,
Here is the information Archiving presentation from yesterdays User Forum in Melbourne.
There was some lively discussion during the session about the nature of Archiving.
Helped that we had some folk from the National Archive there to keep us all honest :)
Here is the HP Autonomy Data Protection presentation from yesterdays user forum in Melbourne
Hi All,
Here is the Vertica Analytics preentation from yesterdays User Forum in Melbourne
Very interesting stuff.
Enjoy,
Raymond
Hi All,
Here is the Information Governance preentation from yesterdays User Forum in Melbourne.
Okay folks, here's a question I want you to think about:
Is there a difference between a Backup and an Archive?
If there is, what is it an how does it affect the way you manage them?
Now, clearly, I have an opinion on the subject, however I want to hear your thoughts on the subject.
Another angle to consider is how the vast quantity of "Big Data" changes your approach to Backup/Archiving.
You now need to assess all this data to determine if it should be retained or secured. How do you do that at the speed and scale required?
Thought/Comments? Lets start talking about this because its a pretty big challenge and tools alone are not going to solve it.
A nice review of a recent book on Big Data.
Interestingly it hilights the need for good Governance.
Big Data: A Revolution That Will Transform How We Live, Work, and Think
Some very interesting thinkng point videos:
http://www.youtube.com/watch?v=zzJ1qSema2Y&feature=youtu.be
http://www.youtube.com/watch?v=kCd4vWzjZ5w
Some of the numbers are mind boggling.
Greetings everybody and Welcome to the Information Governance forum.
I look forward to seeing everyone and the User Forums in Sydney and Melbourne.
Bring your questions :)