Network Capture Express v3.0 - Now Available!
Explore your real network conditions
Network Capture Express (NCX) v3.0, a FREE mobile application, is available at the Google Play and iTunes store. NCX measures and captures the network conditions (latency, bandwidth and packet loss) from your mobile phone/tablet, from anywhere and on any global current carrier and it applies the current network type (Wi-Fi, LTE, 4G) on your application under test URL. It generates a file that can be replayed alongside performance, functional or mobile testing scripts. Unlike other network measurement tools, which can just confirm that your carrier is fair, NCX measures the conditions against your AUT and the outcome is recorded as a file. Read more about it in this blog.
Get up-to-date on performance testing by attending these on-demand performance webinars
The COST (Customer Oriented Scenario Testing) team is responsible for generating customer and user influence in our product development lifecycle. Over the past few months, Performance and Lifecycle Virtualization COST, together with representatives from R&D, hosted several webinars for our customers and partners. If you didn't have chance to join, you can find here the WebEx recordings, including the list of questions and answers.
Black Friday is coming: Prepare by load testing now
Last year, 103 million Americans shopped online over the Thanksgiving/Black Friday weekend. Are you and your shopping interfaces ready for that kind of customer load and impact on the bottom line? By load testing your mobile app and website make sure you are prepared for the number of transactions that are headed your way. Read more...
What's New in HPE Mobile Center
It's no secret that good mobile user experience is a must to achieve business goals! This can be a daunting task. But HPE Mobile Center - Mobile application lifecycle software will help you take care of your user. This is one session not to miss! Sign up at Vivit for this webinar on October 6th!
Summer travel and the need for great website performance!
Whether you are a seasoned traveler or an accidental tourist, chances are you have experienced the unpleasant side effects of busy travel season—delayed departures, canceled flights, overbooked flights, crowded trains and bus stations, sold out hotels and more. What happens when thousands and thousands of frustrated travelers and travel agents try to reach the same booking engines? Read more about it in this blog.
Reaching the new frontiers of load testing
The modern reality of digital transformation demands that companies deliver applications faster - without sacrificing quality and performance. Hewlett Packard Enterprise is a recognized leader in the performance engineering and testing "space", and with every new software release, we continue to solidify our position as a forerunner and innovator. This blog sheds light on the next frontiers of load testing, focusing on three topics: Internet of Things (IoT), Chaos Engineering and Big Data. Read more…
Upcoming Webinars
Oct 6 – 11:00 AM EDT What's New in HPE Mobile Center
Past Webinars
Continuous Testing: The Key To Increasing Delivery Speed And Quality In Your DevOps Pipeline

Performance Engineering Tools

What's New in HPE LoadRunner and HPE Performance Center 12.53
HPE Performance Engineering Solutions
HPE StormRunner Load
HPE Network Virtualization
HPE Service Virtualization
HPE LoadRunner
HPE Performance Center
Download the Market Guide to Performance Testing by Gartner
Hi all,
I recently acquired a dedicated server specifically to install the ALM component piece for a Performance Center infrastructure.
The installation went fine, but when I try to start the HP ALM services I get an error:
Windows could not start the HP Application Lifecycle Management on Local Vomputer. For more information, review the system event log.
In the event log it just says:
The HP Application Lifecycle Management service terminated with the following service-specific error:
Incorrect function.
Event ID: 7024
Is there a wrapper log file somewhere in the config that would possibly tell me some more information?
Hi.
I want to automate the sending of html report by email to all my stakeholders as soon as my test is completed.
I see that we have a API to download the HTML Report zip file. But how can I just get the html Summary report.
Recently upgraded from 12.01 to 12.53. Everything works correctly except that vugen scripts and scenarios don't display in the UI. The permissions are set correctly but these two resources don't display. If you select edit the test the window opens but nothing is dispalyed? I have verfied and repaired the lab project and the projects verified without any errors. Any ideas?
Thx
When installing Performance Center server or Host we can got an error message that .class file cannot be read. If you go to the installer the file are there.
To fix this, please take the installer folder and paste it in a short location, for example C drive or D drive.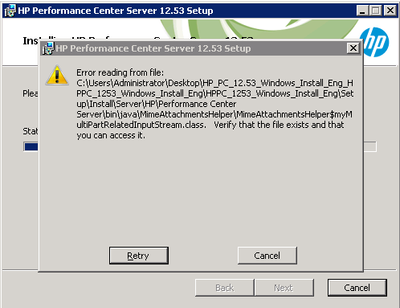 For more details you can go to the HPE ALM Performance Center Installation Guide
HEP Support
Here are the list of the required services that should be run on each Performance Center component.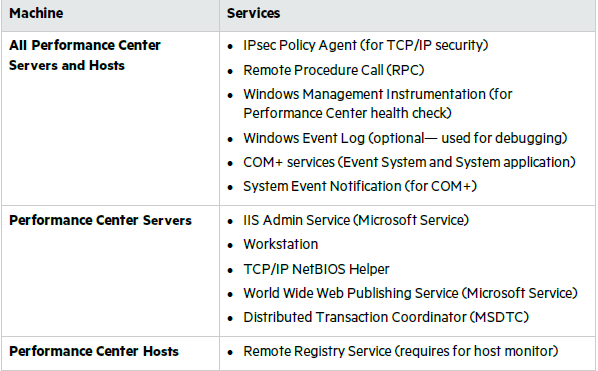 if you required more help or information you can go to the HPE ALM Performance Center Installation Guide
HPE Support
Hi
I need some help in execution of scripts in PC 11.52
I have two scripts & must hit two servers simultaneously. Due to some limitation in my Network Balencer, I need to bypass it & ht the desired server. For this reason, I need to execute two scripts simultaneously.
Please help me on how to perform this activity.
Thanks in advance,
Hrishi
Hi, I'm getting the following error message when I changing the Location within Lab Resources: I thought it came out of a machine that seems to not allow IURS_METRO full admin privielge on it. The message is very vag and don't provide to much context around what is causing the error.
Does HPE/or anyone have any documenation around the errors messages that ALM-PC or PC Server spits out?
Messages:
Failed to configure host; Failed to configure host; com.mercury.td.pcextension.labservice.comm.ILabServiceSetHostPCServiceExceptionDataFaultFaultMessage: Change Machine Identity failed. Reason: RunProcessWithLogOn: Failed to create process [C:\Program Files (x86)\HP\Performance Center Host\al_agent\bin\alagentservice.exe ] with user [IUSR_METRO] windows error code [183]; Change Machine Identity failed. Reason: RunProcessWithLogOn: Failed to create process [C:\Program Files (x86)\HP\Performance Center Host\al_agent\bin\alagentservice.exe ] with user [IUSR_METRO] windows error code [183];
All,
We're using PC 12.20 and VuGen 12.01.
By default VuGen and PC send different cipher lists to the server. Unfortunately PC's default list sticks us with some slow ciphers that noticeably impact performance and that are not the ciphers the app's production clients use. I know I can use web_set_sockets_option() to set the list on a case-by-case basis, but I'd rather not have to change every single script. Is there a way to set the default cipher list in PC?
thanks
john
October 11th: Online Expert Day Performance Center
Hello Everyone,
Performance Center is hosting an Online Expert Day on October 11th 2016! Mark this on your calendars!
If you are a customer with a support contract, then we would like to invite you to join us Performance Center Support Customer Forum on October 11th, when HPE product Experts will be online for 24 hours to answer any questions regarding:
Any topic on Performance Center
Event start time: October 11th at 02:00 AM Pacific Daylight Time / 05:00 AM Eastern Daylight Time / 09:00 AM Greenwich Mean Time
Event end time: October 12th at 02:00 AM Pacific Standard Time / 05:00 AM Eastern Standard Time / 09: 00 AM Greenwich Mean Time.
What is an Online Expert Day?
Online Expert Day is an event when HPE product, R&D, and Support team members and other employees join our online forums to answer your toughest technical questions. Online Expert Days give you a chance to talk directly with the HPE Experts!
How does the Online Expert Day event work?
HPE Experts will be online for 24 hours in the forum and will do their best to answer your questions. They may need to get some more information from you so please check the box "email me when someone replies". An online conversation will be born!
To participate, you do need access to the Performance Center Support Customer Forum if you don't have access, please add your Support Agreement ID (SAID) to your Passport profile and log in again.
To check this please do the following:
Login using your Passport credentials
Check to see if your SAID is listed and active. This is important.
If not, please add it
If you have a valid support contract and are still experiencing issues, please send an email to swcommunity@hp.com.
For more information on our Support Customer Forums and how to add your Support Agreement ID (SAID) to your Passport profile, please click here.
For upcoming Online Expert Days, please bookmark the HP Software Online Support Services - Forum events page.
If you have questions regarding the Online Expert Day event, please reply to this message.
We look forward to your attendance and your questions!
Regards,
HPE Support
Please check out a new blog post about the topic in subject
Hi ,
I am using ALM Performance center 12.02 to execute the load tests and then, download the results for analysis.
Once you save the analysis file as a session (.LRS), it generates session database (.mdb).
My question is regarding fields in Event_meter table shown below. What these field mean?
Event Instance Id, - This may be a unique ID to identify each event.
Event Id - I think this is referring to transaction.
End time (Is this time in seconds to complete the transaction?)
Value (Is this end to end response time? that is time taken serve the request?)
Wasted Time (what does this mean?)
Amaximum (what does this mean?)
Aminimum (what does this mean?)
AsumSq (what does this mean?)
Account (what does this mean?)
Hi,
We have 12.01 Environment, and planning to migrate to 12.53, want to know the IP Spoofing LGs usage, how it has been utiltized, how many tests are running per week with IP Spoofing enabled, and without IP Spoofing, and which team using more? So that we will plan the IP Spoofing migration based on the usage.
But how do we find the usage of IP Spoofing LGs, is there any way to do it. Please adivise. Thanks.
I've posted on similar threads to this one, but not exactly the same problem.
I'm running ALM and PC 12.53. I'm on the same domain with all the machines and have all the ports open I need.
What is weird is that this was working before. I had a PC host that was set as a load generator. I wanted to make it a Controller and data processor as well, so I attempted to add those in the purpose field. That's when I received this error:
Change Machine Identity failed: Reason: RunProcessWithLogon: Failed to create process [D:\PCHost\al_agent\bin\alagentservice.exe] with user <My PC User> windows error code [183].
When this first happened, I thought I might need to start over, so I removed the host from Lab Management and tried to add it back, but got the same error, so now I can't add it at all.
I've tried just about everything I can think of, including resinstalling the host. I've logged a support ticket, but wanted to see if anyone had ideas here.
Last resort may be uninstalling the Perforamnce Center server, since the PC user is created there, but I'm afraid of causing more issues since we still have our other PC hosts working.
I've attached a screen shot of the error I'm seeing.
Hi
During the startup process of running a test most of the controller and LGs goes into non-operational mode, whereas same worked earlier.
This is a new installation and some of the load generators are installed as hosts and some as stand alone load generators.
All the load generators are behind the firewall and connected to PC via MI Listener.
Tried restarting the Loadrunner agent service and Remote Management Service and log on as with domain user with which PC is installed, but no luck.
Any suggestions or pointers will be much appreciated.
Regards
Mukesh
Hi,
I am using Performance Centre 12.5 and load generator 12.5 linux version x64. We are using an r3.2xl AWS EC2 machine which has 60GB. I am using an web http/html script.
The issue i am observing is the memory consumption of the mdrv.exe keeps on climbing throughout the test even though my users have stopped ramp in and are running at constant throughput. Each iteration of mine simulate a new user behavior and clears the cache every iteration. Over 5 hours of test the load generator took 47 GB of memory with only 2100 users.
the test is for 60K users and it will be a big hassle if i have to spin up 30 Loadgenerator. The simplest script with only two http call and no variable start with 3 GB and go up to 40 GB in 5 hours.
Please suggest any optimization i should try out.
Hi All,
I have executed 4 days of endurance test with 28 users. After my test completion collation got completed and finished. When I open the results only latest 24 hours results are there and remaing days results were excluded.
So manually I logged into controller and load generator, empty results folder found. We lost 4 days of effort.
Observations:
1. When I tried to open the raw results file from PC , throwing an error like invalid and empty file.
2. Basic folder structure got created with start date of the test, but results are not there in both controller and Load generator.
Could you please share your thoughts on this.
Note: we used to get 10GB size of Event files, when collation failed to do so we manually collated for other runs.
Thanks&Regards,
RK
Hi,
Our organisation currently has ALM SaaS in the cloud (v12.5). We intend to move from our existing Load Runner to Performanc Center.
Could anyone advise me if we install Performance Center (v12.5) in our local network (i.e. in house), can it PRACTICALLY work with ALM SaaS in the cloud? Assuming the firewall / internet proxy allows such network communication.
Thanks!
DH
Hi All,
Can any one telll me Which Services\processes enables communication between PC Server and PC Host?
Please help me here?
Thanks
Hi,
We are having servers ALM and Core in 12.01 version (Windows 2K12 R2), but there is a requirement that the testing team required Linux Load generators. We have linux boxes now.
For this what need to be done?
o. Any requirement of Linux? ( configuration wise)
1. Required host software for Linux?
2. How to install the host software in linux box? what are the precautions need to be taken?
3. Is it same as windows LG, to be configured in Lab Managment or different?
Please advise. Thanks in Advance.