Hello,
By default in NNM if Core Switch is down the corresponding connected devices will be shown as Unknown unless if added in Important group list right? But here in my case it shows as Node down instead it should record as NodeorConnection down. Please need all your suggestions here.
Thanks,
Rama
We have some firewalls that are using the default CheckPoint Generic Device Profile in NNMi. We are not getting all of the node components showing up so we wanted to use a more specific OID in order to include the piece we are missing. We have tried to create a new profile and do a configuration poll to have it get the new profile and that didn't work. We also tried to delete the original Device Profile and "force" the nodes to use the newly created profile. All that did was cause all of the firewalls to alert because the monitoring changed. Re-seeding devices didn't cause them to use the new profile in any of the scenarios.
I am not sure if we are missing something simple or if there is a bug or what. There are really 2 issues at play here, 1) power supplies are not showing up in nnmi for devices that have the correct MIB loaded and an SNMP walk shows the specific OID for the information, and 2) we seem to be unable to deploy new Device Profiles correctly.
NNMi-Version 9.20,9.22.002,9.23.003,9.23.005
Patch Information: NNM920_00005,NNM920L00005
Hello,
Today found that NNM stopped to let a domain account login.
How reload connection NNM with LDAP whout restart server?
NNM 10.x with NPS 10.x
Currently threshold setting for Interface input utilisation can be done based on Count and Time based which is again based on Polling interval.
Is there any way we can create threshold setting based on hourly or Daily summarization of Interface input utilisation.
I want to install NNMi along with iSPY on the same server.
I tried with NNMi 10 on Windows 2012 but got error while installing the iSpy for Perf Mon.
Can anyone help me as to which Windows OS version shall be used in my case.
Hi All,
I need to access my nnmi 10.10 embedded database, how please help.

Thanks,
I'm tasked to monitor Cisco's Unified Communications Call Manager and the associated systems, Here's what I have done so far:
- Downloaded and installed all of the Cisco MIBS, CCM, GATEKEEPER, SESS BORDER-CTRLR (3), SIP, SIP UA, SRST, TELEPRESENCE (3), and VIDEO (2).
- Loaded all the incident configurations for all of the MIBS that had associated incident configurations
- Established a connection with the Call Manager (UCvirtualmachine) through SNMPv3 passphrases
- Set up a NODE Group for the Call Manager nodes (UCvirtualmachine)
- Established a SNMP connection with the Cisco Multipoint Controller Unit (MCU)
I can establish a connection with the Cisco Video Communication Server with a CISCO OS because the Unified Communications SME has said it's an appliance but that would just be ICMP and SNMP which I dont think is what kind of monitoring they want for this very important system in the Unified Communications Call Manager system chain.
There are also two ESXi nodes that are in the Unifed Communications system chain that I cant establish a connection with.
Has anyone successfully set up monitoring for Cisco Unified Communications and all its systems? I have asked about the ISPI for Telephony and apparently we are resource strapped so that's out. Reaching out for a lifeline.
Thanks in Advance for all responses,
Dwight Simmons
HEY ALL,
I need a help if you can please.
i am installing ipsi for perfomance matrix & in the end it comes with error "failed to create BI SEVER "
i have run command to create BI server but it "s not happening.
please sort me out.
regards,
RAVI
Dear All,
I have created a custom poller configuration to poll the OID 1.3.6.1.4.1.9.9.147.1.2.1.1.1 which gives the information on Cisco Failover Scenarios (Screenshot attached). I am polling the nodes in the node group using this custom poller every 60 seconds. Now I want to generate an incident everytime this custom poller polls the node group. Also I want to generate an incident when this firewall (presently showing "Primary unit (this device)" ) failover to secondary (it shows "Secondary unit (this device)" then ). I have ticked a check box that says "Generate Incident" in Custom Poller Collections form but still the incidents are not getting generated.
Now the question is, How to generate an incident both when this custom poller polls the node group every time and when the firewall failover to secondary?
Kindly respond at the earliest as this a very urgent request that I have to implement.
Your help is always appreciated.
Regards,
Ranganath
Hello team,
We are trying to monitor a F5 load balancer 11.6 in NNMi 9.20.
The physical load balancer is already being monitored, but our client also wants to:
Monitor the virtual load balancers

Be able to see the virtual topology in a NNM map.
Are both of these requirements possible?
The F5 discovered is showing inside a set of vlans and two IP addresses.
Hope you can help us, thanks in advance.
Best regards,
Daniel
Hello.
I want to add in NNMi new User Group and take for new User Group administator role.
I create new CN in LDAP.
Add user in new CN.
In NNMi in Configuration->Security->User Group I add new Group
User Group Summary : NNMi Administrators x Name tech_admin
Display Name NNMi Administrators
Directory Service Name CN=HP NNM Admins,OU=HP OO,OU=Monitoring,OU=00,OU=06,OU=Systems,DC=com,DC=com,DC=com
Description The NNMi Role is "NNMi Administrators" for members of this User Group
What I stiil have to do complete this task?
Dear all,
I try to get a static configuration for the language of the client browser content from NNMi.
In the old version 9.x it was everytime on English. Now it is in German because my browser is set to German.
It is no option to change the browser settings because most of the users have no permission to change this.
Thanks a lot!
Sven
Hey All,
I am not able to discover any non-snmp device and snmp device through auto discovery & by created seed both.
It GOT failed while adding ANY device in seed.
Deivices are reachable. And they are configured in Xian tool... I have deployed 5 swithces and routers in that & then i am trying to discover in nnmi 10.20 .
Please can anyone help in this ?
Regards,
Ravi Singh Chauhan
Hello,
Kindly suggest ways to monitor syslogs of network devices in NNMi.
We dont have HP arcsight logger in place. So integratioon of NNMi with HP Arcsight logger is not possible.
Is there any other way to achieve syslog monitoring in NNMi.
Thanks & regards,
Supriya.
Hello guides
I understand that iSPI Traffic marks an application as 'Undefined' if port-name mapping hasn't been done. In my reports I see some applications using different ports. How is it possible for an app to use a different port when its already mapped to a particular. Even if it does, how is the application name established for these 'other' ports since the identification of application would be produced through Application Mapping table (which just has one port for that application)? For instance HTTPSoverTSL is mapped to port 443, but I could see 60602 destination port using this as well.
About naming, should application be mapped to a source or destination port?
Thank you so much!
I have been able to write a PERL script using SOAP::Lite to get data from NNMi using the web services interface, but I can't figure out how to execute an action. I want to use the updateManagementMode method to set interfaces to unmanaged, but so far I can't figure out how to call this method. Does anyone have a suggestion or an example?
Thanks,
Benny
Hello Everyone, Can anyone please tell me : 1) Do we have to install ISPI seperately ? Why it is used ?
If i want the daily reports of memory , port utilization SO i have to install ispi performance matrix ?
2) How NNM works ? i WANT THE FLOW like snmp agent collects data & directly give to nnmi server or not ?
Actually how nnmi works ?
kindly contact me - Private Info Erased
Regards,
Ravi Chauhan
I am relatively new to being an administrator on the HP-NNMi 9.20 and HP-OML 9.10 environments. The company I work for has begun installing 2 T1 connections from separate providers into Cisco 2911 devices for WAN management, in addition to adding cable internet services. NNM is properly seeing the different IP addresses / interfaces on the T1 connections, however there is no visibility to the Cable ISP equipment (obvuiously - No SNMP available - expected). An active / active configuration is being deployed for the T1 connections I am not sure how to make HP-OML properly alert on the indivdual T1's IP addresses / interfaces when there is an event. I am working with an environment that was initially configured to only create a down node event when the loopback address was unavailable. To say I am working a highly customized environment might be an understatement. I do know we use perl scripting as well as an SNMP Trap Policy for eventing on 'Router Down' scenarios. If someone could point me to some best practices and / or provide some tips for any neccessary configuration items within NNM and OML, I would be grateful
Hi I have installed Operations Connector on NNMi server (on RHEL server) for event integration to OMi. I have followed all steps as per guide and exported data and header file from NNMi server. When I am trying to import those in Operations Connector, it is giving error of unexpected error of java heap space but when i checked the free space on NNMi server, there is enough space for policy import. Please find attached error image and free space image.
Any lead will be highly appreciated.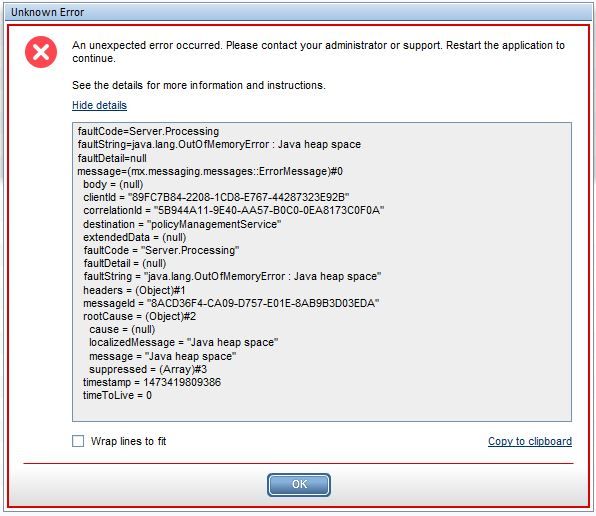 Hello,
I would like to ask for help with this problem of mine. I have NNMi 10.20 with SPI QA installed. I need to be able to get the QA Probe UUID from the NNMi using comnand line. I am able to get QA Probe UUID in the web console (through viewing Probe status) so the information is included in the system. But the QA Probe is not included in the outputs of nnmtopodump.ovpl nor nmsqatopodump.ovpl. Does anyone have clue how to get the QA Probe UUID using command line? Thanks
Robert