Hello,
In the OMi Management Pack for MongoDB 1.10 documentation it is said that after Importing the Content Pack, there should be a new Performance Dashboard "MongoDB Overview" available. I can only find "MongoDB_host_node" dashboard. What should one do to get this other one also working?
HI Experts,
I am using OMI 10.01 and i configured some email notificaion but this notficaiton is not trigered with duplication events it is only sent with the original event ?
I want the email notificaiton to be sent alos witht the duplicates
Hi,
I have to upgarde my OMi from express edition to ultimate. Therefore, I am switching from Postgres to MSSQL.
How about the data migration, any guidance here ?
Thx
Hi All,
I'm sure this has been answered before somewhere here in the forums. Searching for Application Infrastructure DHCP returns too many results.
I'm hoping someone could explain why Policy artefacts contained in the OMi Managment Pack for Infrastructure Aspects have under the Advanced tab of the defaults set Application to DHCP?
For example, here is the Sys_SwapUtilization-AT policy artefact, why Application defauls is DHCP?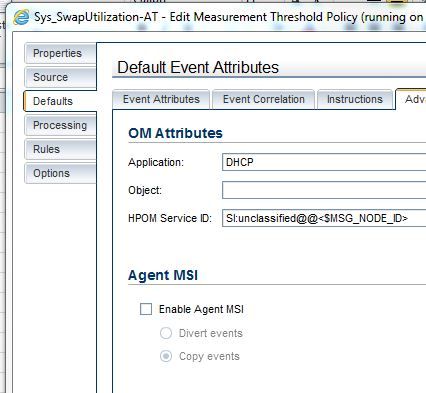 Hi Expert
I am install and configure HP operation manager i 10.x in windows environment along with dashboard. Now I want to monitor my other servers and MS SQL database , As I very new HPomi 10.x software can anybody sugges me how to deploy or install agent in my target systems from OMi console.
Regards
Sagar Bhattacharya
Hi,
Windows 2012 R2
OMi 10.12
I have LDAP Authentication configured for users and groups. My User under the OMI_Admin (ldap) group is mapped to "OMI_Admin" Group in OMi and has "ALL" permissions selected, and yet when I login with this user it picks up "most" of the permissions, and not all. For instance I have ALL permissions for RTSM selected in the permissions and yet no access in the UI to RTSM??
There are other UI options missing too for example some of the Administrator -> Users options are also missing as well as all the RTSM options.
Seems I am unable to configure using permissions and groups a Super-Admin user from LDAP??
Can someone please explain or direct me to an appropriate document or article where this can be configured?
I've already read through the Admin Guide, there is some mention about setting up Super-Admin user but the links just go from one page to the next and back to the original page in a loop with no information on how to do this.
Here are the menu options unexpanded, notice no RTSM???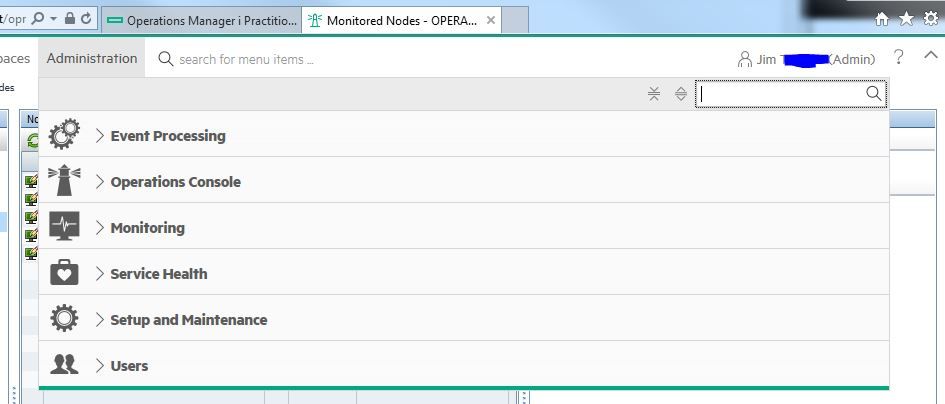 Jim
I am trying to generate a key for my OMi 10.11 system and i found the following link
https://softwaresupport.hpe.com/group/softwaresupport/search-result/-/facetsearch/document/KM01726805
But hwne I try the key generation my self i get a CNF file issue.
I am on windows so I dont know why it is giving my a path to a linux file.
Any ideas?
E:\HPBSM\WebServer\bin>openssl genrsa -des3 -passout pass:****** -out omiopenssl.key 2048
WARNING: can't open config file: /usr/local/ssl/openssl.cnf
Loading 'screen' into random state - done
Generating RSA private key, 2048 bit long modulus
.................+++
........................+++
e is 65537 (0x10001)
E:\HPBSM\WebServer\bin>
Hello Experts,
We have a Connect-it scenario where we read mails with alarms from a mail recipient and want to send this alarms to OMi as events via REST Web Services. We tried to enable it doing a mapping of the basic event fields, but we get the following error from OMi server:
"The request could not be understood by the agent service due to malformed syntax. The requester should not repeat the request without modifications."
We have disabled the "X-Secure-Modify Token" requirement in OMi in order to avoid extra complexity. We still are not able to make it work.
Find attached in the case screenshots of the OMi configuration, Connect-it scenario, samples of an event fields sent via WS and error message.
Are we missing something?
Thank you very much in advance,
Angel
Hi All,
Current vmware connector only supports vCOPS, our customer is currently using vROPS (6.0.3).
Will there be support for vROPS Connector available soon? If so, will it be anytime soon?
Jim
Hi,
I have OMi 10.11 environment. Due to some of the project requirements, I'm reopening the events from a closed state so that if the same event comes, it gets it gets deduplicated. However, I see that the new similar events are not getting duplicated and are visible as new events.
SO Deduplication is not working when the event is re-opened from closed state. However, it works fine in normal scenarios.
So my question is: If the events are closed and then re-opened, do they participate in deduplication?
I checked Deplicate event settings in infrastucture settings and there is a relavant point on this: "Events after Closed state are not considered as Original events" But in my case, the event is back to open state. So it is not clear whether these will participate or not.
Any pointers regarding this would be very helpful.
Best Regards
Muppireddy
Anyone know what needs to be installed/enabled to get Real Time data on a Performance Dashboard? When using a Date Range, my dashboard displays just fine, but when enabling Real Time, it shows "No Datapoints".
I have the HP Ops OS Inst to Realtime Inst LTU license installed on the node - is there anything else that needs to be installed or enabled? I've tried starting the Real Time Metric Access Service on the node as well, but that doesn't change anything either. This is in OMi 10.12 using Operations Agent 12.01.




Hi Expert,
We are recieving SNMP traps from 3rd party tool, SNMP traps looks as below:
\n[1] .1.3.6.1.4.1.1981.1.4.3 (OctetString): A-IMAGE
\n[2] .1.3.6.1.4.1.1981.1.4.4 (OctetString): K10 Bus 0 Enclosure 0 Disk 11
\n[3] .1.3.6.1.4.1.1981.1.4.5 (OctetString): 684
\n[4] .1.3.6.1.4.1.1981.1.4.6 (OctetString): Parity Sector Reconstructed
\n[5] .1.3.6.1.4.1.1981.1.4.7 (OctetString): CKM00115100820
\n[6].1.3.6.1.4.1.1981.1.4.7 (OctetString): Red
n[6] contain the colour code, RED means critical.
Is there any way based on this red n[5] we can set the Sevierty while creating the SNMP rule in BSM connector?
red -Critical
Yellow- Major
grey - Minor.
Regards
Deepak
Dear All,
I ma using OMi 10.01 and i configure some email notifications, but the email notification is trigered only with the first message and is not witht the duplicates.,
How can I make the email notificaiton fired with the duplicates not only witht the first one ?
Hi i want to submit an event to OMi based on queue length in my pm file i created eventhing fine and hard coding the thresholds working perfect however i would like set these thresholds as mandatory as they can be different on each node.
i created the event.yml file using the -createthresholds command and it auto created the file as expected i tested with placing some random variable in the "threshold_severity" field but im trying to figure out how to evaluate my results from these thresholds.
the manual is not much help
can someone give me guidence please
Hello,
We are deploying BSMc on linux to interface with third party products. We are in the process of migrating to OMi (OpsBridge), but we haven't completed the agent's migration from HP OML to OMi. This means our standard monitoring (OS, applications, etc...) is still configured and handled by HP OML. This implies we must configure the Ops agent to talk to OMi and OML at the same time.
Someone can share his knowledge wit us?
What can be done, what should be done to not break BSMc -> OMi comminucation and policies?
Regards,
Alain
Hi
I'm in the process of currently updating our instance of OMi from version 10.00 to 10.10. It's all a single server instance with embedded Postgres as the DB type.
I've come across an error during the installation when attempting the Database Connectivity stage of the 10.10 install.
The error is like this: 'Operation failed. See the upgrade logs for more details. Details: com.mercury.infra.db.utils.PostgresManagerWinSvclmpl$CommandExecuteException: Failed to execute command! Error was: The service name is invalid.'.
I've tried adding the following directories as part of an article I read but that didn't work, any other ideas?
After the OMi 10.01 installation before selecting "Update from 10.00", manually create  the following empty directories:

%TOPAZ_HOME%\db\pgdata\pg_serial

%TOPAZ_HOME%\db\pgdata\pg_snapshots

%TOPAZ_HOME%\db\pgdata\pg_stat

%TOPAZ_HOME%\db\pgdata\pg_tblspc

%TOPAZ_HOME%\db\pgdata\pg_twophase
HI,

I have installed OMi 10.11 for Windows which stands behind a loadbalancer.
Access to the OMi is via https port 443.
Certificates are generated by OMi.
When accessing the OMi GUI via IE I have installed the certificate and then exported it.
The certificate has then been imported to another application from a 3rd. part (AppLink Clip) with keytool.
When this applicatioon tries to get access to the OMi, I get the following error message:

Connection to HP BSM OMi FAILED: javax.net.ssl.SSLHandshakeException: java.security.cert.CertificateException: No subject alternative DNS name matching project-prod.company.no found. Reconnection Attempt in 30 Seconds.
The DNS name is seen in the certificate, but still not able to connect to OMi via WEB Rest services.
When I connect directly to one of the OMi GWs its working fine.

The certificate has three entries for DNS:

#4: ObjectId: 2.5.29.17 Criticality=false
SubjectAlternativeName [
DNSName: omigwp01.project.company.no
DNSName: project-prod.company.no -->This is the VIP on the LB
DNSName: localhost
In the test environment it's working fine. but not in prod.

I also have a question about how OMi generate the info in the certrificates for DNS, will it just add the DNS for GWs and the VIP adress for the user access (and not VIP adress for data access) as seen in the Platform Administration > Host Configuration ?
Any suggestions?
Br.
Steinar S
Is there any impact to having more than one "Event Forwarding Rule" to forward events to trouble ticket?
We currently forward a subset of events from OMi 10.01 to "Trouble TIcket" using an External Event Processing integration engine set to "Synchronize and Transfer Control". As we reduce the noise of other groups of events, we want to send more types of events to trouble ticket, all sent to the same Target Servers (event processing integration to incident management system).
Should we try to make a more complex Event Filter and use a single Event Forwarding Rule? Or is it okay to have more than one forwarding rule sending to a single ticket integration system? One pitfall of more than one forwarding rule that I can imagine is having the Event Fitlers overlap - which I think could cause a single event to create more than one trouble ticket / incident.
Hello,
I got some problems running perl on Windows, so I decided to translate to VBS.
the problem is that I didn't found documentation how to use VBS in OMi.
In perl I use:
To set Session variable:
$Session->Value(errors, $errors);
To get Source value:
my $ResGroupName2 = $Policy->Source("ResGroupName")->Value();
To get parameters and set to Session:
my $PolicyRegex;
$PolicyRegex = $OVOSystem->ParameterGetString("PolicyRegex","%%PolicyRegex%%");
$Session->Value("PolicyRegex", $PolicyRegex);
In VBS I know:
To set Session variable:
Session ("FSDrive") = drive
To get Source value:
Policy.Source("ResGroupName")
To get parameters
????
Someon could help me?
Regards,
Diego Pereira
Dear Experts,
As far as i observed our OMi is not so slow but not fast like one expect with nowadays applications. I have 32 GB memory installed and noticed that maximum 12-13 GB is in use so there is enough unused memory. (from task manager)
I was looking at the Advanced tab of Server deployment step which provide the possibility to adjust the maximum memory which JVM can allocate to individual OMi processes.
was wondering whether allocating more memory there increases application performance? if yes, are there any recommended process? i can think of RTSM and Mercury AS for sure?
any additional information provided will be appreciated.
Thank You.
-KAKA-