The events coming from the Sys_DiskPeakUtilMonitor policy on UNIX accurately alert on one or more volumes being out of space, but the event does not show which volume is out of space. Is there a way to get this information into the event?
We are planning to include OMi in our environment without doing away with OM to begin with.
We are hoping the free license exchange program covers us with all the required licenses which are enough for this transition. (OpsBridge Premium ???)
My question
1. What are the steps to begin with, to start building an OMi platform? We are totally new to it, do not have any idea about it. Our initial goal would be to just see all the nodes or CIs from OM to OMi and then messages in OMi dashboard.
Hi All,
We are getting the critical alert for BSM gateway server "Insufficient disk space. Please free some space at [OVDATADIR]/shared/server/datafiles/archive".
also we got one more Event ---> Load of Content Pack D:\HPBSM\conf\opr\content\en_US\MM-Lys.xml failed with error message: com/hp/ov/xpl/runtime/DirKey
When checked the above path ([OVDATADIR]/shared/server/datafiles/archive".), archive file is empty in Both DPS and Gateways..Still we are gettig above event in OMI Events
Please let me know how to fix this issue.
Regards,
Srikanth
Dear Experts,
I am setting up new Groovy script Develope system and as per the document i need to download and install the Groovy Plugin.
"In Eclipse, install the Groovy-Eclipse plugin by pointing your Eclipse update manager to the update site (under Help > Install New Software… ) http://dist.springsource.org/release/GRECLIPSE/e4.5/ (or http://dist.springsource.org/snapshot/GRECLIPSE/e4.5/, if the release site is not yet available), select Groovy Eclipse (Required), and Groovy Compiler 2.4 Feature (underneath Extra Groovy compilers (Optional), click Next, and follow the installation instructions."
i am trying with both the link and in all the cases i get a 0 KB file called "e4".
Does anyone know the alternate link for same? or share the copy if one has this plugin downloaded.
TahnK You.
-KAKA-
Dear Experts,
I find it difficult to work with one log for all the scripts information/warn/error/debug message written it it. So i was wondering why not to create a Separate log for each script and write down all the important information in it which can help in troubleshooting a problem in future.
is anyone doing it? are people using a normal file handling and writing or you one can create a separate log file using the same Log or LogFactory package available in the script?
Any additional information provided will be appreciated.
Thank You.
-KAKA-
Hello,
My DBA want to monitor his SQL Server. He said, he used Alway On Technologie on his server.
I want to know if there are a metric to monitor this tech ? I check the SQL MP but I found nothing.
Thanks
Hi!
Have installed OMi 10.11 with 2 GWs and 2 DPs running on Windows.
The GWs are behind a loadbalancer (LB), so we access the OMi GUI via an VIP address.
For some days ago we were no longer able to login to OMi with the VIP address on the LB (but direct to one of the GWs worked).

At this time I configured the SSO and at the same time some configuration changes were executed on the LB.
From this time we were not able to login to OMI via the LB.
Got the login window, but when typing the users credentials and clicking the "Log In" button the login window occured again with no error messages and we were no longer able to loging via the LB.
I disabled the SSO, but still the same and we concluded that the issue was related to the LB.
Investigation on the LB configuration didn't give any findings.

Yesterday I configured the Single Sign-On, with the automatic domain e.g. subdomain.customer.country.
I changed the domain from subdomain.customer.country to customer.country.
Then it was possible to login via the LB.
So, my question is then: Is it a connection between the LB and the Single Sign-On? As I can see, this is not mentiioned in the documentation section for how to configure access to OMi via a LB.
Any thoughts?

Thanks in advance for any feedback.
Br.
Steinar S.
Per the install instructions:
The OPEN_CURSORS parameter of Oracle Database. For the upgrade, set the Oracle Database parameter
OPEN_CURSORS to 10,000.
This is causing some concern with our DBA's... is this high OPEN_CURSORS number needed for produciton running OMI systems?
Thank you
~John Sweeney
Hi,
We may start a migration from OM to OMi and would like to understand what could be the future for OMi.
What does this merge implies for OMi as Micro Focus has already a monitoring solution named AppManager?
Does someone has a migration plan for those monitoring products?
Thank you in advence for your help.


Hi All,
n the integration guide for HP BSM Connector for Zabbix, on page 12 it is said to go to the Content Pack Definitions pane in HP OMi, use the Import tool and open the folder where you store the HPBsmIntZabbix_ContentPack.zip package. Select the HPBsmIntZabbix_ContentPack.zip content pack.
My question is where can I find HPBsmIntZabbix_ContentPack.zip. While downloading the HP BSM Connector for Zabbix V02.00.031, it did not come in zip files and neither I could find it anywhere in HPLN nor in amy other website.
Please help
Hello Experts,
We have a large enviornment where in we are monitoring around 6500 servers using Opsbridge. We have 3 Gw's in a load balancer and 2 DPS. The problem that we see is that the internal queue between GW and DPS is giving problems and now we have around 79000 entries in the queue.
This is a problem due to which the monitoring is getting affected. We have even raised a p1 with HPE but are failing to get any RCA for this.
We can clear the queue but the production events wiill be lost. Need to know if there is some way where in we can monitor this queue and avoid such situations in the furture.
OMi_10.01 IP6
Extensibility Guide
Chapter 19: URL Launch of the Event Browser
I see lots of filtering options but no option to color the events. Attached shows how we do that when not in stand-alone mode.
Is there a keyword to force colors?

URL for stand-alone opr evt browser is something like: https://xxxxxxxx.domain.name/opr-web/opr-evt-browser?columns=severity,state,timereceived,title,relatedCi,category&sortField=timeReceived&sortOrder=desc&readOnly=true&filterId=d444c0fe-2e10-428c-94ce-e1cce1639143
Thanks in advance
Hi,
We recently had a major outage on our OMI 10.01 instance only to find that the BUS process was Out of Memory.
This could have been easily averted if we had some monitoring in place.
Is there any way to monitor the JVM stats of the various OMI processes?
Any CLI that can help me view the JVM stats for the individual processes rather can check the logs for each process?
Regards,
Irston
I'm having some problems getting loadbalancing to work with OMi. When adding the proxy-ip to "HTTP Reverse Proxy IPs" setting, I'm redirected back to the login page when logging in.
I notice the following lines in /opt/HP/BSM/log/jboss/login.log:
2016-09-20 23:39:05,356 [ajp-/127.0.0.1:8009-1] (BacLwSsoFilter.java:91) INFO - Session is valid for loginname admin but there is no securityContext available.
2016-09-20 23:39:05,357 [ajp-/127.0.0.1:8009-1] (BacLwSsoFilter.java:188) INFO - SSO request failure. Request url was http://omgw.lab/opr-web/framework/app

If I remove the proxy IP from "HTTP Reverse Proxy IPs", the web application loads normally. (But then I can not use the direct login URL to the gateway)

Looks like there's som issues with LW-SSO settting. Any ideas?
Hello community,

I am somewhat confused by the term OMi vs OM. My understanding is that both of them are referring to Operations Manager, but sometimes I see these terms separately.

Based on my finding, OMi sits on top of existing HP Operations Manager installation. It acts like a manager of managers for them. (What exactly does this mean?)

Can someone differentiate between OMi and OM? I have some understanding, but not comfortable enough to differenciate OMi and OM. OR perhaps I am confused by these two products.

Thanks in advance,
Hi Experts,
We are using OMi 10.10 on Linux. Would like to get some clarity on custom monitoring assignment for CI's. (example) The monitoring scripts & policies are ready with the list of nodes to deploy it. The instrumentation & policies are grouped in a custom Aspect. I dont want to assign the Aspect to each of the individual CI's (monitored nodes). Do i need to create custom views here grouping the required CI's here ? If yes, what type of views should be created here. Also, i heard that Aspects/Management templates cant be assigned to views manually.
Thanks,
Ram.
Hi,
Can someone please help me for HP OMi tool issue?
I am trying to create one URL type tool in HP OMi. While Creating new tool, I am using following steps:
1. Selected CI type "Node" in CI Types Leftmost Pane
2. Create new Tool name: "test tool"
3. URL Type: URL
4. URL tab, set "URL" field: https://
5. add runtime parameter using "Insert runtime parameter at cursor:" select "CI Attributes..." and insert "Node" (CI type) Attribute (for e.g. Display Name: discovered_location, type: String)
Then in BSM Connector Machine activated the BSM connector 'topology - integration policy', in 'data source XML file' for a Node, tool specific value has some format like "<hostname>:<port number>" (for example: host1:8080)
Now when I launch "test tool" from Node context or Alert Context, it fails as tool URL value is invalid https://host1%3a8080 . Colon character changed to its Hex value 3a with one extra '%' letter.
Regards,
Hari
Hi All,
Just wondering if there is any OAgent Self Monitor policies or aspects or content pack available for download - I tried searching hpln but maybe I'm using incorrect search keywords words - can't find anything.
Jim
Hello,
I'm using measurement threshold to cluster monitor and I have 2 cluster that have the same resource group name.


But when a event arrives from each cluster, the resource group cannot be resolved and them the event is showing directly in node and not in the cluster.

Could someone help me?
I checked the cluster properties but I don't know how to use more attributes that identifies that this resource group belongs to that cluster.
For example:
Cluster Resource Group properties: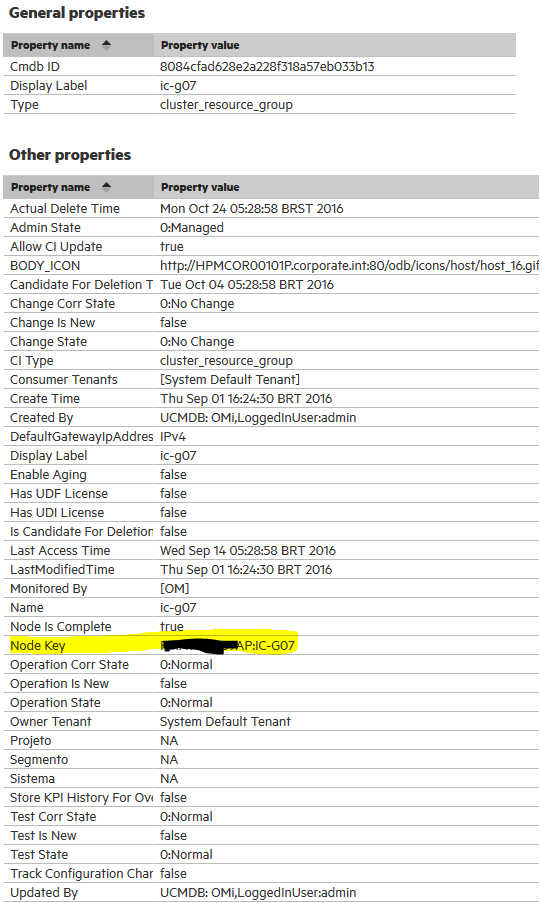 Cluster Properties:

Is there a way to use the attribute NodeKey in the cluster resource group to resolve the ambiguous problem?
Regards,
Diego Pereira