Hello,
We are using HP DIagnostics 11.24 with JBOSS,Tomcat and WebLogic Application Monitoring in progress, wanted help in understanding would we be able to achieve below mentioned counters from HP Diagnstics 11.24 for Java Appplications

1. Thread Hung:- Threads taking more than 10 minutes to complete Transactions
2. GC Count per Interval:- Number of GC Invocation per Interval(15s)
3. GC Time in ms:- Total time spent in GC by JVM
4. Java process CPU utilization:- Check JAVA process CPU utilization
Please suggest how we can configure the counters in Diagnostics any customizations if required?
Also require detailing on how exactly "GC Time Spent in Collections %" counter % is calculated in HP Daignostics. Calculations on same.
Warm Regards,
Arun Jose
Here is a blog post about HP Software as a Service: the product, the people and the ideas behind HP Performance Anywhere.
Our world does not stand still—and neither does technology. It is
constantly evolving to keep up. As cloud and mobile applications
and devices become increasingly prevalent in our daily lives,
both at and away from the workplace, organizations from a
wide variety of industries are struggling to keep pace with the
increasing complexities associated with leveraging these platforms.
With technology-dependent, business-critical services like
e-commerce, order fulfillment, and mobile banking core parts of
consumer behavior and key sources of revenue, companies are
more dependent on application performance management to
monitor the availability and functionality of those services. The
ultimate goal of monitoring those services is to help improve the
overall end-user experience—both internally and externally.
HP TruClient script recorder is based on browser protocol, providing interactive recording and scripting functionality while significantly reducing script development and maintenance time by as much as 75%.
TruClient recorder interactively records scripts as you navigate through your Application pages. It records and replays dynamic, complex web-based applications and creates user friendly scripts.
The user simply interacts with an application, and the TruClient engine captures every step in the form of a script.
We have create a short clip demonstrating the power and ease of use of HP TruClient here:
https://hpanywhere-docs.saas.hp.com/apmdocs/CLIP_Get_Started_Truclient_youtube.htm
The Performance Anywhere team
Learn how to ramp up synthetic transaction monitoring within your application performance monitoring program:
http://h30499.www3.hp.com/t5/Business-Service-Management-BAC/Using-synthetic-transactions-to-monitor-critical-application/ba-p/6062883
http://h30499.www3.hp.com/t5/Business-Service-Management-BAC/The-power-of-social-collaboration-in-your-application/ba-p/6034159
Afte logging to SaaS portla and clicking Performance Anywhere icon cannot display the webpage
https://060fee.saas.hp.com/onebox?miniappId=APMSaaSService&entryPoint=ApplicationHealthEP&TENANTID=756481024
How do I confirm that HP Diagnositics java agents are confirhured and connected properly to HP Performance Anywhere
e.g. the server product had a feature to confirm the connection, however could find a similar function in Anywhere.
How much transaction does a trial version of HP Performance Anywhere has?
By Udi Shagal, Analytics product manager, and Eran Samuni, Analytics R&D Manager — HP Performance Anywhere
When monitoring the health of business applications, IT operations staff need to be able to detect issues quickly and respond efficiently. Identifying and isolating anomalies—and then qualifying probable causes—are important processes that lead to faster resolution and better performance.
If you would like to get an insight into our coming release, be a design partner or share your feedback with us - please send mail to: liat.snitovsky@hp.com or reply to this post and we will contact you soon
Thanks
Dear Team,
Could you please clarify whether I can post HP Performance Anywhere (Beta) tutorials, articles in my personal blog?
Thank you,
NaveenKumar N
Analytics uses a self-learning algorithm to analyze applications, comparing their behavior to an automatically defined baseline. If Analytics detects behavior which is significantly different from the baseline, Analytics reports the anomaly and identifies the transactions and locations that displayed abnormal behavior. This helps you see at a glance the extent of the business impact of the anomaly.
Analytics identifies probable top causes of the anomaly and similar anomalies, applications that in the past have reported similar issues. This helps you pinpoint the cause of the anomaly and identify a solution.
The Analytics Paradigm
To understand the unique potential of Analytics, you need to change the way that you think of identifying errors:
Move from a static threshold to dynamic baseline. Instead of a static threshold that needs to be breached to identify a problem, Analytics generates a dynamic baseline which takes into account seasonal information such as busy times of the week or reoccurring patterns. For example if a server generally has lower activity during the night, Analytics may identify abnormal behavior even if the server has low activity but more than is normal for that time of the day.
Alert only on what matters. Analytics is able to filter out noise, expected behavior, known issues, and identify only the issues that matter to you.
Isolate the source of the problem. When an anomaly occurs, Analytics can isolate the cause of the problem. If it is a known problem with a known solution, Analytics will suggest a solution. If a similar problem has been identifies as noise in the past, Analytics will be identify this anomaly also as noise.
We have created a short clip that demonstrates how to Set Up Monitoring for Java App Server, you can view the clip
from here: https://hpanywhere-docs.saas.hp.com/apmdocs/CLIP_Setup_Java_App_Serv_Monit_youtube.htm
The Performance Anywhere team
Private Location enables you to use HP Business Process Monitor (BPM) to monitor internal applications from locations you set up and manage.
We have created a short clip that demonstrates how to setup a Private Location, you can view the clip from here:

https://hpanywhere-docs.saas.hp.com/apmdocs/CLIP_Setup_Private_Location_youtube.htm
The Performance Anywhere team
Use the following resources for additional help:
Self-help documents in the HP Anywhere portal.
Submit help tickets in the HP SaaS Customer Portal
The Performance Anywhere team
In order to add users to HP Performance Anywhere an administrator can log on to HP SaaS Customer Portal: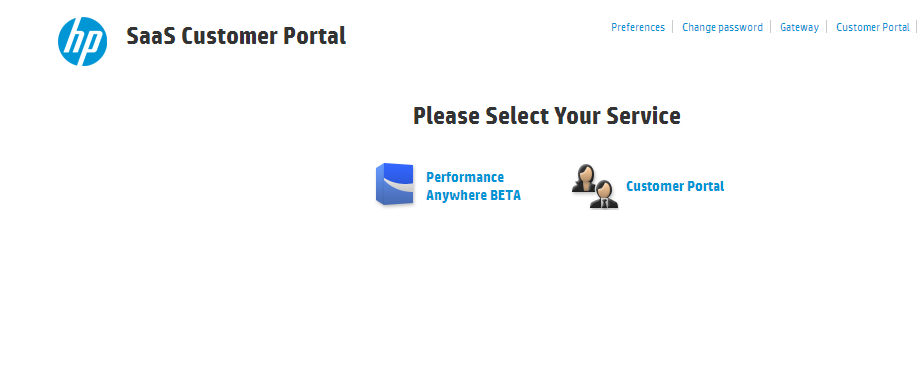 Select Customer Portal> User Management tab and mange users:

Use the various options to manage your users and edit their details.
After adding users in HP SaaS portal user management page you will need to assign these users to Performance Anywhere.
In order to do so you will need to login into Performance Anywhere and to browse to its user management admin page by clicking the menu and then choose User Management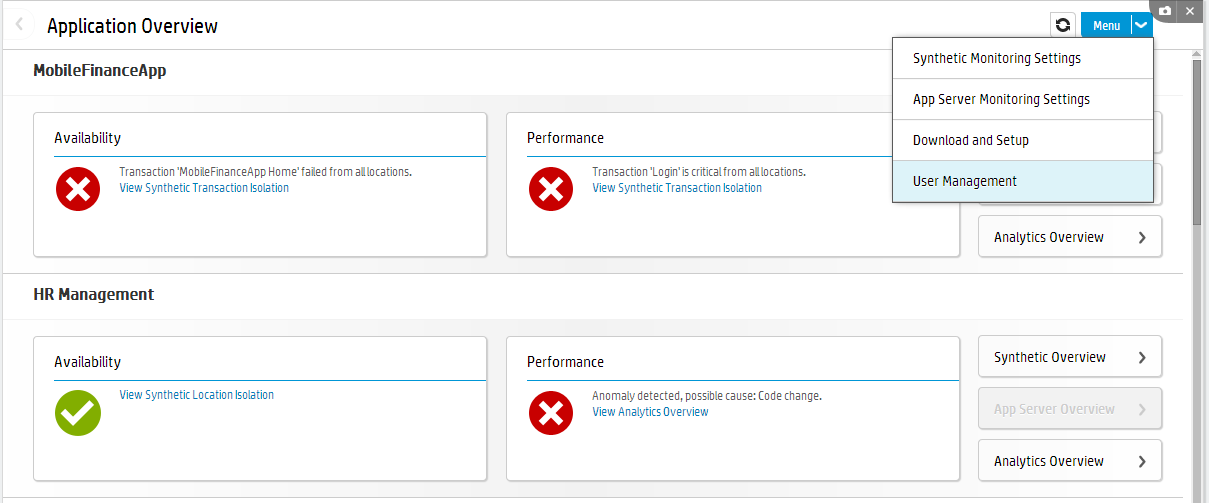 The user management admin page allows you to assign existing users to PAw and also create new users which will be automatically assigned to PAw.
To do so click the add button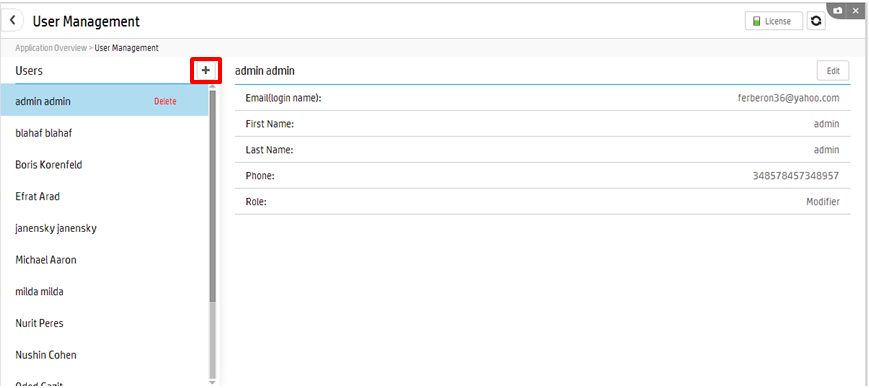 To search existing user just type the name and choose the user from the list.
You can also create a new user by clicking the "Create new user" link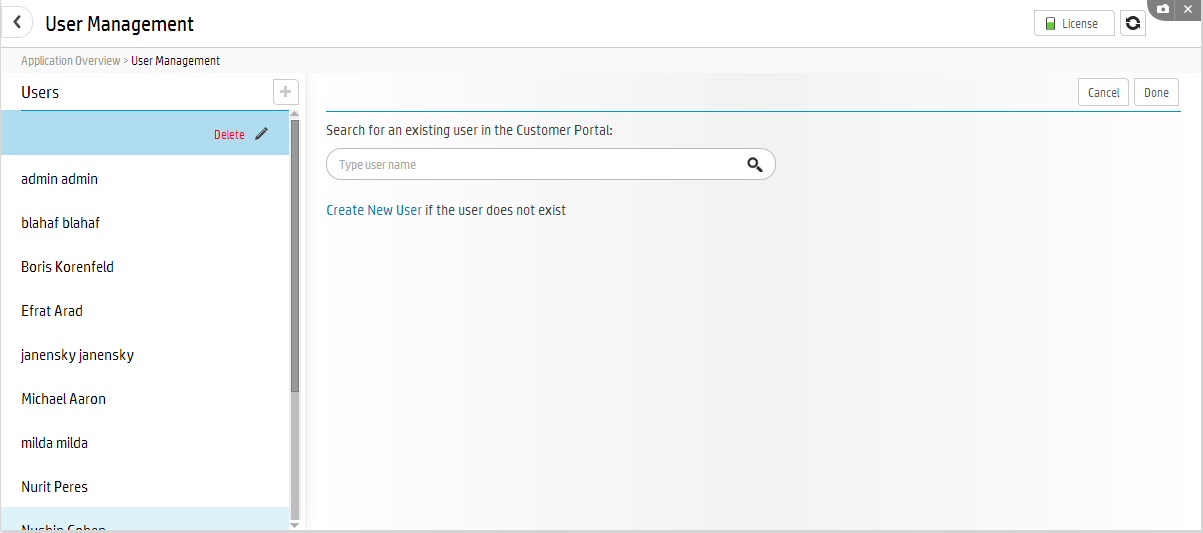 Once you assigned or created a user you will need to choose the user role.
Current roles are:
Viewer - Only allow to view reports. No access to admin pages
Modifier - Can access all pages expect user management admin page.
Admin - Full access to all pages
Good luck,
The Performance Anywhere team
Use the main features of Performance Anywhere to review the status of your applications and isolate problems. You can:
Proactively view the Application Overview page (default landing page) to see application issues. From the overview you can easily see which problems exist, and then use the smart drill to investigate the cause based on the most relevant information.
Isolate problems by viewing the various reports (for example, Location Isolation, Transaction Isolation, Layer Isolation, Problem Isolation).
Diagnose performance problems. Diagnostics Application Server monitoring provides detailed performance data on application servers in your application infrastructure, including a breakdown of the various application layers to quickly locate the problematic area. For details refer to Diagnostics documentation.
Analyze, detect, and isolate the root cause of performance deterioration using Analytics. An application's Analytics status is displayed as part of its performance status. See the Analytics documentation.
Analytics are based on machine learning of the various data sources, creating a baseline of normal behavior and subsequently detecting anomalies and alerting on them. Similar anomalies are also found to assist in problem resolution based on solutions applied in the past.
Collaborate with other users via Enterprise Collaboration (for example, you can capture a screen, invite the relevant users for this screen, and create collaboration tickets). For details, refer to the HP Anywhere documentation.
The Performance Anywhere team
We have created a short clip that demonstrates how to Setup Synthetic Monitoring, you can view the clip from here: https://hpanywhere-docs.saas.hp.com/apmdocs/CLIP_Setup_Synth_Monitoring_youtube.htm
Overview:
1. Create applications for monitoring via Menu > Synthetic Monitoring Settings. Please note application name must be unique.
Note: You create an initial application for monitoring when you register for Performance Anywhere.
2. Add transactions to applications via Menu > Synthetic Monitoring Settings. Just select an application, and click on Transactions to add and edit transactions.
Note: You can add URL transactions, or load pre-recorded scripts. You can record scripts using TruClient or VuGen. These recorders can be downloaded via Menu > Download and Setup > Script Recorders.
3. View the default alerts for an application, and create additional alerts as needed. Alerts can be created via the Synthetic Monitoring Settings page. Just select an application, and click on Alerts to add and edit application alerts.
4. Enable Diagnostics Application Server Monitoring. To do this, you must install a Diagnostics Agent on the system that hosts the application you want to monitor. You setup the agent to collect performance data from an application server. You download the Diagnostics agent from the Downloads page (select Menu > Downloads and Setup > Diagnostics Agent).
The Performance Anywhere team
Supported Browsers
Performance Anywhere supports the following browsers:
Chrome (Recommended)
Internet Explorer 8,9 (requires Chrome plug-in)
Firefox 10 ESR
Recommended resolutions for working with Performance Anywhere:
The Performance Anywhere team
Performance Anywhere is a new Management as a Service offering for Application Performance Management, which includes Synthetic Monitoring & Application Diagnostics.
This easy to use and self-service solution contains an innovative user interface and new capabilities that reduce the time to isolate application performance issues.
We recommend you monitor the same application with both synthetic and application monitoring to get optimized detection and isolation capabilities.
In these community forums you can easily post questions, enhancement requests and share your feedback with us.
If you are still not a customer of Performance Anywhere and would like to give it a try, go to: http://www.hp.com/go/PerformanceAnywhere and ask for a free trial.
We are happy to have you on board!
The Performance Anywhere team.