Opened SD00037057 however issue is till not resolved and is very important to fix it with high prioirtyfor an upcoming project. This is very dissapointing since even using a simple script with validation steps like 'itgstore' runs into same problem.
What is 'Client Time' reported by TruClient script in PaW?
Thanks,
Sunil
We don't have continue on error as in other protocols in LR: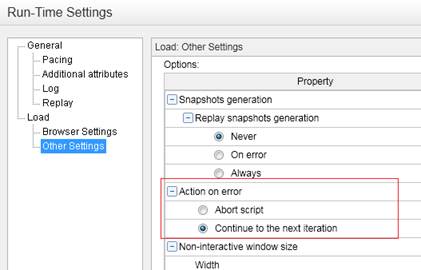 However on Step Object we do have optional steps that may not fail the execution: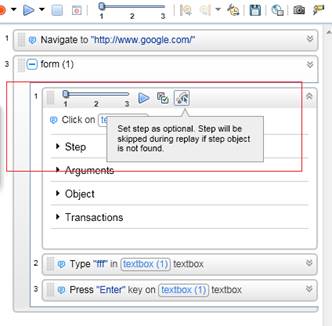 What browser(s) / version(s) are used to run performance tests?
Is the actual [native] browser being used to run the test, or is it emulated (in the HTTP request header)?
If there are mutiple browsers avialable, how can I specify which to use for a synthetic?
Thanks.
My company is evaluating HP Performance Anywhere as an alternative to Keynote or Gomez. For each test that is run (data point on the performance graph), this is what I see:
San Francisco, CA AT&T
Total available transactions: 4
OK transactions: 75.00% (3 out of 4)
Minor transactions: 0.00% (0 out of 4)
Critical transactions: 25.00% (1 out of 4)
Status: OK
Average response time: 6.74 sec
Where can I find the definition of these metrics (e.g. what is meant by "response time" - is that the time it takes to load the page completely, including JavaScript executed after document is complete?)
How can I view the following:
Waterfall view - showing the time to load the base page (HTML) and all elements on the page (CSS, JS, images, etc.)
The time in which the browser indicates that the document is complete
The details related to any error that occured while loading the page (e.g. if there is a missing image, the 404 error and specific reference / element on the page that requested it)
Thanks.
Does HP Performance Anywhere do Alert notifications? Specifically can it send emails to responsible parties when monitoring thresholds are exceeded similar to what BSM can do?
The HP Performance Anywhere team would like to thank those who kindly attended the live webinar on January 31st. For everyone's benefit the recording will be available here soon:
http://hpbroadband.com/program.aspx?key=14151PerfAnywhere
Here are the are answer to some of the most frequently asked questions.
Q. What is the scripts size limit?
A. The script limit is typically set to 15MB. For the duration of the Beta program the limit is set to 1.5MB
Q. Is there a product roadmap?
A. Absolutely - there is a rich roadmap for Performance Anywhere. Unfortunately we cannot share this roadmap in this presentation as it is an open forum. Furthermore Performance Anywhere is developed in a continuous delivery model; it means that new capabilities are expected to be be released very frequently. If you'd like to discuss further we can provide a contact for more information.
Q. What type of application server diagnostics technology do you support?
A. Performance Anywhere provides Deep Diagnostics capabilities for Java, .NET and Python applications utilizing a wide variety of application servers. Examples include IBM WebSphere, Apache Tomcat, JBoss Application Server, Oracle Weblogic, MS .NET, Software AG webMethods Integration Server, etc.
Q. How do you setup SiteScope integration in Performance Anywhere. I see you have system data.
A. The System Metrics that you see collected are those collected via the Diagnostics Agents. Sitescope flavor of metrics are not currently collected by Performance Anywhere. However we are evaluating also SiteScope System Metric integration in our development roadmap. If you'd like to discuss further we can provide a contact for more information.
Q. If I have questions with the beta "service", where do I go?
A. The best place to go is exactly this community forum. Note, as shown during the webinar, this forum can be accessed also from the help section inside Performance Anywhere. We encourage everyone to browse the information already provided and to contribute by posting their comments and questions.
Thank you!
The Performance Anywhere team.
Analytics does not require any manual configuration; however you can improve its performance over time.
Using the Similarity section in the user interface, you can see if a certain type of anomaly keeps appearing in your system. If the anomaly is reoccurring, you can save the anomaly as a pattern and attach to it the steps required to fix the problem. The next time that the system identifies an anomaly that is similar to the saved pattern, the system will automatically link the anomaly to the pattern and suggest that you use the same steps to fix the problem. Alternatively you could identify the pattern as "noise" so that the system will stop sending you alerts for anomalies with the same pattern.
Once Analytics has identified a problem in your application, it gathers all the required information and applies several algorithms to try to pinpoint the root cause of the problem.
For example, in the following case Analytics detected slow performance in an application: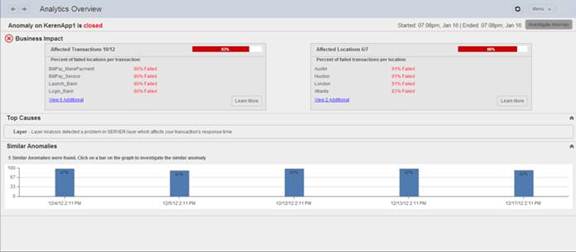 Analytics automatically established the business impact of this problem and found several potential root cause of the problem. In this example Analytics automatically preformed layer-analysis on all the abnormal transactions and found that all of them were connected to the SSL issue that caused the performance problem.
Analytics also auto correlates infrastructure metrics with business metrics. Using an advanced algorithm, Analytics tries to establish which infrastructure metrics impact your business the most, and which metrics are the leading causes of your performance issue.
Analytics detects, in real-time, metrics that have activity outside their baseline, and labels this activity as "abnormal behavior".
When Analytics identifies abnormal behavior it applies several calculations to alert you of real problems and avoid false alarms. Analytics is able to automatically filter out false alarms by using several advanced algorithms, including the following:
Auto-correlation of business and infrastructure. For example, if there is abnormal CPU usage, but all the relevant business transactions are behaving normally and are not affected, Analytics will not send an alert.
Identify noisy metrics. Noisy metrics are less trustworthy as they will breach their baseline more often than other metrics. Analytics can learn from past experience how noisy a metric is; the more noisy the metric, the greater the chance that the metric does not represent a real problem.
Learn from historical data. The more monitoring you have, the less noise you get. The more that you monitor your application, the more data Analytics will have to calculate the real status of the application, and will produce more accurate results. Analytics will be better at detecting false alarms in the system and will be able to alert you only on the issues that matter to you.
Analytics is based on a simple principle: track and alert any abnormal behavior in the system.
Analytics identifies abnormal behavior by applying a dynamic baseline. The dynamic baseline is applied to each metric in the system; for example, each transaction from each location will get a different baseline which maps behavior of that specific metric. The baseline is calculated every week but takes into account activity over the last month.
There is a unique aspect to Analytics' baseline calculation: seasonality. The algorithm identifies if a metric has seasonal behavior, for example does it behave differently during working hours and off line hours? Are there typical weekend patterns? Does it have periodic behavior that repeats every 3 hours? If Analytics identifies seasonal behavior, it will apply a different threshold based on the time and day.
As a different baseline is calculated for each metric, the end result is a dynamic baseline that can determine expected behavior for each metric at any given time.
HP Performance Anywhere Analytics is a powerful data measuring tool that uses a self-learning algorithm which allows you to get an early warning of potential problems with your system, sometimes even before the problem occurs, with no manual configuration required.
Analytics is simple to use, but is based on a sophisticated algorithm, with more than 15 different patents.