Hello
Currently, I'm implementing a POC on Performance Anywhere.
I am confronted with several problems related to licenses.
1 / Scenari & Transaction
this POC included 4 applications:
- 2 scenarios with 3 transactions
- 2 scenarios with 2 transactions
3 / Licenses
So I'm limited by this Locations Licences
I actually reaches the limits of the license (12/12 Publics - 3/3 Private)
Could we increase the number of these Locations licences ?
- 20 publics locations
4 / and other fonctionnal and technical issue
With these license limits, I want to update these monitors on each application.
But it's impossible to update (modify with the Edit button)
We have collected a lot of metrics since few weeks for these applications, I wouldn't like to remove these monitors.
How to modify the Application Management (edit) ? (the field is disable)
What is the solution?
Hello
I Try to import a VuGen Script in the "Application Management"
I've a error message when I try to import the Zipped Script.
The message is :
Operation failed.
Reason: File size of ValidIT_Script_002 is not valid
How I can solve this issue
Please perform the following steps to report defects for Performance Anywhere:
Step 1:
In Performance Anywhere menu go to Help>Links tab>Open Ticket:

Step 2:
Select the "Support" option and the criticality of the issue. A single item shall appear on the right panel, click it.

Step 3:

Fill in the details and click "Submit". Please be as detailed as possible.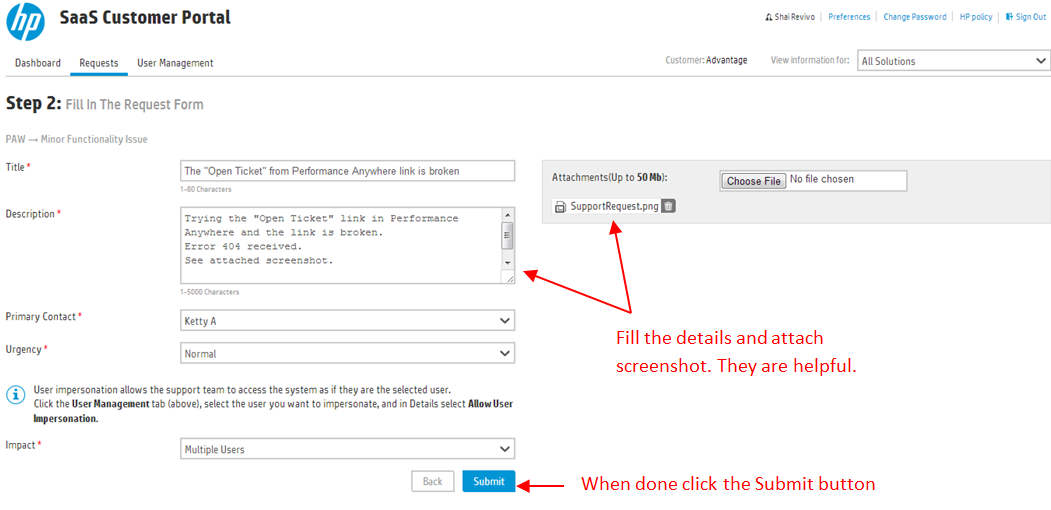 Step 4:
Track your tickets in SaaS Portal.
You can also open new tickets directly from here.


See the details for the ticket:

Please notice: only SaaS Portal users that are marked as "Portal User" can log defects to Performance Anywhere. The User Management area in SaaS Portal is where you manage it:
The Performance Anywhere team
Please post your enhancement requests in this folder.
By enhancement request, we mean a suggestion to a new feature or an addition or an improvement to an existing one.
The more details you add the better. We will be glad to hear the motivation for the enhancement request, the use case that it is meant to support and who and how should use it.
Of course that you are welcome to post comments that add your angle to enhancement requests that other people posted.
Let's get started!
The Performance Anywhere Team.