What's New in HP Performance Anywhere 1.15
HP Performance Anywhere version 1.15 introduces the following additional enhancements: brand new interface for problem isolation, improved script recorder, and overall quality improvements.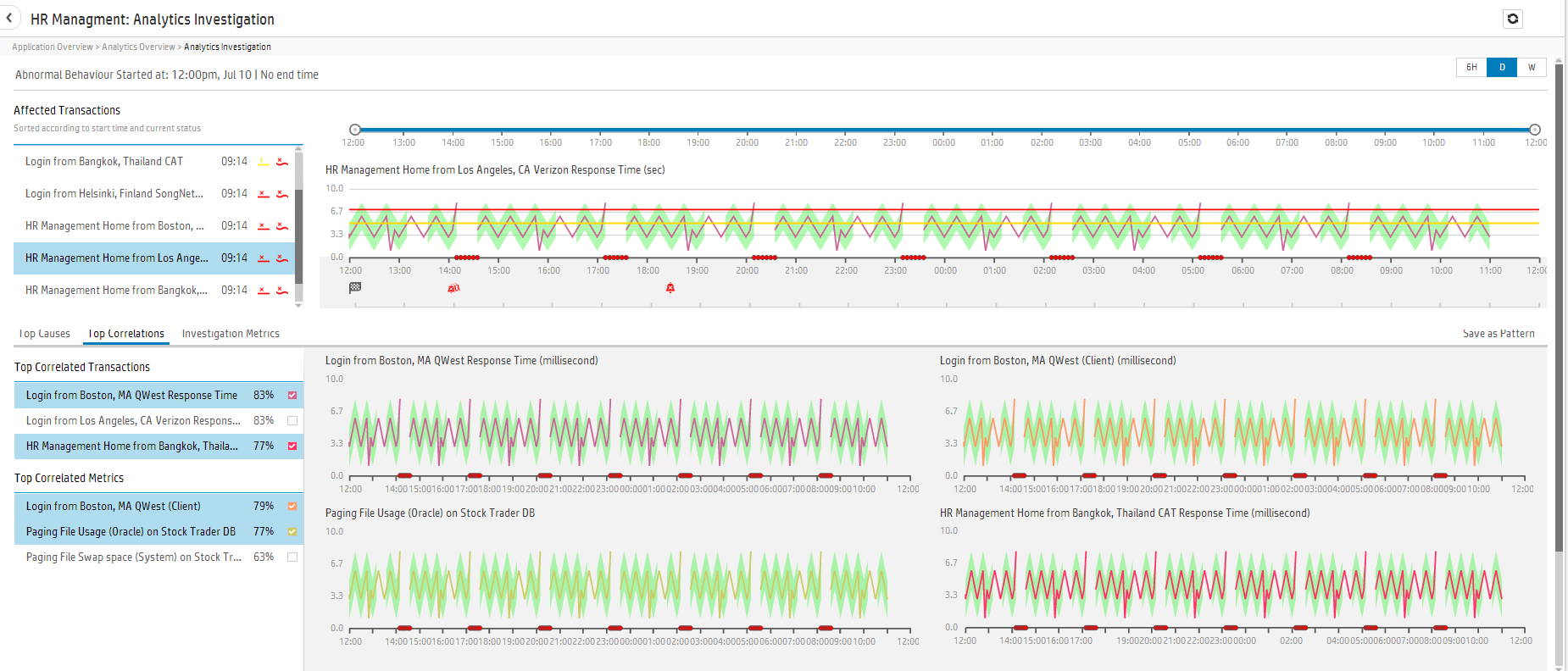 New Isolation Page:
The new isolation page layout includes increased functionality for clear problem isolation:

Holistic overview that displays the following:

Transactions overtime view that presents a comparative analysis against the baseline and static thresholds.
Related alerts.

Review of proposed top causes and their correlated metrics.
Automatic correlation of business metrics to infrastructure.
Script Recorder Enhancements:
Upgraded TruClient Script Recorder that provides the following improvements:

Recording mobile scripts
Recording in Internet Explorer
Upgraded Private Location:
Upgrade private location to latest HP Business Process Monitor version 9.22.
Quality Improvements:
There are overall application quality improvements in this version.
What's new in Version 1.1: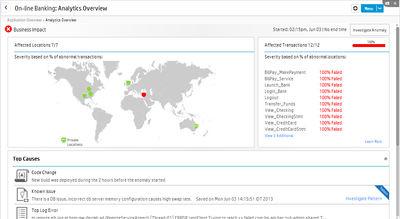 Analytics
Improved Time To Value - Creation of baseline after less than a day of data.
Improved predictive analytics alerting: In the event of a real problem, analytics will alert users immediately - not waiting for additional sample data (to be certain it is not a momentary spike). In cases when there is not clear performance problem it will wait for an additional sample data to avoid alerting on momentarily spikes)
Mobile
Added more visibility into the mobile end user experience through the addition of wireless Points of Presence in HP SaaS. HP Performance Anywhere can now provide insight into carrier performance & availability.

Created the ability to compare between regular and mobile PoPs and see trends.
User Experience Improvements
Optimized first time user interaction: tips and tricks, user performance improvements, improved orientation, and

created getting started videos

Improved Analytics Highlights User Interface with geographical visualization

Improved navigation (linkable breadcrumbs)
Synthetic Monitoring
Added snapshot on error for better investigation of end user issues

Improved support for historical synthetic monitoring reports

Added alerts indication in overtime reports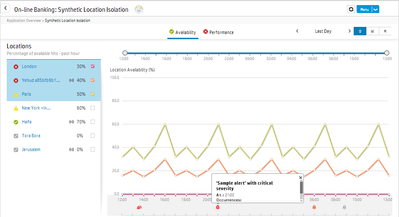 If you are still not a customer of Performance Anywhere and would like to give it a try, go to:http://www.hp.com/go/PerformanceAnywhere and ask for a free trial
The 1st release of Performance Anywhere is now available with the following capabilities:
- Synthetic End User monitoring with off-premise & on-premise locations.
- Application Server monitoring (Diagnostics) for Java, .NET and Python apps.
- Automated, self-provisioned management
- Smart Analytics for quick resolution.
- End-to-end view of application health span frontend and backend with application layer analysis.
- Report defects with supporting data for quicker resolution (Integrated with HP ALM/QC or HP Agile Manager).
- Correlate app issues in production with code changes (Integrated with HP ALM/ALI or HP Agile Manager).
- Social Collaboration among operations, development, and test teams.
- Lightweight scripting tool for Easy script creation & maintenance (with HP TruClient).
- Sharing scripts across testing and operations to improve productivity.
- Alerting capabilities for effective problem detection
If you are still not a customer of Performance Anywhere and would like to give it a try, go to: http://www.hp.com/go/PerformanceAnywhere and ask for a free trial