Good Morning from Western Australia,
I have not used this forum before but would love some advice.
We here at the City of Canning are using TRIM 7.3.5 and Microsoft Office Professional Plus 2010
I have a user that has tried to attach TRIM documents to email to send out through Outlook.
When she does this the first attached document attaches the second or subsequent look also like they attach, however upon sending the only one to remain attached is the initial document the others drop off. This also once the first attached document is added to the email makes the signature within outlook askew and become partially readable.
However when the same user does the same steps from within TRIM and attaches more than one document they remain and send the signature remains legible as it should also.
Has anyone else found this or know how to resolve this issue?
ave not used this form before, but require some help please.
Debbie Cormack
Hi There,
we have a number of users who are unable to attach HPRM references on new email items using the "Attach Records" option on the HPRM/Outlook toolbar.
Staff are able to use the Attach Record option, browse for and locate the record and choose the reference option (see screenshot), however, when the email is received the end user cannot see any attachement, and the sender is also unable to see an attachment on the email which is now in the sent items folder.
Emails sent from within HPRM using the mail recipient option can be trasmittied without issue, the problem only seems to occur if the reference is attached via the HPRM tab on the email itself.
Wondering if anyone has previously encountered this issue?
Hi,
We are still on HP RM8.1 , Win 7, MS Office 2010 , SQL 2012-R2
maybe going to HPE CM9 P2 ;
I have a question regarding the linked MS Outlook folders to HP RM; Are these links will be there once we do upgrade from 8.1 to CM9 P2?
In CM9 P2 we have these new way of linking folders: using the e-mail STYLES ....??
And the button "Manage" has gone as well ....
Thanks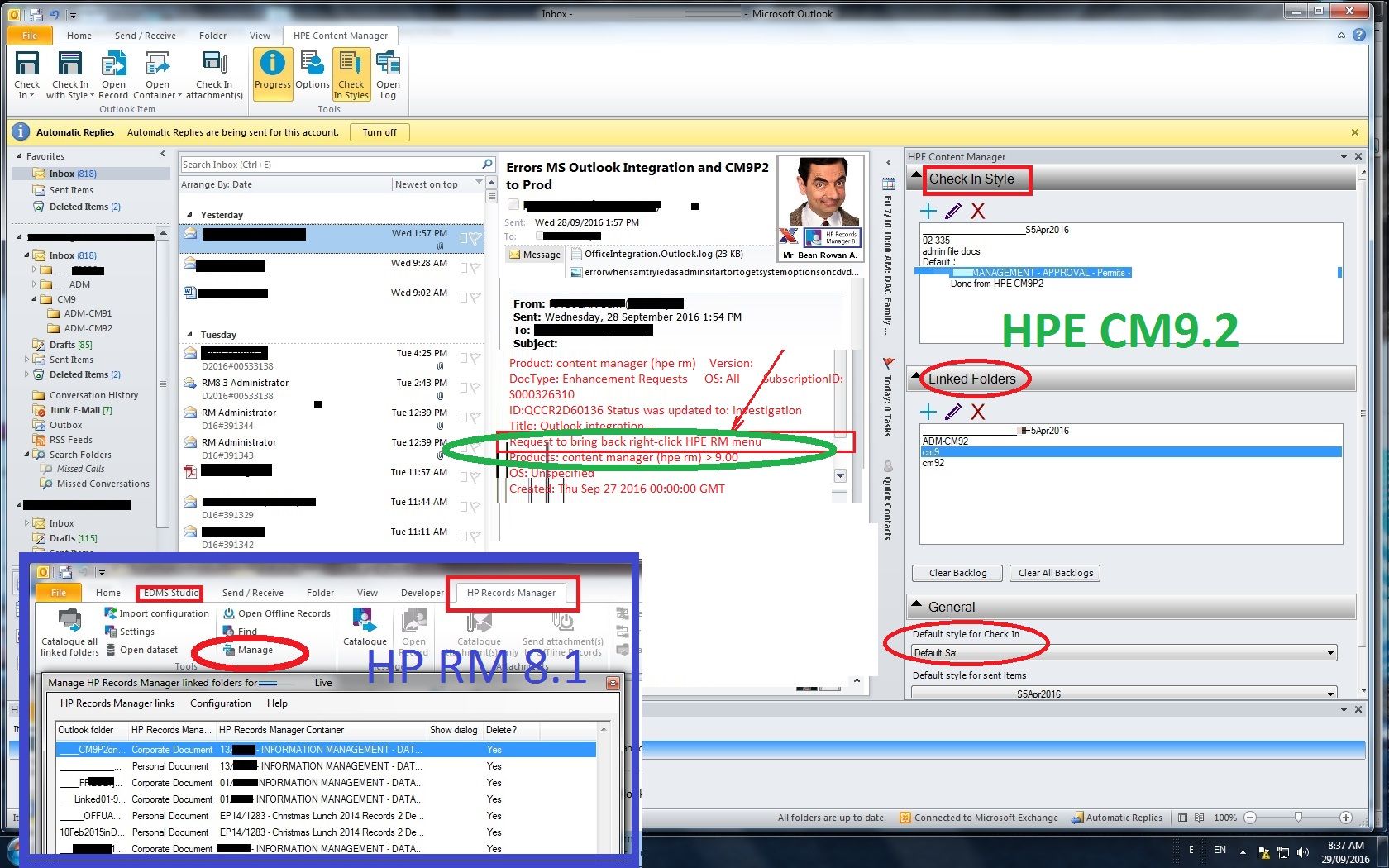 Does anyone know how to drag and drop the TRIM reference rather than the actual document? I know you can save a reference to your desktop, but then you end up with a desktop full of references and still need to then drag that into your email/word document etc.
Will 8.3.9088 work with exhcange 2016 or must I user 9.0?
HPRM 8.1.1.7919 and Outlook 2010
Client adding emails in HPRM system by using drag & drop or using catalogue add-ins option. HPRM captures email in .MSG format while drag & drop and captures .EML format using catalogue add-ins option.
The issue is BCC is not showing for .EML file format.
Is this behaviour or a bug that requires hot fix?
Thank you in advance
We are getting an error 'Object reference not set to an instance of an object' when cataloging email from shared inbox.
HPRM 8.1.1.7919
Outlook 2010
Recreated integration couple of times and deleted folder from registry keys software\HPRM\OutlookAddin\ - didn't worked.
Thank you in advance.
Hi guys,
Could you explain how Outlook integration process with HPE RM please?
When attaching a reference, does it call on the DB to attach?
We are having some instances of slow performance with RM and Outlook and just want to find out what servers are involved when a user is sending RM records.
Thanks in advanced.
Hi,
We're using HP TRIM 7.3.3.5645 with Office 2010.
A user encountered a problem capturing some emails to HP TRIM using the the Clear Backlog function in the Outlook integration, whereby an error message indicating 'No Author' popped up. Normally TRIM is able to match the email address of the email with a TRIM location, or prompt the user to create a new location (or add the address to an existing location) if none exists.
I've had a look at the email in question and I can find nothing out of the ordinary that would prompt a 'No Author' error, except that the name displayed in the From field included an asterisk (Eg 'FirstName *'). I've looked around but so far have not been able to find anyone who has encountered a similar issue. Is it possible that the asterisk in the displayed name may be interpreted as a Wildcard by HP TRIM, or otherwise be the cause of the issue?
Hi guys,
I am using HPRM 8.1.1.7919 and MS Outlook 2010.
Some users are facing the problem in which all Outlook Integration buttons are grayed out when they connect to default dataset. This happens occasionally and makes user not able to catalogue emails.
I tried below steps as workaround but the problem re-occoured after two days and it meant users lost linked folders setting and it is annoying users now:
•HKCU\Software\Hewlett-Packard\HP TRIM\OutlookAddin\DBID
•Rename the 'outlookaddin' key to 'outlookaddin.old'
•Close the outlook
•Open the outlook
•it will automatically re-create the key for the default dataset id
I attached the HPTRIMOutlook.log and wonder if it is:
2016-01-26 12:26:19Z Information: 1>Log file opened for writing at C:\Users\reddyme\AppData\Local\Hewlett-Packard\HP TRIM\OutlookAddin\HPTrimOutlook.log
2016-01-26 12:26:19Z Information: 1>HP Records Manager In Outlook(8.1.1.7919)
2016-01-26 12:26:29Z Error: 1>Action failed on thread <unknown> - LoadDefaultConfig: The operation failed.: at System.RuntimeMethodHandle.InvokeMethod(Object target, Object[] arguments, Signature sig, Boolean constructor)
at System.Reflection.RuntimeMethodInfo.UnsafeInvokeInternal(Object obj, Object[] parameters, Object[] arguments)
at System.Delegate.DynamicInvokeImpl(Object[] args)
at HP.HPTRIM.Framework.ViewModelBase.ViewModel.DoActionInternal(Int32 action, Boolean fireActionCompleted, Delegate guard, Delegate work, Object[] workArgs)
Hope you could help me to solve this.
Thanks in advanced.
Good Morning, We are looking at upgrading to HPRM 8.11 when we migrate our users from Lotus notes to Exchange 2013. Some of our users today use iNotes to access and declare emails. Is there a feature in the new HPRM 8.11 that will allow users to declare emails using Outlook Web Access?
Got a weird one, although I don't have much information yet. The client is saying that under the Sent Items folder, new folders called "HP Records Manager" are appearing. In the below picture I've seen, there's three of them. It's odd because I cannot think of a reason the Outlook integration to create such a folder.
It's not much I'm sorry to say: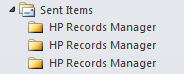 Apparently the're just appearing without user intervention. It's affecting all the users, but differing number of folders. Nothing is within them.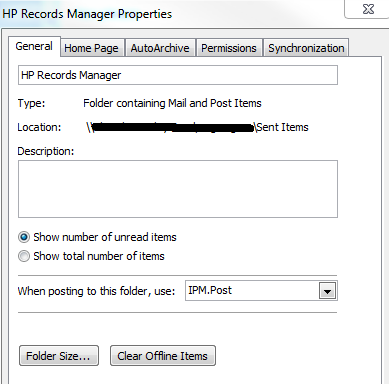 Would you guys help me out please?
Thanks in advanced.
Are there any known issues with MS outlook Add in for shared mailbox;
We are advised when trimming from Shared Mail Box only the person that creates the TRIM can see it
All other staff there need to have access to the TRIM link but when they get there into folder it shows as nothing there.
Is this a known limitation ?
Hi,
Currently using TRIM 8.1 but when saving emails the authors name if not in TRIM is automatically created as an unknown location.
How do we stop this from happening?
If you search for the author it allows you to create a location, but not if you click OK after selecting which container.
Hi Gurus,
Outlook 2010
I have received an error which This error is different from this thread though.
http://h30499.www3.hp.com/t5/E-mail-Integration/HP-TRIM-7-3-5-Outlook-Integration-Add-In-Error/td-p/6703549#.VhzDXPmqqko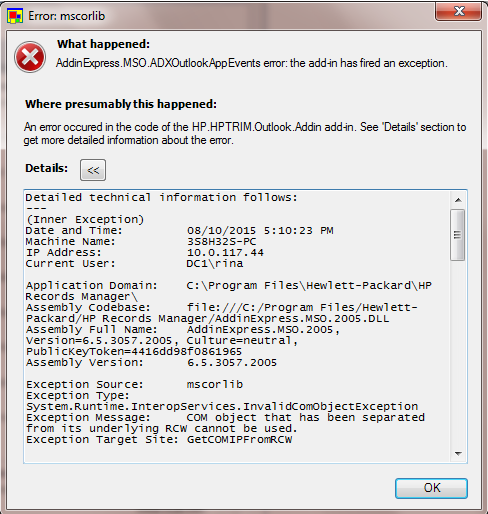 this error is sometimes occur if users open and close the outlook to fast.
I appreciate all the helps and guide onwards.
Thank you.
Hi,
I have a group of user collectively using a managed account in Outlook. They create linked folders to folders in HPRM for the automatic processing of emails. It appears that the users (plural) have been linking the same folder to multiple folders in HPRM (from multiple machines).

When we recreated this process the document sometimes ended up in one folder, sometimes in the other. It seemed to depend on which machine was able to process it first. Further the document queue in HPRM appeared to only record the latest link created, overwriting the previous link...and in some cases the access controls.
Is there a way to do this successfully or is this just an area to be avoided? - Looking for technical feedback here, I am well aware of the procedual shortcomings :)
We are just getting the ExchangeLink tool running. The HPRM node is added, as are the linked folders, but messages are not being processed out of them.
The only error in the log is:
Error creating user folder: trim:xx/rmb/6 (Access denied - you need to have the Modify Logins and User Profiles permission to execute this task.).
A warning line also states:
Error updating user folder: trim:xx/rmb/6 (Object reference not set to an instance of an object.).
The ExchangeLink account has Admin rights in HP RM.
Thanks for your help!
We noticed that TRIM v7 cataloged the .msg email from Outlook. However, in HPRM8.1, only .eml is catalogued by default.
Is there a way to configure the type of email format to be catalogued? For example, we want to catalog email in msg format only in HPRM8.1
The email catalog in HPRM8.1 must be in .eml format?
Win 8.1 , MS Office professional 2013, PC Tablet/Laptop. HP RM8.11.7760 Client towards the HP TRIM 734 Production DB.
(32bit version HP RM8.1 and MS Office 2013
The integration does not work with MS Outlook but works fine with MS Word and MS Excel etc.
The MS Word/Excel ribon shows the records manager tab/icons, however, the MS Outlook does not, although the Add-Ins is is checked ( MS Outlook - Fil-Options- Add-Ins - TRIM addin is there .)..but obviously not functional.. Can't catalogue emails, no options for right click catalogue.
What could be the reasons here for this happening and how to solve this issue?
Thanks
We have Lotus Notes 7.0.3
TRIM 7.11 1821
Windows 7 32 bit
Office 2010

Recently a user has been experiencing problems with emails originally sent from SAMSUNG GALAXY S5. When the emails arrives in the Lotus Notes Inbox it is fine. Whe the email is saved into TRIM the message body of the email disappears. Only the signature is visible upon preview.

Is anyone experiencing this aswell??