Is the Trim 7.3.5 client compatible with Windows 10? It is not listed in the Trim 7.3.5 specifications. I just need a confirmation on its compatibility. What about Office 365?
Thanks.
RD
I would like a query or search in rm 8. 3 that would find which users have a particular user permission on their profile.
Eg the 'Append to existing notes' permission .
Does anyone know which table in the trim db would contain the profile/permssion data ?
Thanks in advance .
Hi all,
M organisations has recently restructured some teams and from this there have been amendments to some titles. I'm wondering whatthe best way to go about this is when updating the locations to reflect the orgs new structure. For exmaple, is anyone aware of any implications to updating the title of the current location (position) or would it be best to make the old position 'Not Active' and create a new location with the new position title?
Thanks
Hi
Hope all is well.
We have a HP-UX server running serviceguard. One folder is to large to do a listing.
1. Any idea on how to see what is in the folder.
2. Can we remove the folder and how safely. (We don'tt need the data)
Kind regards
Hi,
I am responsible for testing a Trim Upgrade (from V6 to RM8.3).
I am trying to find some information as to how to load test RM8.3 (capture response times for 1000 users logging on in the space of an hour, capture reponse times when 100 users add a document at the same time).
The little Perf Test utility which used to come with TRIM is no longer supplied with Trim v8.3.
Does anyone have any tips or suggestions for approach and tools? I have searched the web and not found anything useful yet. Any advice would be much appreciated.
where to download /IDOLServer_VersionNumber_Platform.exe
or link?
thank you in advance
There is a user in our organization who cannot open an email in Trim/RM/CM. He says that he is getting the blue circle, then the application crashes. I can see the email and I can open it up. The user created the email and has proper security and access controls to see the email.
I have tried to replicate the problem from my end. I cannot. I have opened dozens of applications and then tried to open the email and have no problem.
Has anyone experienced the problem of blue circle of death when opening a record in TRIM/RM/CM? This person is very high up in the organization and I want to come up with an answer. This is a little embarrassing. Does anyone have an ideas?
Probably the problem is his computer.
Thanks.
RD
When managing hardcopy file requests is it possible to move files/containers to the earliest requestor the same way that could be done in TRIM v7.35?

This functionality was previously used by our repository that would action anywhere upto 1000 requests per day.
Any ideas/suggestions would be great.

Thank you
The supplied installation guide is a bit unclear on the install procedure.
The following command line worked for me on Windows 8/Server 2012 :
msiexec /update _path_to_MSP_files\HPE_CM_x64.msp /qb /lv c:\path-to-the-log\name-of-log.txt
Have a nice and productive day.
All,
I'm running exports from an existing TRIM 7.3 Dataset to import into a new HPE RM 8.2 Dataset as part of a larger legacy migration.
There are some electronic documents which are not being exported due to the length of their Filename. "<…>is too long to be used for a filename. The maximum length of the filename including the path is 260." (See full error from DataPort below)
2016-09-07 17:52:56:371 3 00:00:00:0000000 Error Error exporting item property - Item: ICTR-07-91-0036/1, Property: DOS file, Detail: Cannot write to the output file 'C:\Users\infofirst\Documents\Edocs\U5103162_NSHOGOZA - THE REGISTRAR S SUBMISSION UNDER RULE 33 (B) OF THE RULES OF PROCEDURE AND EVIDENCE ON LEONIDAS NSHOGOZA S ADDENDUM 2 - EXTREMELY URGENT MOTION FOR ASSIGNMENT OF COUNSEL (ARTICLE 20 (4)) OF THE STATUTE.PDF'. 'C:\Users\infofirst\Documents\Edocs\U5103162_NSHOGOZA - THE REGISTRAR S SUBMISSION UNDER RULE 33 (B) OF THE RULES OF PROCEDURE AND EVIDENCE ON LEONIDAS NSHOGOZA S ADDENDUM 2 - EXTREMELY URGENT MOTION FOR ASSIGNMENT OF COUNSEL (ARTICLE 20 (4)) OF THE STATUTE.PDF' is too long to be used for a filename. The maximum length of the filename including the path is 260. NL-TRIM-TEST 02:00:00 6896
When the error is generated, the electronic object DOES NOT export from TRIM and the exported metadata removes the data for the DOS file field.
This causes the metadata after the DOS file field to be in the incorrect cell location within Excel. (This can be fixed with a manipulation of adding a cell in the DOS file field; however, this is cumbersome and risky for hundreds of thousands of records.)
Please advise if you have found a viable workaround for this issue?
Regards,
Tamara
Hi,
We noticed in RM Client > Help > Setup Information, there are two settings: Network(RCF) Client Call Timeout and Network(RCF) Client Connection Timeout.

a. What is the unit of these two settings?
b. How can we modify these settings?


Thanks,
Hi All,
We recently upgraded our TRIM to RM8.3 and I am having some issues with setting user permissions.
Does anyone know what level of access we need to give staff in order for them to be able to modify the due date of an action that is assigned to them?
Our investigations have determined that a user has to have the "Records Manager" profile to achieve this but it just doesnt seem right to give someone all those rights just to change the due date of an action they are assigned to.
It appears that a user has to have the "Action Administrator" rights assigned to them in order to modify a due date. I thought that "reshedule" might do it or even "modify workflow' rights might do it but it appears its 'action adminstrator' only that allows this very basic and very vital functionality for our end users.
I am hoping that i am missing something, some checkbox somewhere, that will aloow this functionality for at minimum knowledge workers. Has anyone come up with another way to allow an action assignee to extend their own duration?
(please dont tell me I have to make everyone a "Records Manager" and then go and untag rights I dont want them to have for 700 users)
cheers
Paul White
Hi all,
I am back after the Europe Holiday :-)
Evaluating the newly released HPE RM 8.3 Patch 2 ( built 8.3.0.9231 ) in Win 10 , MS Office 2010 SQL 2012-R2 environment; Manually installed, not packaged by IT, in the DEV 8.3 Patch 2 environment. The main reason why we haven't done our upgrade to HPE RM8.3 P1 was the slow API Services search in the Patch 1. That is now fixed in this patch, so I just want to share some issues and potentially get some answers/advices.
(All our users are using the user type "Records Manager" with downgraded permissions) :
"HPE RM System options still not holding the "permission's restrictions" as set in the System Options. Although the permissions are set in the System Options, the viewing the user profile shows more high level permissions. The HPE admits the case and recommends the "Profile of "Records Manager" to be made and used.
• Sent Items in MS Outlook have a greyed-out option for checking in e-mail from that folder;
• Interesting issues with the linked folders (existing ones) in my case, when we do click on MANAGE them, it shows that; not sure if it just an environmental issue or a memory issue,: Instead of linked folders, we have linked documents????

• Saved searches improved as admin now can appoint new search owners ; even the average user has the option to change the owner of the saved search…enhancement …. is this OK?
• Web drawer link in the bottom part of HPE RM Client: TRIM Administrators cannot double click on the web drawer link to open it - when we copy link and place it in the internet explorer it opens up the document s without the issues, also Records Managers can open by double clicking ..
• Also, office integrations TEST in this environment : built in TEST in the a Client: it say ODMA integration error trying to register component in registry key , see the picture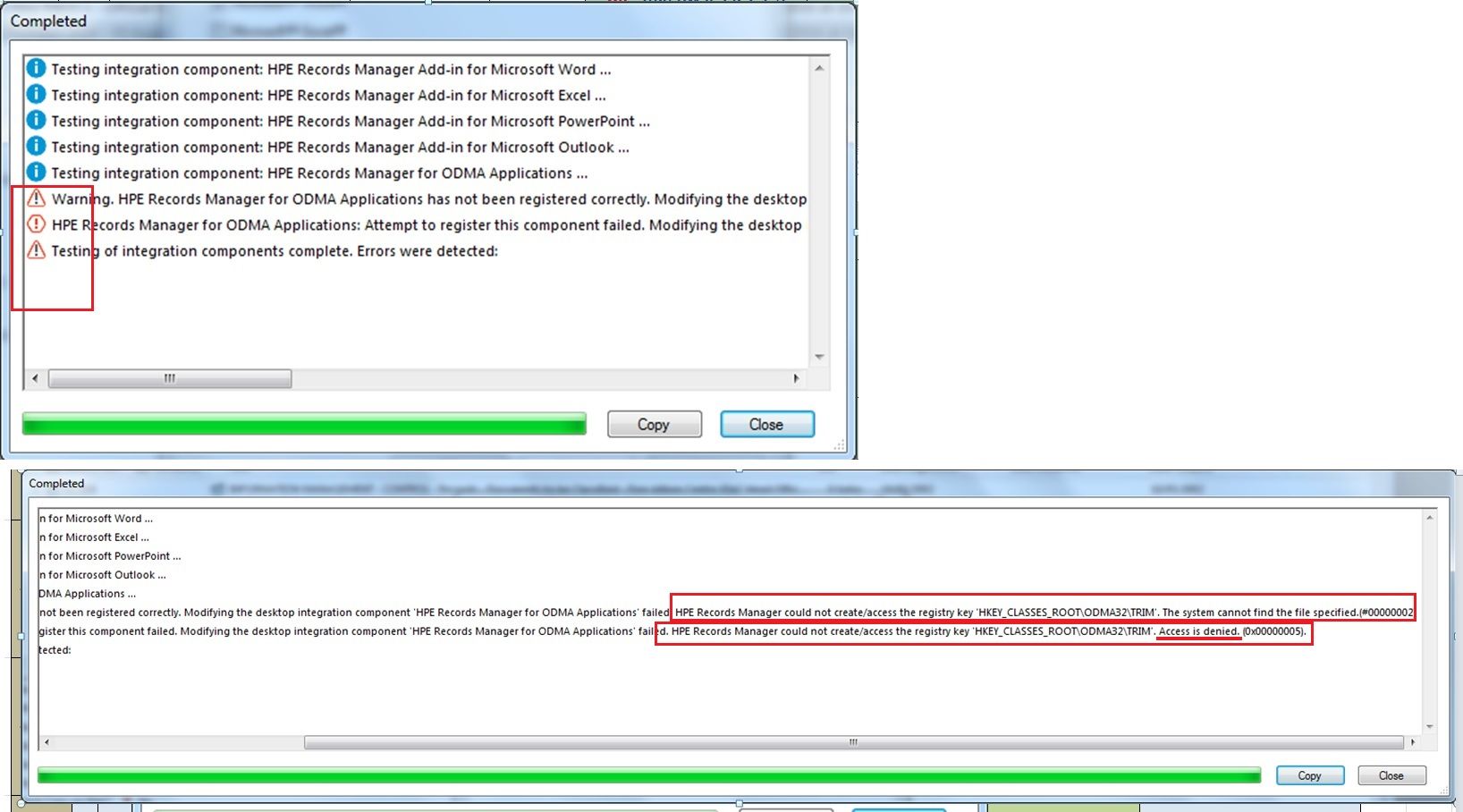 • Noticing that average user cannot hold / keep the default Dataset settings when PC restarted…? Admin users do not have this issue.
Recent documents: for some users, a sigma configuration files (Pictures in TRIM) appearing in the list as well, and not only the user's docs but others??!!! could this be resolved by excluding these record types from the search for recent document then saving it as the global settings feature?
Not resolved bug: the File request must be deleted once the corporate hard copy file is assigned to a requestor as it does not dissappear by it self.
Workflow actions - searches for Completed on TIME are available in this built; not listed in the available categories
Also, I must mention the HPE RM8.3P2 Client, the SETUP information tab where is the list of all options, some of them are very confusing even in the binary system options 000010101101001010111 ???
- We also want to switch to this: to bypass the trim key viewer for MS Office Applications by setting up the file extensions for DOCX, XLSX, XLSM, PPTX etc. to be open in the native MS Offline applications... What are your experiences on this (different devices, culture change etc.?)
I am also evaluating the CM9 on Surface Pro Win 10 and MS Office 2016 environment and I've noticed the differences in the HPE CM9 Add-Ins - have a look at the picture...... bit confusing... How can we create juts a normal link without the STYLE?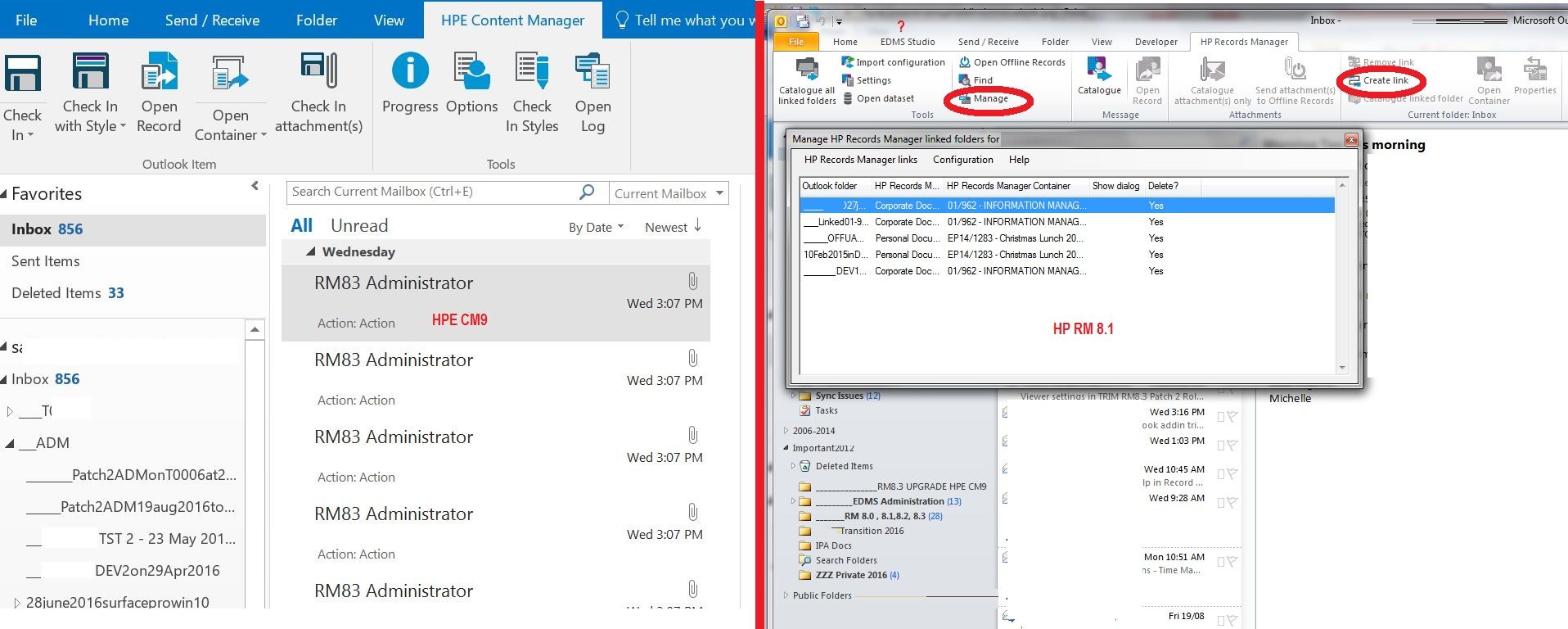 It would be much appreciated if someone explain / advice on these.
Thanks.
I exported some test documents out using dataport export. When I open the export file either in notepad or excel the date fields are a long number in notepad and displayed at 2.00701E+13 in excel.
How do I get to see the real date in a date and time format?
Thanks
Pat Crowley
If I do a send print merge the dates come out formated as I want.
Hi guys,
We have discovered a number of records that have been incorrectly marked as destroyed, we are trying to change the disposition from destroyed back to inactive but receive the following error message "You are not permitted to change the disposition of a record from Destroyed to Make Inactive". Is there a specific process to change this or is this a task that can not be reverted?
Please Advise.
We are using HP TRIM 7.34
Thank you very much.
For Sharepoint Integration I need the "HPE Records Manager farm URL" to make the proper Redirect URI can be found on page 57 of document RM 8.3_sharepoint2013IntegrationInstall.pdf
Any help with finding this and how to deploy the HPRM Governance App in Sharepoint is appreciated.
Hi
On RM 8.3 we recently (today only) started to see the error saying HPRM Client time is out of Sync. However, checkin all the WG and Clients the OS time is exactly same. Anyone seeing the similar issue or can share their experiences. This issue only started to appear from this morning only.
Thanks in advance.
Cheers
Hi guys,
We love the new feature of automatic subfolders, however have had a few people request the ability to choose the ordering on creation to display them in certain ways (eg. Financial Year folders). It seems to be if you create them in reverse order to what your after it tends to work sometimes but was thinking it might be better to manage that via some options on the sub folder page or another way?.
Is there any short term way to achieve this or is this something that can be looked at for the future.
Hi all,
Is there any way to hide some locations from certain groups/categories of users ?
For examples, I have some location in development team, and I don't want any users to see their (dev. team) details,
how can I have it in 8.3 ?
Thanks in advance
Hi all,
We're getting an occasional issue where a user will click the 'catalogue' button from the Microsoft Outlook integration bar, but no Record Types will be displayed in the selection screen. The problem is able to be resolved by restarting Outlook, but will then crop up a few days later.
Has anyone else experienced this problem, or is able to provide any suggestion as to a longer-term fix? I suspect that it has something to do with the TRIM integration losing connection to TRIM (which is refreshed when Outlook is re-started), but it's difficult to pin down because it happens intermittently (though once it happens it is persistant until Outlook is restarted).
We're using Outlook 2010 and TRIM 7.3.3
Cheers,
Michael