Any news on whether/when RM8 will support SharePoint 2016?

Hi there,
SP13/CM integration is done and documents get managed from SP properly. But when I try to open the document from TRIM client, it gives the following error "The user attempting to view this document is not in the document viewers group. See the additional information for the identity of the user making the call and the identity of the nominated document viewers group."
"HPE Content Manager Workgroup Service" Service account has site collection administrator access to SharePoint.
I have not seen a document viewers group as part of the configuration. Appreciate any guidance to figure out what I am missing.?
HPERM 8.3.9088 and SharePoint 2013
We have a SharePoint testing environment with default site collection and few other subsites. I have implemented below stuff
1.Global Federated search defined in search center and working fine.
2.Manage, finalize and relocation manual function are working fine.
3.Management rules and LMPs are working fine
So in short everything is working fine in test environment.
We also setup a sp_UsageAndHealth_Test database and the purpose is to capture and log all the calls received by SharePoint. In average database size is increases around 150 MB on average daily without "HPERM SharePoint Service" but when I turned on this service, database size is started to increase dramatically by 5 GB on daily basis even on weekends. Something is continuously pinging sharepoint within this service and I am not sure why it is like this and how to stop it because it is also causing performance issues.
I am aware of some recurring jobs but I believe those jobs runs with 5/10 minutes time interval but not every millisecond. Any one out there faced this issue or know anything about it?
I have attached the "SharePointLogTraffic.xlsx" and "Database Screen Shot" files. I turned the service on at afternoon 16-06-2016 and you can see the dramatic increase after that.
Yasir
Curious, can HPRM 8.3 export to a web page, but not just a link, a whole html document as a web page?
Thanks for any responses about web publishing in general from TRIM/HPRM to sharepoint or other web page
TIA
Client cannot see Managed or Finalized Content from Sharepoint. Attempts to "right click, view" or sleect the Preiview tab result in the above error. However, once record is Archived or Relocated, the item can be viewed (Obivously, as it is in HPRM Docstore).
Any ideas? Here are the log
ChilkatLog:
Download:
DllDate: May 10 2014
ChilkatVersion: 9.5.0.39
UnlockPrefix: HPCOMxHttp
Username: RMAPPTST:svcrmservicestst
Architecture: Little Endian; 64-bit
Language: Visual C++ 12.0 / x64
VerboseLogging: 0
url: https://rmapptst.msb.matsugov.lan/SecureServices/GetSharePointDocument.aspx?weburl=https://sp-hprm-tst.msb.matsugov.lan&listid=fb810fbf-2629-4fcc-8ede-cde215567b8e&listitemid=3&ext=txt
toLocalPath: C:\HP Records Manager\ServerLocalData\TRIM\TEMP\HPTRIM.2384\t0PIF7WD.txt
currentWorkingDir: C:\Windows\system32
a_httpDownload:
httpDownloadFile:
localFilePath: C:\HP Records Manager\ServerLocalData\TRIM\TEMP\HPTRIM.2384\t0PIF7WD.txt
localFileAlreadyExists: 1
quickHttpRequest:
httpVerb: GET
url: https://rmapptst.msb.matsugov.lan/SecureServices/GetSharePointDocument.aspx?weburl=https://sp-hprm-tst.msb.matsugov.lan&listid=fb810fbf-2629-4fcc-8ede-cde215567b8e&listitemid=3&ext=txt
openHttpConnection:
Opening connection directly to HTTP server.
httpHostname: rmapptst.msb.matsugov.lan
httpPort: 443
ssl: 1
connect2:
connectImplicitSsl:
clientHandshake2:
WindowsError: An existing connection was forcibly closed by the remote host.
WindowsErrorCode: 0x2746
numBytesRequested: 5
Failed to receive data on the TCP socket
Failed to read beginning of SSL/TLS record.
Failed to read incoming handshake messages. (1)
--clientHandshake2
Client handshake failed. (3)
--connectImplicitSsl
ConnectFailReason: 0
--connect2
connect: Socket fatal error.
ConnectFailReason: 0
connectElapsedMs: 0
--openHttpConnection
--quickHttpRequest
outputLocalFileSize: 0
numOutputBytesWritten: 0
httpDownloadFile failed.
--httpDownloadFile
a_httpDownload failed.
--a_httpDownload
totalElapsedMs: 16
Failed.
--Download
--ChilkatLog
Can anyone advise whether Workflow and Sharepoint are part of the base 8.3 package, or whether they are optional modules that are purchased separately.
With upgrade to 8.3 we are now looking at Sharepoint Integration with 8.3.
Would like to know if there are any NSW Government (State or Local) sites that are currently using Sharepoint Integration with 8.3 and if they are willing to share their experiences offline and possibly a site visit
Thanks
Andrew
HPERM 8.3.9088
Window 7
Office 2010
SP 2013
HPRM 8.3 b9000
Hi all,
i get this error below when i try to manage the document. how can i solve this?
thanks.
Timestamp: 28/3/2016 6:20:06 PM
Message: ErrorCode<ERRCA0005>:SubStatus<ES0001>:Region referred to does not exist. Use CreateRegion API to fix the error.
Category: Exception
Priority: -1
EventId: 0
Severity: Information
Title:
Machine: WIN-U7OLP7U0CVD
App Domain: HP.Integration.SharePoint.JobProcessing.exe
ProcessId: 11240
Process Name: E:\Program Files\Hewlett Packard Enterprise\Records Manager\HPE Records Manager SharePoint Integration\bin\HP.Integration.SharePoint.JobProcessing.exe
Thread Name:
Win32 ThreadId:8580
Extended Properties: SequenceNumber - 114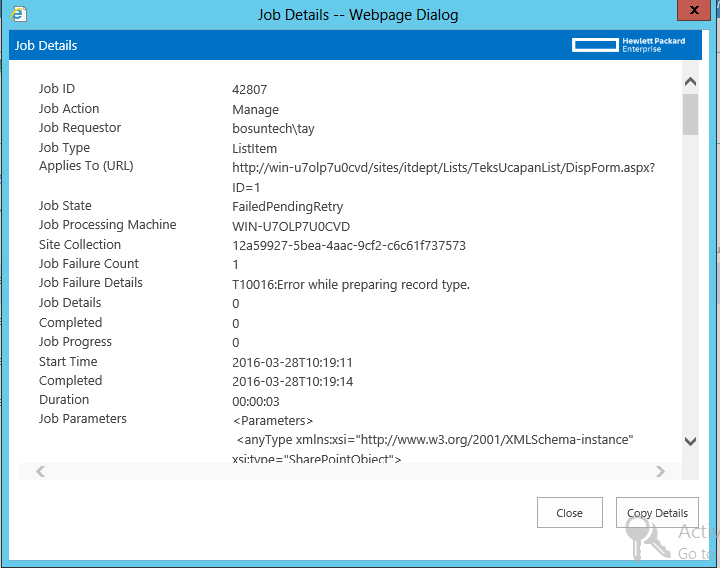 Dear all,
Anyone can share their exprience in integration bet, SP and HPRM?
Questions:
1. All the record need to go the lifecycle of Manage -> Finalize -> Relocate -> Archive or can we just select one process at a time whenever we need it? coz we do not understand even we read the manual....
2. do we need to configure all in default integration, ct2rt, column mapping, management rule. because whenever i try to navigate from default to column mapping if i leave the record type site blank in default, it will not allow me to save the config in default.
i have some log error attached. please take a look on it on how we can solve the problem.
that's all for now.
thank you in advance.
Hi,
We are testing to upgrade our environment. Could you please share your insights into the follow areas?
Is SharePoint integration included part of basic HP RM 8 license?
Is there a federated searching between SharePoint and HPRM?
Can I make the search in HP RM look in to HP RM dataset and SharePoint data?
Thank you,
Tom
Hi Folks,
Is it possible to leverage the Sharepoint online integration (HP RM 8.1+) for use in OneDrive?
Thanks,
Brian
Hi All,
Just wondering if HPRM 8.1.1 Build 7919 integration to SharePoint 2013 provides the ability to automatically extract RM records into SharePoint? I've been reading the RM8.11_SharePoint2013IntegrationInstall & RM8.11_SharePoint2013IntegrationUserGuide and both documents only provide information regarding managing SP content, and saving it into RM. I would like to map finilised EDRMS documents into SP sites.
Any assistance will be much appreciated.
ADFS is supported by HPRM 8.2 SharePoint integration as provider hosed app (Release notes 53731). However i cannot find any instructions or technical details for setting up STS trust for the integration app.
I did set up the ADFS trust for SharePoint, but the integration app seems still using winows account rather than ADFS upn token for the identity.
Can anyone or HP support provide more details on setting up the 8.2 Integration app to support ADFS 3.0?
Thanks.
Stephen
Can anyone tell me where I can download technical documentation to implement the above.
Thanks
P.S. This thread has been moved from HP Records Manager & HP TRIM Forum to SharePoint Integration. - HP forum moderator
My organisation is currently considering engaging third party services to help us with integrating Sharepoint (2013) with TRIM (RM8.1). (Note: we'll be upgrading both platforms prior as we're currently on SharePoint 2007 and TRIM 7.1).
I'd like to hear from other organisations that have engaged a third party to assist with integrating SharePoint and TRIM. Can you let me know how many days the project required and how much work was undertaken by the third party vs the work done inhouse?
many thanks
Jane
Where can I obtain a copy of "HPTRIM_Sharepoint2010Integration_71_Patch_x64.msi"?
I'm attempting to upgrade a 7.1 integration environment and I need this patch to move to 1150.
I'm attempting to configure a site collection in S2010 (using HP TRIm 7.3.4) and I ran into an error I haven't seen yet:
A problem has occurred:
Error while preparing record type.

Error number:
T10016

I went into the site settings and started having a look through things, and noticed another issue which may be related. Whenever I attempt to choose a record type or record series, or do a search for a container, the dialog works but then fails with a simple pop-up message "transaction aborted."
Has anyone run into this issue before?
Thanks!
A video showing the installation process for the app (15 mins):
http://www.imsharepoint.net/blog/2014/8/21/video-81-hprm-governance-and-compliance-app-hands-on-install.html
Details of a required HPRM feature that must be turned on that was omitted in the installation guide:
http://www.imsharepoint.net/blog/2014/9/4/installation-and-configuration-enabling-the-hprm-81-sharepoi.html
Hi guys,
here is a video that goes over a non-technical overview of the new 8.1 HPRM Governance and Compliance app for SharePoint.
http://www.imsharepoint.net/blog/2014/9/4/video-81-hprm-governance-and-compliance-app-overview-present.html