As suggested on RM 8.3 specs (/hpeb/attachments/hpeb/sws-RM_St/4684/1/RM8.3_Spec.pdf) it says the supported ControlPoint must be 4.11+? The latest Controlpoint 4 version I can find is 4.6. I assume ControlPoint 4.11 is released after 4.6?
Can anybody suggest if Controlpoint 4.11 exists?
Hi Support, if we upgrade the ControlPoint from 4.2 to 4.6 ( I believe the current software is hosted on Windows Server 2008), is there any infrastructure update required or supporting software update required? Can we upgrade the ControlPoint directly from its existing version? How easy can we restore to the previous version ( if the upgrade failed). Or should we set up a different environment for the update? How long does this upgrade (normally) take? Thanks.
Could you please advise what the latest version of ControlPoint is? Is it v4.6? and where I can find the spec document? I saw in HP Records Manager 8.3 spec, it says to integrate, the controlpoint is v4.11? Thanks.
Hi guys,
Just would like to know if there is any way (without going through the database) to get the data size of records without the bytes, KB, MB, GB characters? I just want a number in bytes so that i can tally up a list of "Size" fields and get the total size of the records.
To Replicate: carry out a record search in HP TRIM with ten or so document files in the search result. Ensure that the Size column is visible. Right click and Tag All. Press CTRL+C and then open Excel and press CTRL+V to paste. The Size column contains a number and then the abbreviation of what data size it is. Print Merge-->Size column does the same thing. Eg:
Size Column
10 KB
1 MB
123 bytes
etc
To get the total amount of data that these records consist of I would need to convert all the figures to bytes manually in excel and ensure that there are no non-numerical characters in the fields.
If not - then I would recommend this as an enhancement for a future release.
To give you more information:
- If you go to a document record properties (one with an electronic attachment) and select the Electronic Tab you will see under "Size" the size of the file as well as the size in bytes. eg 111KB (114,195 bytes).
- If the Electronic Tab is able to display all sizes in bytes then this begs the question - does it do this by:
1. converting the KB, MB or GB total into bytes programmatically,
2. getting the bytes from the file properties on the file server, or
3. by extracting the 'bytes' figure which is also stored in the database?
- If it is 1 or 2 then I would ask for an enhancement to provide that data in a separate column called "Size in Bytes" with just a number field type (ie no other characters allowed)
- If it is 3 then I would ask for an enhancement to allow this column to be shown as a HP Records Manager Column.
- In TRIM there is a "Count" option that counts the number of records in a record search - having a "Calculate Size" option to calculate the data size for tagged records would also be handy.
Hi guys,
We are now on HP TRIM 7.3.5.
I would like to know how can i bypass and essentially delete files from the classification structure if there is a document queue on it?
Secondly, May I know if there is a way to limit document numbers in files and automate it to then create new volume for a file when it reaches the set number limit contained?
Thank you very much.
Hi guys,
Just a quick and small question:
We currently have a TRIM server and a seperate IDOL/INDEX server. We need to restart the IDOL server to complete updates as well as better configure the server for our backup software.

What impact would this have on trim, the users and documents that are submitted (trimmed) during this time please.

Thank you
can I suggest you add a specific online audit event for a record when the record type is changed.
At the moment in 8.x changing the record type shows up as 'Modified - Record' if you have auditing for "Record modified" on the Record Type its changed to.
Given how important the record type is for the behaviour of a record I think it deserves its own audit event which you can then search on.
TIA
Publish a document that defines all of the search methods in WebClient
Build functionality so the the webclient (not classic) produces the dialog for selecting an assignee when the next workflow step/activity is unassigned. Currently using v8.1.0.7515
Hi guys,
Please help me out. Thank you in advanced.
We are using HP TRIM 7.3.5 build 5855.
During initial TRIM Workflow creation, I have come across the following issue. Here is are the steps I followed.
Activity 1 has 3 results.
If result 1 occurs the workflow goes to Activity 2
else if result 2 occurs the workflow goes to Activity 3
else if result 3 occurs the workflow goes to Activity 4
In my testing, I initiated the workflow on a record and went into Activity due tray. I had Activity 1 assigned to me.
I completed Activity 1 with result 1 by using right click -> Complete option. It prompted me to set the assigned for Activity 2. I assigned the activity 2 to myself. According to the workflow template I only need to complete Activity 2 to complete the workflow. However, I was prompted to set assignee for Activity 3 & 4.
Then I ran the workflow by opening it on Workflow editor. In this case, I only need to set the assignee for Activity 2.
Is there a way to stop TRIM asking for assignee for activity 3 & 4, when we do not need to complete those activities.
I look forward to your responses.
Hi guys,
If you go Search => Browser via Classification then open up the tiers, it will show us all the files that are created using those classifications, this way is currently available to the general viewing.
But if you go Tools => Record => Classification: this will only show you the classifications.
Is there any way we can make the "tools > records > classificatio' pathway available for the general viewing?
HPRM 8.1.0
Please help clarifying this.
Thank you in advanced.
Hi guys, Just be confused in regards to searching, I am using RM 8.1 and would like to know how to find all Overdue Activities for a particular workflow template (or few workflow templates). So if I am initiating some workflows based on a template I can find all activities which are overdue.
Please help me out.
Thanks in advanced.
Hello all,
is anyone having some guideline or documents to show the capacity planning for HPRM 8.1 especially IDOL component?
thanks
Hi guys,
Can anyone show me how to achieve this?
I want to search for document content of documents stored within folders, within a classification.
Below is what i did and it would take many steps :(
Btw, is there any way to tag many folders within a classifcation? (if yes, i think it could help)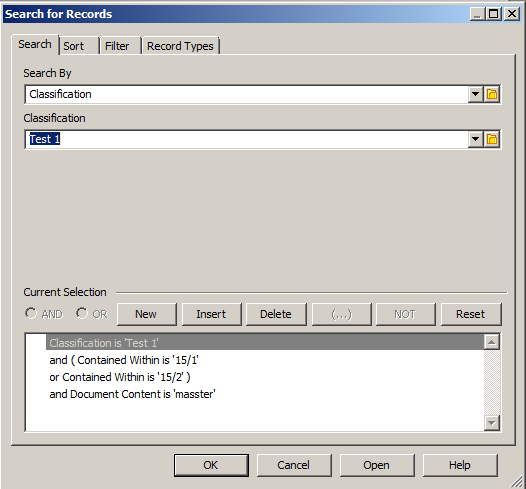 Thank you in advanced,
Hi, testing RM8.1.7517 in Win 7, Net 4.5 MS office 2010
How can we place user's picture in the Location's properties...
E.g.
like this :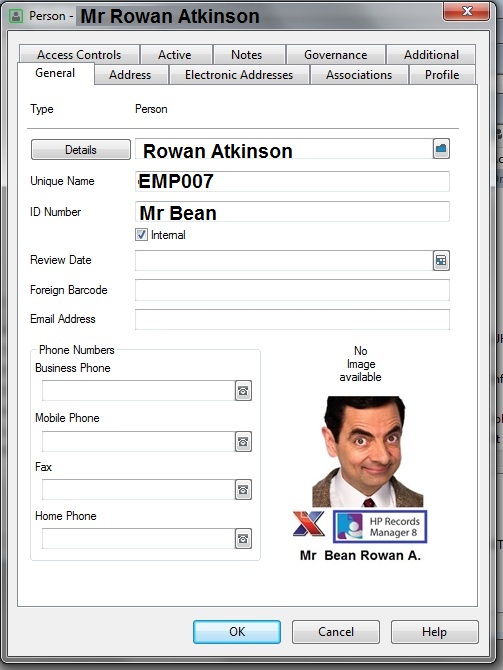 Thanks
Given that ControlPoint is now being included in the suite of products offered in the Information Governance space, and is part of the discussion at the annual (now renamed) HP TRIM Forum, it would be very useful to have a discussion board for this product.
Could one be set up please?
E.g. TRIM Forum:
http://h30499.www3.hp.com/t5/HP-Records-Manager-and-HP-TRIM/TRIM-User-Forum-gets-an-upgrade-it-s-now-called-the-Information/m-p/6056835/highlight/true#M3672
- Posted by another member of the team, not Mick Regan.
Is there any guidelines on how frequently do the HP TRIM App Servers need to be rebooted.
we have HP TRIM 7.1 installed in our infrstructure and servers aren't rebooted very often and was just curious how would HP TRIM WorkGroup and other dependent elements react if server is not rebooted or are there guidelines to reboot them on a fixed schedule ?
Hi,
I'd like to report what seems to be a bug in HP Records Manager 8, tabbing out of the list/view pane causes HPRM8 to crash every time. The quickest way to replicate the error for me is to open HPRM8, click on Favorites > Records, click in the list pane and press shift+tab (alternatively, click in the view pane and press tab).
This error occurs when the list/view pane is opened in any way (e.g. via Trays > Records Work Tray, a search, etc. ), it also occurs for different datasets and different users on different machines. Tabbing back and forth between the list and the view panes works fine, it is only when I attempt to tab to the surrounding panes that HPRM8 crashes.
Regards,
Daniel
So it appears that space management is no longer available in HP Records Management 8. Data Warehouse is the replacement? How is that going to affect current client licenses?
Hi,
Following a question I raised in the forums it appears that the HP Web Services 'Download' Method does not CheckOut a document or set the Electronic Document Checkout Path (Download.CheckoutPath). Can this please be corrected?
I have attempted numerous times to ensure that this operates correctly and I have not been able to find a working example (I have also discussed this with a Java developer who has the same issue).