I am unsure where to ask, but can someone tell me is Trim RM8 compatible with Windows 10?
HPRM Version: 8.3.0.9000 (64 bit)
Server: Windows Server 2012 R2
Issue: Mail Notification is not sent
What I have done:
- Setting the workgroup server Email Server and test it (Email sent properly here)
- Configure event processing for mail notification to that workgroup server
- Turn off firewall
- Monitor mail notification process, queue is increased and then moved to processed.
- Check event viewer and got error from TRIMEvent with this error "[24157] Your email system reported an error. 0. 530 Authentication required
et>"
Please help and thank you in advance :D
Whenever we install HPERM 8.3 #9088 on a server, the installation seems to place an invalid certificate on the server. This causes System Centre Operations Manager (SCOM) to report an insecure certificate whenever it scans the server. The certificate looks to have been generated by HPE during development as a temporary certificate and left in the package.
Does anyone know if the HPERM services require a certificate, or can we just remove it.
Has anyone successfully implemented and utilized auto-classification within HPRM?
We are investigating Auto-Classification within HPRM and are wondering whether anyone has successfully implemented and utilized auto-classification within HPRM?
If so, please provide some feedback on your results here or send me a private message.
We are trying to determine a) if anyone has used it, and b) if someone has, what has been their experience.
Looking forward to hearing from you...
Best Regards, Tamara Hoagland
Hi.
Is HPE Content Manager version 9 of TRIM?
I know its early days, but does anyone know how much of a leap it is to Content Manager?
Our IT branch is asking about upgrading from 8.20 already. They want to guarantee Win10 & Office 2016 compatibility. We need to decide between RM8.3 vs the next major release.
Has the deployment methodology changed?
Will a HPCM upgrade be noticeably more difficult than an upgrade to RM8.3?
Also, it would be interesting to know if the patching mechanism is working. If we go to v9.0 we'd need to plan for a possible upgrade to v9.1 not long after.
Hi all,
I've been building a SCCM package for RM 8.3.9088.
Install using the package failed due to not having the correct prerequisites. I had thought that only the vcredist_x64 and VS2013_Runtimes_x86.msi would be needed. Does this sound correcvt?
OS config is: Windows 10 x64, Office 2016 x86.
It only succeeded however when I installed the VS2010_Runtimes_x86.msi. Seems not right to me...
Hello
Has anyone had any experiences with configuring TRIM or RM 8 in a three tier DCN environment?
If DCN is not a familiar term, the architecture is simply just zoning each RM component in an appropriate network zone with firewalls separating. Three zones would be database, application and web server zones.
This is our proposed model for our RM 8 upgrade but we would like to hear from others on how well this worked and what issues were encountered.
Thank you
Hello,
I am rebuilding our development environment, and at the end of the installation, it warned that .NET 3.5 is not installed. We currently have 4.5.5.1650, which includes 3.x versions. Can I ignore this warning, or does that package specifically need to be included? 3.5 being installed on our servers is a security violation and I would like to avoid having to answer those questions.
[1024:0FBC][2016-04-18T07:42:10]i052: Condition 'NETFRAMEWORK35 OR NETFRAMEWORK40FULL OR NETFRAMEWORK45' evaluates to false.
Another VM in our stack has .NET 4.6.1 instead of 4.5. This version also includes 3.5.
Thank you
We are looking at EDRMS products and Trim now being part of HP RM8 is one of them. Unless I just cannot see the wood for the trees...is this product compatible with MACs?
We're about to replace our old TRIM servers with a new RM 8 installation.
We are planning on building three servers: 1) Main RM Application server, 2) RM IDOL Server, and 3) an SQL server.
Due to security requirements, SQL server(s) in our network need to be located on a separate subnet firewalled off from the rest of the general-usage servers.
Question: Due to the data throughput between the IDOL and SQL servers, does it make sense to put the IDOL server on the same subnet as the SQL server? I assume the IDOL<->SQL traffic volume is much higher than the App<->IDOL traffic volume (we only have about 50 users). I can justify the App and IDOL servers being on separate subnets firewalled from each other (but ports opened), but I'm guessing that if we were to route all traffic between the IDOL and SQL servers through the firewall we'd get some major performance hits. Is this correct?
We are experiencing problems installing our license file and company name, please see the image below and company name was copied directly from the license data file. Please see attachment with printscreen from failed install.
Any help with this issue would be appreciated.
Thanks,
Wondering if anyone has exprienced the following issue. Users when attempting to add a document to RM are getting the following error message: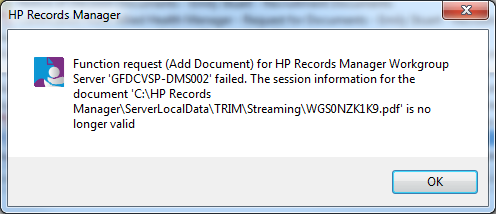 The document is then not added to the document store
When reviewing the streaming directory on the workgroup server there are numerous 0 byte files remaining that correspond to the document names the errors are showing.
This issue is happening randomly to various users. AV software has been configured to exclude the streaming directory from scanning so shouldn;'t be any issues here.
Call has been logged with support but not much progress on identifying cause of issue.
Any assistance/advice would be appreciated.

RM8.0.1.6713
SQL2012
Further to this issue we have identified that the issue only occurs with PDF files. What is strange is that if you rename a PDF file to DOC it process correctly and gets registered (albeit with wrong extension), if you rename a DOC file to PDF the error occurs again. So something to do with the PDF extension is causing the issue. We have 2 workgroup servers and issue occurs on both.
Thanks
We are running a test install of RM8 (V8.2 - 7591) with Oracle 12c (12.1.0.2.0) on AIX 7.1 as the backend. The RM8 WG servers are running on Windows 2012 R2 servers.
The test team members can open the application and run a search without issue. The first subset of records are displayed on screen with no issue, but as soon as the tester tries to scroll down past the first 20 records, the application freezes and the whole Windows screens grays out. The tester then has to kill the app via task manager to get control back. This is consistently happening with connections directly from the workgroup servers and also remote 2-tier client connections.
There is no real user load on the test database (2 or 3 testers only), we have a 2 GB SGA allocated to the database and we have changed OPTIMIZER_MODE to FIRST_ROWS_100. We have approximately 7500 records in the database with latest stats already gathered. I have run ADDM and AWR reports during the testing and there's no even enough load activity to generate findings.
I have reviewed the RM8 forums, checked for missing RM8 dll's, sent trace files to Oracle, etc. and we are now really getting close to missing our project timeline. Wondering if anyone else has expeienced RM8 freezing against 12c Oracle database. We uninstalled 12c rdbms software and reinstalled 11g twice in the same environment and we do not get the locking with Oracle 11g. We just reinstalled 12c Tuesday and immediately get the freezing again at the same point of scrolling.
Any thoughts or feedback is appreciated!
Thanks,
Jeff
Hi all. Just a heads-up. The IDOL CollectChildFullness and RespectChildFullness parameters are supposed to control how much index data gets sent to each HPRM IDOL (OEM) content engine (when there are more than one engine). There's a bit of an issue where the HPRM IDOL Service sometimes doesn't seem to receive the expected response from an engine on startup, and hence flags that engine as full. This means it won't send any new index additions to that engine, potentially meaning you can end up with one or more content engines with large indexes, and one or more engines with essentially empty indexes.
You'll know this is happening if you find the following warning in the IDOL Service dih_application.log file:
[0] 50-Warning: Engine 0 (CONTENTSERVER:9100) ACI GetStatus did not report a full_ratio. From now on, the engine will be considered full with full_ratio 1.00.
For more information please refer to: KM02558868 - IDOL (OEM) content engine fullness checking problem
Note: For what it's worth, It appears HPE product engineering's recommendation is to simply comment-out these parameters so the child fullness checking is not used (now the default configuration in latest releases). Their suggested workaround is as follows:
Any customers experiencing this issue should:

1. Edit the HPRM IDOL service configuration file
2. Comment out (by adding // to the start of the line) or remove the CollectChildFullness and RespectChildFullness parameters
3. Restart the HPRM IDOL Service

This will disable fullness checking, and hence HPRM IDOL will send new indexing jobs to all available content engines
Hi,
I see that there is a new HP RM 8.30 , is it available yet?
I cannot see it in the download section... Also, how this new patching system" is going to work?
E.g. we are testing 8.2.7591 and we want to upgrade to 8.3, so is it the new way of installation, automatic patching or ?
Can someone please explain this?
Thanks.
Hi,

I was just wondering if anyone is using, or have tested using, a Citrix NetScaler NLB for the HPRM client?

I am thinking of having a chat to our network team to see if they can assist with setting up NLB for testing with the client, but before I do, am I likely to fail miserably?
Is anyone using NLB of any description for the TRIM client, has anyone tried this before?

PS. I know there is a built in Primary and Standby server for the TRIM client, but this does have some limitations. E.g. users only connect to the primary server (standby is just that, a warm standby and cannot be used to share client load). Also, if the primary workgroup server is having issues, the end users get a nasty error about the primary workgroup server is down. I would much rather have the client automatically connect to the standby server without any end user errors.
Hi,
HP RM8.1.1.7760, SQL, WIn 7, SQL 2012
I installed the HP RM8.2.0.7533 on one machine and later i installed 8.2.0.7591 Patch 1 ...OK
when i logged with the same crediatials to another PC with HP RM8.1.1.7760 to install it there (8.2 or patch 1 )
the message after "run as administrator" came : Incompatible method". your method was not used to install the existing product ..
How to fix this?
thanks
P.S.
it also say: command line / group policy?
I also tried the other , normal account and then tried to install it "run as administrator" .. the same warning/error popped up ...
Hello,
I am trying to customise the tool bars in the ribbon of HP Records Manager 8.2. I was wondering if there is a way to hide individual items/groups in a tab. I can see that an entire tab can be ticked off to hide it. But I can't see how individual items under that tab can be ticked off. Is there a way to do it or do I have to hide the entire tab and then create a new customised one to replace it? Kindly advise.
Shameer
Hi I'm been trying to resolve the following issue, found in the TRIM event log. It seems there is a query timeout happening, but when I run the SQL query in SQL management studio, it executes without causing a timeout. Is there a way to prevent this sql from being executed in the first place? Why does SQL statement need to be executed?
Error : DB User: [ServerName]- Time-based event processing error occurred on database 'DB' for processor 'System Monitor', details: Function request () for HP Records Manager Workgroup Server '[ServerName]' failed. Error executing SQL statement: Query timeout expired
Details: Extended SQL Error Information:
Number = 0x80040e31
Source = Microsoft SQL Server Native Client 11.0
Description = Query timeout expired
SQLState = HYT00
NativeError = 0
SQL command: SELECT uri,lcName FROM TSLOCATION WITH (NOLOCK) WHERE (uri IN(SELECT llLocUri FROM TSLOCLOGIN WITH (NOLOCK) WHERE (llLogsInAs > N'' AND llLocUri > 0)) AND uri > 0) ORDER BY lcName ASC
We are planning to do a TRIM upgade to RM8.1. Once the dataset is upgraded and schema repair is done correctly, then we will plan for the document indexing.

Currently, we are using COMVAULT software to schedule for file archiving to another storage/drive for those documents which is more than 2 years. Meaning, the current datastore is a mixture of actual files which is less than 2 years AND the shortcut link (stub) that link to the archived drive.

Question: For the document indexing, do we need to copy the back the files that older than 2 years from the archived drive back to the document store for document index? Or, we can just perform a document index which consists of both actual files and stub files (that linked to another drive)?