Hi folks.
One of our users would like to insert a field into a Word template, which will be auto-replaced with the TRIM Record ID when it's checked in.
I don't know of any way to do it, and I don't think it's actually possible, but just on the off-chance ...
Is there way to do this?
Thanks!
Matthew Wilson
Level 3 Support
Comcare
hi Gurus,
hprm 8.11 build 7760/hprm8.3 build 9000. both get the same error.
i am getting this error whenever i try to add the addins in office 2010.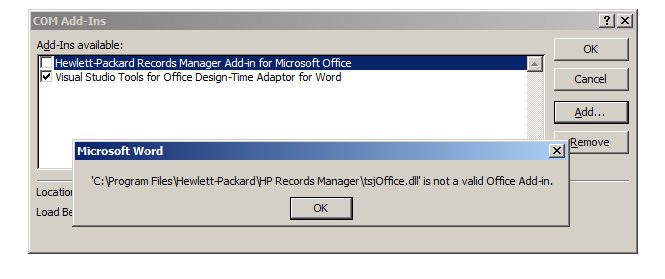 i already have turn on the add ins in hpe record manager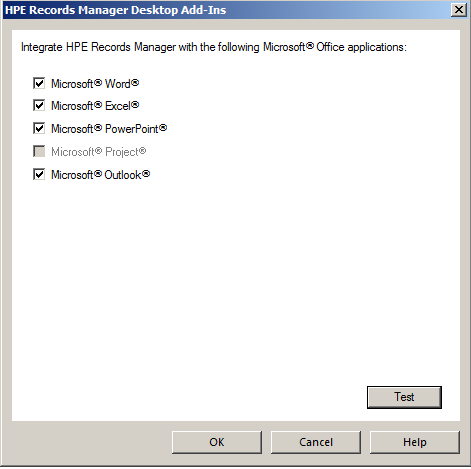 thank you.
Hi,
We are experencing issues in saving Excel Spreadsheets due to an HP TRIM error that keeps popping up. It is an intermittent issue and we cannot replicate it through testing.
Our staff may have a spreadsheet open, click Save As within Excel and then they recieve an error message - An error Occured accessing Offline Records. Document not saved.

Once this error pops up, if you click ok it just returns to the spreadsheet and there is no other way to save it. sometimes you can copy the data into a new blacnk workbook and it may save but it seems that we have to just ditch the spreadsheets and get our clients to start their work again.
Details of our set up:
Integration is on for MS app's
TRIM 7.1.2.2017
Win 7 package with Office 2010
Offline records folders are within the drive as required
Standard spreadsheet (no major macro's ro is it s a compound doc)
Error message attached. Any info on this or how we could fix it would be great.
We have uninstalled and reinstalled TRIM which seems to fix it but an easier work around would help.
Thanks,

Holly
Office 2003 and Trim 6.2.4.1240 on Windows XP
Hi, is there a way to disable the trim Integration without opening Trim?
We have computers with Trim installed and by default every new user login has the integration enabled by default but not all users have Trim logins. This means they get connection errors when opening Word, Outlook etc.
At the moment I enable a Trim login for the user, open Trim and disable the integration then remove the login from Trim. There must be an easier way.
thanks
justin
TRIM version 7.1.0 1157 / Office 2010
I wonder if anyone can assist. One of my users is getting this error: "OLE Error. An OLE document function (GetData) failed" when dragging an attached document from OneNote directly to TRIM.
I've never used OneNote before but have managed to replicate the issue on my computer.
I suspect the problem is that OneNote 2010 doesn't work with TRIM 7.1 (the spec for this version only lists OneNote 2007) and that I'll have to advise the user to drag first to the desktop to bypass the applications attempt to integrate (I tested this and it works).
Has anyone seen this error before or have an idea of what the problem could be?
We are using Trim 7.1.0.1157.
End users want the ability to drag electronic documents onto records in Trim that have existing electronic documents attached to them.
However, if the electronic document in the existing records is checked in, Trim does not allow the new electronic document to be attached. It immediately brings up a new record dialog box.
According to our user type permissions, an end user does not have record administration permission.
If an end user right mouse clicks on a record with an electronic document checked in, "check in" is not an option.
However, if you select "record administration" as a permission for the end user , the "check in " option appears even if the document has been checked in.
We certainly do not want to give our end users the "record administration" permission. But is there a way for the end users to check in a document in a record with a document already checked in without first having to check the document out?
Also what is it about the "record administration" permission that allows a user to check in a new document even when the existing electronic document is currently checked in.
Thanks for your help.
RD
Windows 7 has lost the ability to easily modify the file assocation actions. I recall it being moderatly simple to modify the 'edit action' in XP.

The problem we have now is that TRIM (6.2.4.1240 - and will be for a few more months yet) uses the 'edit' action to send files to their applications. Windows7 appears to treat CSV files as Txt, thus sending them to notepad. So when a user trys to edit a TRIM registered CSV file, it opens in notepad rather than Excel.

I have managed to modify the registry to change this behaviour, so CSV files are edited by excel, but it has flow on affects. If I make this change, then all txt files are then opened in Excel! This may be a suitable solution for many users but not all.


Does anyone have any suggestions?
Has anyone else upgraded to TRIM 7.11 build 1821 and found that TRIM muscles in when a third party application calls an Office instance?
For example: When a user wants to add extra information in SAP (finance system) and SAP calls a Word instance, they now get the option to save the document to TRIM (This didn't occur with TRIM 6.2.4). We actually don't want the document in TRIM , we want it in SAP. If anyone has worked out how to turn it off without deactivating the end users Office integration with TRIM, I would be very interested to know.
We are in the process of rolling Version 7.11 Build 1821 for a mining company(1500+ users) up in Papua New Guinea and have noticed a number issues:
- When launching/viewing native emails (.MSG) from TRIM and outlook is not opened, the following error is raised by the TRIM Addin "Initialisation failed: Object reference not set to an instance of an object", however if outlook is open, no error is raised.
- Having multiple workgroup servers intermittently results in duplication(i.e. exactly the same location object) of locations. Pressing F6 clears the cache and resolves itself.
- It appears you can no longer open a document from any of the office Suite with integration turned on when navigating from containers. I.E., In word, File open > My Recent Containers does not display containers. Conversely, if you perform a search for a container will not return a result.
- Users cannot view Record Properties from web client , error "Object not set to an instance of object" is raised.
Is there a way to remove the saving local option under tools/options/integration?
We may not want users to have the ability to toggle the save local box once it has been unchecked.
Thanks.
RD
When saving a Microsoft word document (Word 2010 and Windows 7) locally while integrated with Trim 7.1.01157, if the document is saved within the first 30 seconds it saves it to the windows\system32 directory.

If you wait more than 30 seconds it will save it to the my documents folder correctly.

One of our IT persons emailed me with this occurrence:

The faster you try to save a document immediately after opening word the greater chances the save path will be incorrect. If I let Word sit for 30 seconds or so before I try to save the correct save path dialog comes up. If I copy and paste data into a word doc and immediately try to save I will get the incorrect path.

This does it every time upon opening Word.

The incorrect path is c:\windows\system32

In Trim 6.2.4.1240 this does not occurr.

Is this a bug and can it be resolved?

Thanks for your help.
RD
Now, that Document Assembly is no longer available in 7.1, how do we create TRIM fields in templates from word? I cannot find anything and have added and removed multiple things in the developer, but no TRIM fields are available.
Can anyone assist?
Hi
I have completely transfered all document from one document store to the other using the Document Transfer feature of Trim Client. However, the size and documents of my source document store remain unchaged. Am I not understanding this feature correctly, and should this feature remove documents from the source document store once the documents are transferred?
Thanks in advance.
We have figured that Trim 7.1 is slow with Office 2007 compared to trim 6.2.3. Has anyone else observed the same? Any suggestions?
Hi,
Has anyone else noticed thatwhen installing the TRIM 7.1 client during the install you choose to allow TRIM to access the Office SAVE and OPEN dialogs (using either DIRECT or ODMA from the dropdown) once TRIM is installed you still need to go into the client and tick the individual boxes for the Word, Excel etc.
It seems like the install options regarding office integration are being ignored. Unless maybe I am missing somthing obvious? I have noticed this with both Office 2003 and 2007. Also During the 64 bit client install on an Office 2010 machine the installer doesnt even list the Office integration options.
In 7.1 is it necessary for the user to have to tick the office integation options individually in the TRIM client in order to access TRIM from Word etc.
Many thanks!
We recently moved our Terminal Services host to 2008 32 bit, Remote Desktop solution.
The problem that we are now encourtering is that we cannot get the Excel add in for TRIM 6, 2.4.1240 with office 2007 working. I suspect that the addin is not in the support matrix for this combination, however any ideas will be appreciated.
As as admin user it the addin works correctly.
Users, however throw a 1640 msi error, which basically meant that they cannot install an MSI through a remote session.
(they can only get this far if I add: [HKEY_LOCAL_MACHINE\SOFTWARE\Policies\Microsoft\Windows\Installer]
"disablemsi"=dword:00000000)
A bit of research tells us that the MSI installation will be no good:
http://msdn.microsoft.com/en-us/library/aa368353%28v=vs.85%29.aspx
Nonadministrative users can never perform installations from a client session. 
I am thinking that If I manually put all the componants of this MSI into the user session it should work. The files are all installed and I have tried importing all the HKCU registry entries that are contained within the MSI, however it does not register correctly with Excel. I am guessing that .net caspol scripts need to get executed on a per user basis, but dunno how to find or run these.
Currently we only have 2 options: run without the addin, or make everyone admin users. Neither of which are desirable!
Any clues??
Has anyone had issues opening up TRIM stored Tif scanned images with Microsoft Document Imaging? - Instead of opening in MS Document Imaging (which I've associated on my machine with MS Document Imaging, and have ticked 'open in associated application in the TRIM Viewer settings) , its opening up in MS Paint. Opening a Tif outside of TRIM from the desktop works fine.
We have TRIM version 6.22 with Office 2007 / Vista
We are in the midst of testing TRIM 7.1 in a development environment in our organisation. One of our testers has raised this issue:
Under TRIM 6.2.1 and Word 2003, selecting Insert (to insert a picture or another document) will bring up a TRIM window to select a record to insert from. So all good here.
However under TRIM 7.1, selecting Insert in Word 2003 brings up the usual Windows Explorer to select a file from any given hard drive or network drive, rather than a TRIM window. It is like the integration isn't reaching to that level in 7.1 whereas 6.2.1 did.
Has anyone else experienced this issue, and any clues as to how it can be fixed? Is this a bug in 7.1??
Does anyone know if there is a newer version of the TRIM Excel Add-in to use with TRIM 7.10, or should we be using the old addins for Office 2007 and 2003 with deployments of 7.10? Also is ODMA integration available for Office 2010?
thanks
Hi
I think I have come across a sizable problem with the new Office and HP TRIM 7.1 integration.
Create a new word document and save into TRIM using SAVE.
On the TRIM record entry form make it final.
Close Word and check entry in TRIM. It is only metadata and no electronic attachment.
You must save from Word and make it final when saving for this to occur.
This is a pretty serious problem if I am correct.
Josh