Is there any documentation on what is involved in developing an External Document Store?
Could I please add the following strong suggestion to the next patch of HPRM?
- currently if you try and contain a new document to a "Closed" HPRM container you get the following message -
"<field name.............> Field Cannot be Left Blank"
- does it make sense to the end-user - no, it makes them think they're having a possible database table/ technical issue or that they've input no container number, yet they can see it displayed (see also attached screen shot):
- Id recommend the following : "The Container Record has now been closed - navigate to the next part or volume (use KwikSelect) to contain to"
HPRM 8.1,.17919 32 bit
I am looking for a copy of the HP RM 8.3 patch 1 documentation, it is version from February 2016 (on the front cover) and has 67 pages plus the 6 contents pages.
I have a hard copy of this document but need an electronic version.
Hi All
I would like to hear from other fellow members, if they have used HP RM as an Application Plaform for transactional systems compare to its traditional usage of being seens as Archiving solution only. We have implemented HP RM in the following scenarios where RM becomes an Application for
- Medical Prescription and medical records holding alll transactional data including collaboration,
- Sea Port Management for all Arrivals, Departures, Bunkering process, Incident Management, Document Submissions as transactions where RM holds uptodate and Live transactions
- Engineering Drawings Management (with Autodesk Vault), where live drawings pdf and metadata is stored and presented through Portal for Engineer's collaboration., update process is initiated from RM process as well.
- Environment Sampling and Statistics data ( collected from sensors) is stored in RM and reported based on business rules.
- Insurance CRM - Quote to Claim process including Case management managed in RM presented through Portal.
- Project Management Framework for all Engineering -Construction projects managed in RM through Web Portal.
- Financial Trading system small Trading firm where all the trades are mamaged in RM for Audit and Comliance leveraging on Spot Exchange rate fed through contract rate feed in XML basis stored and managed in RM for 6 currencies. End of Day Summary compied in Report and stored against each currency.
Currently in Progress - Distributed HA-DR Capable Hybrid RM Data Lake where RM Application is located at 3 different location ( 2 on prem - 1 in Cloud). We are using Power Plant Business case for this scenario for Power Plant controlled documents, Maintenance Checklist, Routine Maintenance and Drawing where Asset are identified by using Power Plant KKS Code for Asset amanagement.
I would like to hear how others have leveraged on HP RM as a Platform, happy to compare notes.
Due to a critical issue with 9 patch 1 that was released last week, a replacement patch will be reissued soon.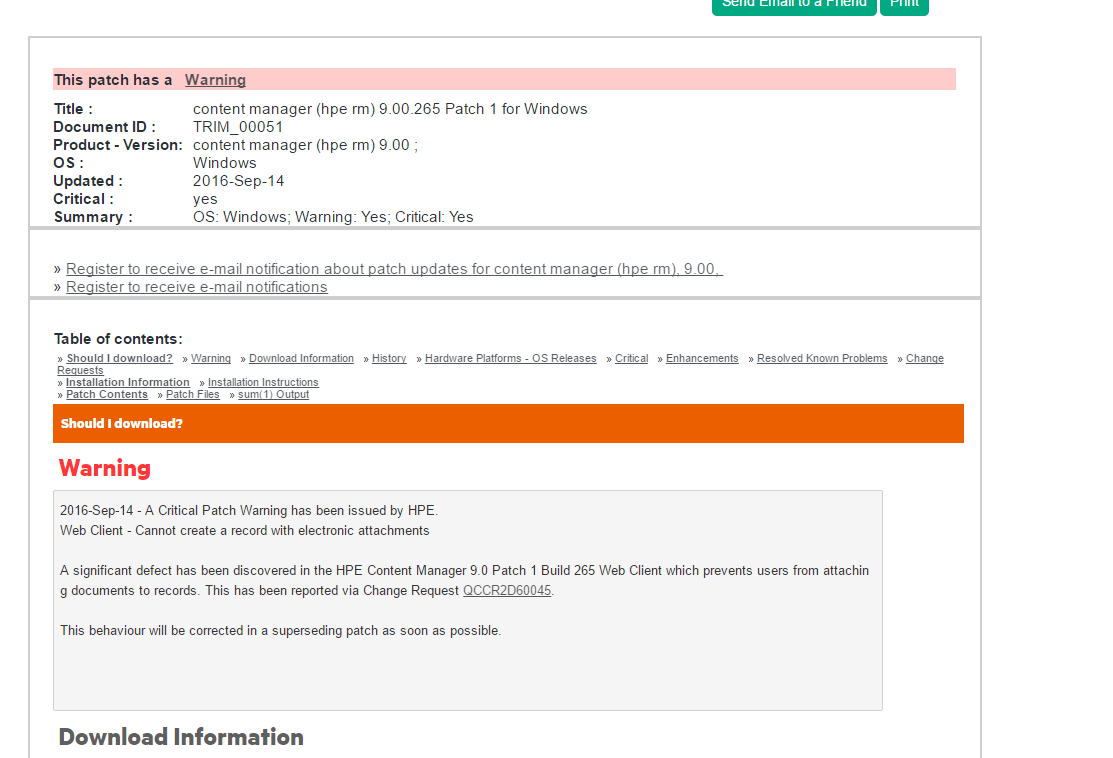 Has anyone upgraded to the current release.
I have started the process for migrating our existing and I am seeing strange results with HPEContentManger web services.
Internet Explorer 11 won't load it at all whereas Firefox works fine with intergrated authentication, which it shouldn't.
The documentation is not even remotely accurate either. Looks like they changed the front page and anything the refered to Records manager because things are not what they seem.
Not looking forward to loging a service ticket.
Hi All,
Readers digest version - something I can sell to powers that be.... What are the big selling points in CM9?
What's in it for the End User?
What's in it for the Information Managers
What's in it for the Technical Boffins
What can it do that 7.3 we are currently on CAN'T and what are the advantages over 8.X
Thanks in advance
Cheers
Rod
Hi all,
I am looking for a separate, self-contained document, which may be printed or saved for convenience of reference, of the HP Records Manager 8 help file/user guide - can you help?
Hi all,
A big thanks to Jon Grundy for keeping the community updated in the past when new versions of HP TRIM, HP Records Manager (RM) and HPE Records Manager were released. See Jon's original thread here if you're interested.
From now on, HPE CM Support will update this thread when new versions of Content Manager are released.
So, just to repeat Jon's advice from his last update:
HPE Content Manager is now publicly released and available on SSO!
HPE CM 9.0.0 - Build 201
Released: July 7, 2016
To download:
Log into HPE Software Support Online using your HP Passport, and select "Product Information - Downloads". This will take you to the "My Software Updates" portal
If you see a pop-up message about accessing software entitlements in the new HPE Software Licenses and Downloads Portal, just close this message
Select the product "records manager (trim)" (Note: apparently soon to be re-named "content manager (hpe rm)")
Select the relevant SAID, accept the terms & conditions, and then "View Available Products"
You'll find it under the "Document & Records Mgmt" category
Select "HPE Content Manager 9.00 English Software E-Media" and click "Get software updates"
In the Deliverables column, click "Get Software"
Click "Download" (or choose "Use HPE Download Manager" if you wish)
Take a well-earned coffee break :-)
Does HPRM 8.1.1 support Kofax Express 3.1?

It's currently 3.1 running on Windows 7.


Hi all,

I seem to ask this question every year! :p

Anyone have any clues as to whether there will be an IGF this year?

Moved to HPE Records Manager and HPE TRIM Forum

In an attempt to catch hold of any users who have not received invitations directly, I am posting this here.....

For those who have not yet seen the invitations, the Information Governance Forums for EMEA take place next week (Formerly the TRIM/RM user groups – but now much more). They will be held in Belfast, London and Amsterdam. Links for registration are below. If you or your customers wish to attend, please register soon!

If this is something you would like to attend in the future, and are not able to attend this time, drop me a private message and I will ensure you are added to future invitation lists.

Belfast – 8th March - https://h22166.www2.hp.com/event/eventpage.aspx?eventid=NwA4ADEAMgA0AA==&cc=uk&lang=en

London 9th March - https://h22166.www2.hp.com/event/eventpage.aspx?eventid=NwA4ADEAMgA0AA==&cc=uk&lang=en (same link)

Amsterdam 10th March - https://www.hpevents.nl/infogovforum2016/

See you there.

Richard

Does HP Records Manager comply to information management standards such as ISO 16175, National Information Exchange Model (NIEM) and Australian Government Recordkeeping Metadata Standard (AGRKMS)? Any info on this would be helpful.

Got the below from a data sheet

HP Records Manager is designed to meet international standard of records management, ISO 15489: 2001, and elements of ISO16175: Principles and Functional Requirements for Records in Electronic Office Environments. It supports major regulatory standards, is certified against DoD5015.3 V3 and Australia's VERS, and leverages 29 years of proven, successful deployments in government and regulated industry.

Beside the basic Foundation support offering for RM, there is also a FlexCare Support opportunity. FlexCare is an evolution of Premier Support to provide customers wth a more flexible support delivery model, it provide a series of customizable services allowing customers flexibility in choosing proactive/reactive services that fit their needs throughout the life-time of their deployment and use.

In addition to the base offerings for FlexCare of having a NASE (a named Support Specialist to solve your technical issues) or a Technical Account Manager to assist proactively and control reactive support, it offer as series of FlexCare Credits which can be purchased seperately from the base FlexCare offering and can be used when required. For example, for an onsite or remote support, or for support assistance during an upgrade.

To find out more about FlexCare and what is offered, visit Customer Technical Support Services, FlexCare , or contact your HPE Account Manager.

Hi all

If you're in the Palo Alto, CA region (or can travel there) this post may be of interest to you!

Hewlett Packard Enterprise is holding the HPE Information Governance User Group meeting on Tuesday 9th Febuary, 2016 from 8.00am to 4.00pm.

All details of the event, including the Registration form, can be found at http://bit.ly/1JBedOf

If you require additional information, please email Stephanie Burns.

Cheers

Helen :)

I am planning to use HPRM annotation - Rubber stamp feature, for Document Stamping for the scanned documents (after batch scanning). User opens the files and take appropriate action and Rubber Stamp that document. I wonder if anyone using this feature can share their experiences or pitfalls I should watchout etc.

We are thinking to implement HP Trim(EDRMS).
Now, first thinking about platforms.
Our plan is using Windows 2012 R2 (x64) on VM and MS SQLSERVER. All desktops clients are on Windows 7 Enterprise SP1 x64.

So we need the specification document or Internet website page which high lights the basic configuration.

So that, atleast we can be prepared and estimate a project plan.

Thanks

Hi All,

HPE have just released HPE Records Mananger 8.3.0 over the weekend.

It's available now on SSO for download!

Release notes attached. :)

Cheers,

Grundy

Hi everyone

I just noticed this (H/T The Register): http://www.theregister.co.uk/2015/09/23/aussie_spy_agency_gets_first_bug_bounty_credit/

Apparently IDOL KeyView has a vulnerability in the parsing of GIF files. The information on the HP web site indicates that KeyView versions v10.24 and ealier are vulnerable:

https://h20564.www2.hpe.com/hpsc/doc/public/display?docId=emr_na-c04771027

TRIM 7.3 appears to be running KeyView 10.18 for IDOL text extraction - is this something we need to address?

Do TRIM users/admins need to check their KeyView versions and potentially update their installations?

Thanks.

Matt