Hi Experts,
We are planning to setup a Backup & Restore solution for one of our customer. We have proposed a RMAN Streaming backups to Tapes using any of the Veritas MML Based software ex: HP Data Protector, Veitas Netbackup etc.


We have a single Oracle Client but with huge size (FRA size of 7 TBs).
Backup Frequency will be daily incremental backups (RMAN Image Copies - ROLL FORWARD IMAGE COPIES: These are generally same to same copy and acquires more space).

Okay now our doubts/queries.
We are planning to have the HP MSL 2024 Tpe Libraries.
- What is the capacity (Storage Limit) and Speed of this.
- Tape Cartridges LTO support, i mean if this can support LTO 6 or LTO 7 ?
- Tape Cartridges it supports and respective tape storage limits.
- what is the max capacity we can have with this HP MSL 2024, will it be enough for holding 7 TB of weekly data.
- If we compress our data on tapes, in my opinion that will bring some extra efforts and time while decompressing the data, are we right on this part ?
- HP MSDL 2024 Autoloaders will automatically manage or admin things and no manual interventions are required ex: for changing tapes, branding them etc ?
- How many cartridges and with what capacity the HP MSL 2024 supports ?
- What kind of tape drive is compatible with this tape library.
- So, we have doubts mainly on the tape drive and cartridge support type based on this.
- Other aspects of using this library.


Some of the queries raised above might seems silly from this non storage guy :)

Thanks
Pd
Hello,
I have a problem to download driver HP 1/8 G2 autoloader,
I have found the page and the driver to download but when i click on download, it seems like the file dosoen't exist.
This is the Link, if you can help me please:
Link: http://h20565.www2.hpe.com/hpsc/swd/public/readIndex?sp4ts.oid=5336445&swLangOid=8&swEnvOid=54
Best regards,
Guiga
Gentleman,
i would like to seek a advice regarding HP LTO Tape drive, now i m working a education environment as a IT Administrator. Currently our file server backup (350GB-1TB) data saving to HDD Drives.
i have a plan to buy a new Tape Drive Backup instead of HDD, if some one have any suggetion for the same, and like to recommend a particular model Too. your valuable comments its highly appreicated.
Best regards, Azaf
Hi,
I am writing software that archives data to LTO-7 tapes via an HPE LTO Ultirum 15000 tape drive. I can see on the front pannel of this drive there is an LED light with the word Encryption next to it. I have not been able to, through HPE software, figure out how to enable this hardware based encryption. An HPE employee told me that in order to enable the encryption I had to purchase other software that would push an encrpytion key to the drive.
I know that this other software must use some interface to push the key to the drive. I would like to do this myself without purchasing external software. If anyone could provide any helpful information or documentation on this interface it would be greatly appreciated.
Thanks!
Matthew
I am using msl6480 ans esl g3 library , i dont have much ltfs tape .
Every timie i need to add LTFS tape manually .
Is there any way to convert existing norma data tape into ltfs tape ?
We have an MSL 6480 tape library with LTO 6 drives. This feels instinctively like a dumb question, but can anybody tell me if Ultrium 6 drives come with hardware compression enabled by default? I can't seem to find anywhere either in the RMI or using LTT to enable/disable compression or even verify that it is being used.
Thanks, Joe
Hi,
I am looking for LTO driver for windows 2008 std R2, its attaching to IBM Scenter server with SAS. plase help me if someone knows.
Thanks
Manoj
I need to sonnect a HP LTO4 internal tape drive to my RAID controller. The photos of the cable I've found don't match the description. It shoudl be a SFF-8482 at the drive end and a SFF-8087 at the host end. Photos show what appears to be a SATA connector. Some photos of the sam epart number show a cable with (2) SFF-8087 and a SFF-8042 "tail".
Can anyone verify what this cable really has? A real photo?
Thanks,
Scott
I have a gen 8 DL320 server and in my research i have found that this server is not compatible with H241 Smart HBA, and for gen8 HP recomends H222. Smart HBA
The HPE StoreEver MSL4048 with LTO7 tapes is not supported with Gen 8 Servers and H222 Smart HBA
Is it true, do you have any experience for this connection .
Thank u in advance.
Hello my friends
Im new in storage management and I need HELP solving this problem.
I have conected A tape library HPE StoreEver MSL4048 with HP H241 Smart HBA
And i have this driver in Device Management missing.
Driver for HP Ultrium 7-SCSI SCSI Sequential Device
Can anybody direct me to do this connection right.
We are using DAT 320 USB Tape Drives as backupsystem. We know that this products are EOL.
We bougth some DAT 320 USB Tape Drives labeled by IBM, created by HP. There is one difference to the original HP Drive: the default blocksize. By the original HP Drive the default is 'variable blocksize', the IBM-Device is set to 512 Byte by default. Is there a way to set the default blocksize on the hardware?
We tried HPE Libary and Tape Tools, but there is a password needed for 'Enable Factory Overrides'....
Is there a way to upgrade IBM Tape Drives (created by HP) to the actual firmware VUA8 from HP? The manufactorer of the Tape-Drives is identical.
The IBM-Support doesn´t know of everything......
I am trying to use my HP LTO drive Ultrium 6250 with the LTFS wizard in Windows Server 2008 R2. Sametimes I get the following errors. Error occurred while writing occurs near the end of the tape
LTFS20023E Backend SCSI subsystem error from DeviceIOControl (0x48F)
LTFS20042E EIO in write
LTFS12045E Cannot write block: backend call failed (-5). Dropping to read-only mode
Following these errors the device stops responding. I have to restart the server each time after this error.
Server HP Proliant DL320s - Windows Server 2008 R2 (HP)
Type Drive LTO-6 Ultrium 6250 (F/W 35BD) - HP windows driver vers. 1.0.7.2
Smart Array P410 (F/W 6.64) - driver vers. 6.28.0.64
HP LTFS 3.1.0
Media - Sony LTO-5 Cartridge
now I try copy data to this cartridge but I downgrade the LTFS Standalone to 3.0.0 version
Product Name:
Surestore Tape 5000
Operating System:
Microsoft Windows 7 (64-bit)
Hello. I am trying to use a Surestore 5000 tape drive in my gameserver for map, plugin and config backups. The only problem is: It isn't reconized by windows. My SCSI card is reconized and my drive select jumper is on 2. Put short: It doesn't show up in device manager but my SCSI card does. Yes, my cable IS terminated. The drive is also the only device on the cable. All of my DIP switches on the bottom of the drive are set to 0. No firmware errors or messages are kicked out by the card itself. Yes the drive is old. But it doesn't cost 500 dollars like modern drives do. 4 GB compressed is all I need. The drive does not appear dead after sitting for 5 years. It takes tapes, both regualr and cleaning tapes, and occasionaly rips one up.
Detailed specs:
Motherboard and HDD out of a Hp Pavilion computer
Adaptek 29160N SCSI controller (firmware ver. 2.11)
Hp Surestore 5000 tape drive (NOT 5000i)
Dear HP users,
I am unable to mount an LTO 6 tape (locked) on an HP LTO-7 Ultrium 15000 1RU diual drive system using the HPE StoreOpen stand alone software.
Tape LTO 6, was written as LTFS via an Mlogic dual drive LTO 7 unit, using the Mtape utility.
Tape has been verified and is working perfectly from my client.
I am working on MAC OS X 10.10
The HPE software is seeing the tape but not mounting. log says:
-----
Get Volume Name from cartridge memory
Mount volume
dyld: Symbol not found: _UCNV_TO_U_CALLBACK_STOP_50
Referenced from: /Library/Frameworks/LTFS.framework/Versions/Current/usr/lib/libltfs.3.1.0.dylib
Expected in: /Library/Frameworks/ICU.framework/Versions/Current/usr/lib/libicu.40.1.dylib
in /Library/Frameworks/LTFS.framework/Versions/Current/usr/lib/libltfs.3.1.0.dylib
LTFS session finished
-----
Any ideas to help me mount and read this tape please?
Kind reagrds,
Simon
Hi Everyone,
We have an MSL 4048 with 4 LTO7 Ultrium drives. The library has 4 partitions, one for each drive. SAS card is a HP P841 with four female cable inputs.
We are using ARCSERVE r17 with patch P00000379 to supports libraries with LTO-7 drives (HP Ultrium 7-SCSI)
Firmware MSL 4048 8.9, LTO7 firmware 342
ARCSERVE reports 4 HP MSL G3 Series:
Ultrium 7-SCSI drive 1 says <updating...> for each slot
Ultrium 7-SCSI drive 2 slots inventoried but Slot 11 says <updating...>
Ultrium 7-SCSI drive 3 says unreadable media
Ultrium 7-SCSI drive 4 slots inventoried
ARCSERVE Reports:
[ERRORS & WARNINGS]4/08/2016
5:30:43 PM W8004 Media manually inserted in drive [1], in Library [Device:4][HP MSL G3 Series ]
4/08/2016 5:31:04 PM W6500 Client connect to tape failed (Tape Name = XXX, Random ID = 8170, Seq = 1)
4/08/2016 5:31:04 PM E3703 Unable to open media. (MEDIA=XX 1, EC=ERROR: THE TAPE NOT FOUND)4/08/2016
5:31:34 PM E3834 Unable to find any suitable media that can be used in this job.
E8030 Failed to insert tape from Slot[0] to Drive[3][SN:9C161011CE] in Library[7][SN:MXA613Z0B3_LL1].4/08/2016 6:07:12 PM
W6500 Client connect to tape failed (Tape Name = XXX INC, Random ID = 1308, Seq = 1)4/08/2016 6:07:12 PM
E3703 Unable to open media. (MEDIA=XXX INC, EC=ERROR: THE TAPE NOT FOUND)4/08/2016 6:07:42 PM
E3834 Unable to find any suitable media that can be used in this job.
Any ideas why ARCSERVE is reporting this issue most appreciated!
We have the following config based on HP BURA:
http://www8.hp.com/us/en/products/data-storage/BURA-compatibility.html
Data Agile BURA Compatibility Matrix BackUp Recovery & Archive
http://h20566.www2.hpe.com/hpsc/doc/public/display?sp4ts.oid=412183&docId=emr_na-c04616269&docLocale=en_US
Driver HPE LTO Tape Driver 1.0.9.1
ARCSERVE r17 Server 2012 R2 https://arcserve.zendesk.com/hc/en-us/articles/204796386
SW and HW Certifications
https://arcserve.zendesk.com/hc/en-us/sections/200441039-arcserve-Backup-Certified-Devices
HP SAS Host Bus Adapters
Model Firmware/Bios Version Driver Name/Version
P841/P441/P440ar/H241/H240/H240ar As recommended by HBA vendors As recommended by HBA vendors
HPE Tape Libraries
Model Media Type Firmware Maximum # Drives Maximum # Slots
MSL4048 * * 4 48
Drives Certified for HPE MSL4048
Model Media Type Drive Firmware Drive Capacity Library Firmware connectivty
HPE Ultrium 15000 1 Gen 7 LTO FA17 6.0-15.0 TB 4.80 Fibre
HPE Ultrium 15000 1 Gen 7 LTO FA17 6.0-15.0 TB 4.80 SAS
The ignite tape drive on one of our server has gone faulty and hp has suggested to replace it. The server is at a remote location and I can not go and check if it supports hot swapping or not.
Is there a way I can check if it can be hot swapped or not?
Thanks in advance.
Does anyone know if there are any Win 7 drivers for the StorageWorks SDLT 320 Tape drive?
Hi all,
please help, my issue is as follows.
I am using HP StorageWorks Ultrium 920 Internal SCSI, connected to a WIndows Server 2003 with Symantec Backup Exec 2010 R2 (media server: Version 13.0 Rev. 4164 (32bit).
I have 7 backup jobs, daily full backup everyday using one single tape HP LTO-3 (C7973A 800GB RW). my data size is about 650 GB so one tape is used to be enough. However starting couple days ago, the Ultrium 920 is always ejecting the tape everytime when it reaches the last backup job . I assume the tape is out of space? But I have a doubt since the capacity of the tape is 800GB while my data is only 650GB. Besides, there is no way my data size jump from 650GB into more than 800GB over night. I tried to change with new tape but the problem still exist. then I checked on the Symantec Backup Exec (on the 'Devices' tab). I found something that says like this:
Hard Write Errors: 5
Hard Read Errors: 5
I consulted this issue to Symantec Backup Exec support, and they said there is some problem with the Ultrium 920 causing the tape drive keep ejecting the tape cartridge. I am not sure if this is the root case.
Can someone please give me ideas and solution to solve this issue?
Thank you
Hello, I'm an IT consultant and have a new client with a Proliant server. I replaced their dead HP Ultrium-4 tape drive. Backup software is CA Arcserve. The program sees the tape drive, some backups work, some fail withE3719 Unable to write to media. (MEDIA=SPARE2 [S/N: 1000000], EC=Unknown error ID). There are no skips that I can see in the logs, and some tapes run fine. Not sure if this is just old tapes, as some are, though tapes that have never been used have ended with the same error; firmware, or the media pool, which was set up as scratch only, needs to be cleared out and recreated. Any help would be greatly appreciated and if more info is needed, I will be glad to supply anything I can. Tapes are 1.6 TB.
Hope everyone in the US is going to have a great July 4th holiday this weekend.
wjeffries
Per the subject header, when I try to upgrade my HP Ultrium 3000 tape drive to the latest firmware, it times out and fails. Here's a screenshot: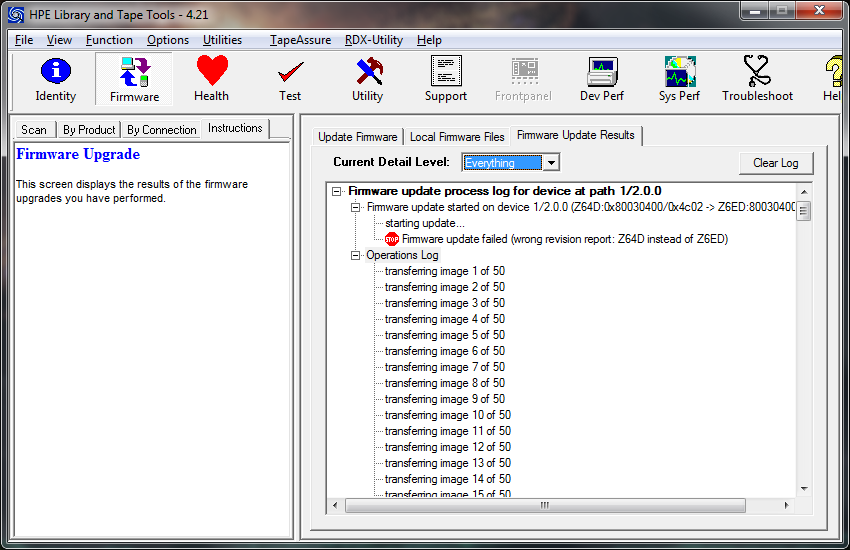 I tried to upload more but it doesn't seem to let me.
Anyway, any help would be appreciated. Thanks!